Plymouth Porcelain: A New Collection
Drake Circus
Plymouth
Devon
PL4 8AJ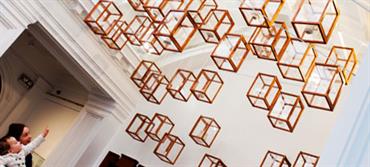 On display now: Plymouth City Museum
Established British ceramic artist, Clare Twomey has created a brand new installation inspired by our Plymouth Porcelain collection.
'Plymouth Porcelain: A New Collection' can be viewed above the doors of our China Connection gallery and will remain on display indefinitely. The artwork features 33 suspended cases containing white porcelain objects that have been cast from objects suggested by the people of Plymouth.
Objects were suggested for various reasons - in celebration of friends or family or because of related emotions and memories. Against the back drop of the Museum's historic Plymouth Porcelain collection, the commission looks to the future by capturing the stories of people today.
This is the first time that Twomey, who has exhibited in the UK, Europe and America and who was the ceramic artist-in-residence at London's Victoria and Albert Museum in 2011, has created a permanent work for a Museum.
'Plymouth Porcelain: A New Collection' has been made possible thanks to New Expressions 2, which is supported by MLA Renaissance South West and the National Lottery through Grants for the Arts to enable regional museums to commission new work and join forces with contemporary artists.
What's Nearby
Plymouth City Museum and Art Gallery is a bright, welcoming, family-friendly place – just on the...

0 miles away

Exciting and high quality public arts programme: exhibition; film; lectures; music and performance....

0.06 miles away

Plymouth Arts Centre has a small cinema, regular Art Exhibitions, and restaurant. Please phone for...

0.34 miles away
For over twenty years, Gala Bingo has been the UK's most loved and trusted bingo operator, a solid...

0.36 miles away

See four mini museums under one roof in this former home of famous Elizabethan privateer, William...

0.41 miles away

The Theatre Royal Plymouth is the largest & best attended regional producing theatre in the UK and...

0.46 miles away

Black Friars Distillery, the working home of Plymouth Gin since 1793, is the oldest working gin...

0.47 miles away

Commanding an imposing position on Royal Parade, Plymouth Guildhall is situated in the heart of the...

0.5 miles away

This delightful little garden is an oasis of tranquility in a sea of shoppers and tourist...

0.53 miles away

For over twenty years, Gala Bingo has been the UK's most loved and trusted bingo operator,

0.57 miles away

The Reel Plymouth, previously the ABC cinema is situated at Derry's Cross in the heart of the City...

0.57 miles away

The Mayflower Steps are close to the site in the Barbican area of Plymouth, from which the Pilgrim...

0.6 miles away
Previous
Next