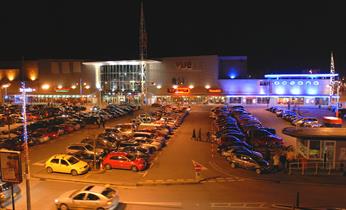 WHAT YOU NEED TO KNOW
BARBICAN LEISURE PARK. PLYMOUTH
OPENING TIMES
Open all year round.
ADMISSIONS
For all film prices & times please look at Vue Cinema's website.
ABOUT
Located in the heart of Plymouth, the Vue Cinema provides you with the latest in big screen entertainment. With 15 screens and 3,577 seats it is the largest Multiplex in the West of England. Stadium seating for the best possible view, and extra wide premiere-sized screens to enhance the big screen experience. So for the most exciting time in Plymouth come down to the Barbican Leisure Park.
What's Nearby
Our records are being made available online through the Find My Past website, including parish,...

0.07 miles away

We offer children, teen and adult parties, corporate celebrations, great nights out and cures for...

0.1 miles away

Visit the UK's largest Aquarium and be amazed by our fascinating underwater world and how we all...

0.24 miles away
The Mayflower Steps are close to the site in the Barbican area of Plymouth, from which the Pilgrim...

0.4 miles away

Cobbled area in a strategically important area in Plymouth with a high footfall. The site is near...

0.39 miles away

From scenic and naval harbour cruises, connecting ferries to Cawsand and Mount Edgcumbe in Cornwall...

0.43 miles away

From Past to Present, a unique journey through Plymouth's world famous harbour and historic...

0.42 miles away

Sixteenth-century house with carved oak features and period furniture. A historic building tucked...

0.44 miles away

This delightful little garden is an oasis of tranquility in a sea of shoppers and tourist...

0.47 miles away

Plymouth Arts Centre has a small cinema, regular Art Exhibitions, and restaurant. Please phone for...

0.52 miles away


This magnificent coastal section runs along the eastern side of Plymouth Sound from Andurn Point...

0.55 miles away

For over twenty years, Gala Bingo has been the UK's most loved and trusted bingo operator, a solid...

0.57 miles away
Previous
Next