Plymouth's History - Shaping the City
Victorian and Edwardian maps show that the Three Towns of Plymouth, Devonport and East Stonehouse had merged into one. They were though still separate towns, with their own identity, local government and civic pride.
It was the threat of war and a need to speed decision making that led to the Three Towns being joined together under one authority in 1914. Devonport Corporation fought the plan but it had popular support.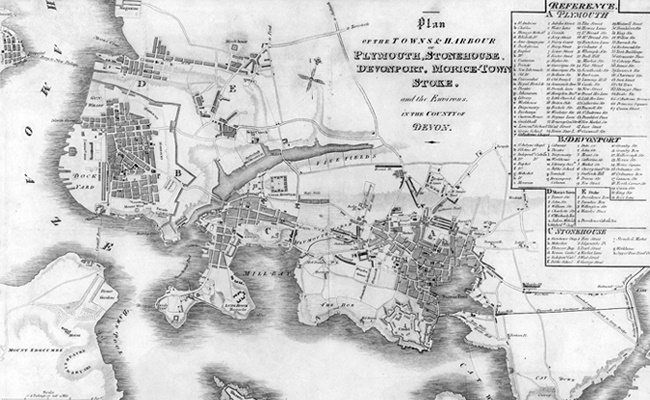 Plymouth became a City in 1928. The boundaries were redrawn in 1938 and 1951, each time adding to the population. The Plympton and Plymstock areas, which had both grown steadily after the First World War, were added in 1967.
Although some 5000 council houses and flats were built between the wars, including large council estates in the Swilly and North Prospect area, there was an ever-growing movement of people into new houses outside the City. Plympton and Plymstock were growing fast to the east and, following a boundary change, the City was extended to the north in 1938.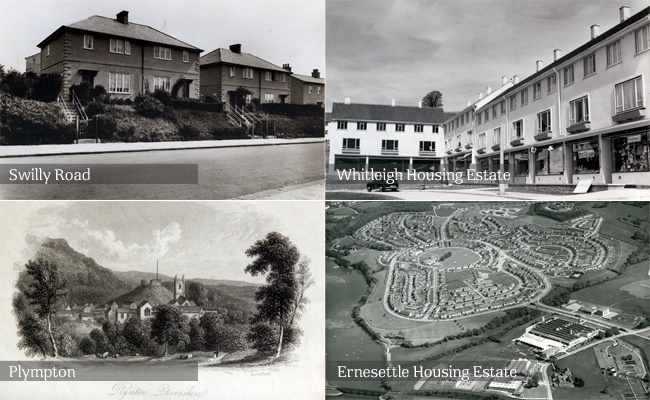 In the Second World War Plymouth was one of the most badly bombed cities in England. The 'Blitz' caused widespread damage; flattening large parts of the city centre, central Devonport and areas of Stonehouse. By 1943-4, before the War had ended, there was a revolutionary plan in place to create a new modern City.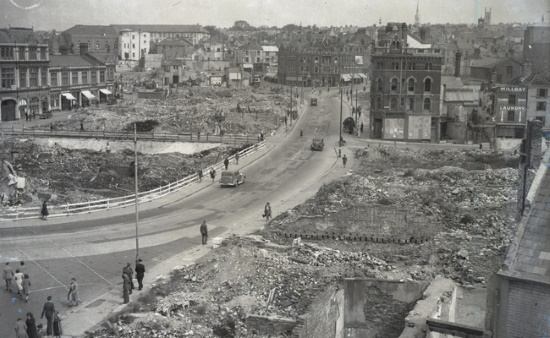 ---
Plymouth: Port & Place
The port of Plymouth has a rich maritime history based on fishing, trade and a long and continuing association with the Royal Navy. The sea has touched the lives of everyone who has lived-in or visited the port of Plymouth. The sea continues to shape the modern City.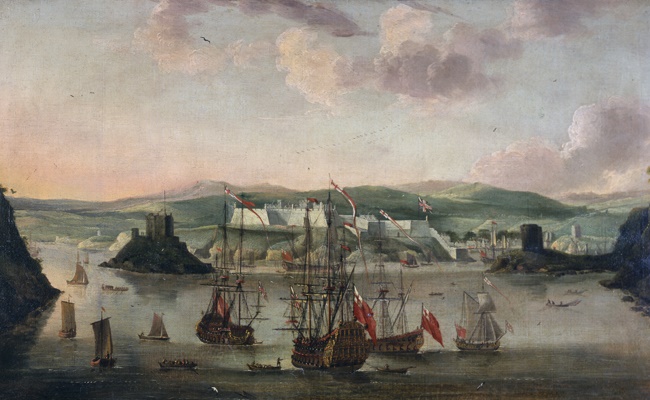 Plymouth is located in the south west of Britain on the Western Approaches to the English Channel. Plymouth Sound is a natural harbour at the meeting point of the Rivers Plym and Tamar, providing two important, navigable routes inland to West Devon and East Cornwall.
Originally a small town, Plymouth prospered as a centre of fishing and trade. Local, coastal and continental trade grew steadily, especially cross-Channel trade with France and Spain. It became Britain's south-western gateway to the world's oceans. Fortifications were built and the port became established as a military and naval base, vital to the nation's defence.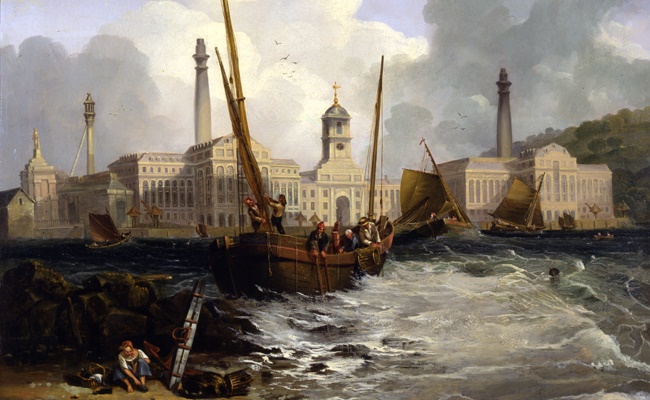 Past and present, Plymouth is about the sea - sailors in peace and war, voyages of adventurers and exploration; passenger arrivals and departures; ship building and ship repair; merchants and maritime traders; cargoes, docks and warehouses; the sea as both a place of work and as a place of leisure.