Coronavirus guidance to employers and businesses
This page will assist employers and businesses through the COVID-19 impact, providing advice on business support, access to finance and other uesful information.
Guidance for employees, employers and businesses
This guidance will assist employers, businesses and their staff in addressing coronavirus (COVID-19). The page will be regularly updated in line with the changing situation. The guidance will assist employers and businesses in providing advice to their staff on COVID-19, as well as providing details of support available to businesses.
Find out more on GOV.UK website
Social distancing in the workplace
The government, in consultation with industry, has produced guidance to help ensure workplaces are as safe as possible.
The guidance provides a practical framework for employers to think about what they need to do to continue or restart operations – in a safe manner and in support to workers' health and wellbeing during the COVID-19 pandemic.
These 8 guides cover a range of different types of work which can be read on the below link.
Find out more on the Invest Plymouth page
Access free support from experts and help your business recover from the impact of Coronavirus
The Recovery Advice for Business scheme, supported by the government and hosted on the Enterprise Nation website, gives small firms access to free, one-to-one advice with an expert adviser to help them through the coronavirus pandemic and to prepare for long-term recovery. Thousands of expert professional and business services advisers are on hand to offer free advice, until 31 December. Small and medium sized businesses can sign up, take the diagnostic tool and access support. Advice will focus on key areas:
accounting and finance
people and building a team
planning, strategy and pivoting
marketing, PR and social media
technology and digital tools
Find out more on EnterpriseNation website
COVID-19 Tool Kit by The Better Business for All
The Better Business for All (BBfA) partnership has used their knowledge and expertise to bring together resources from trusted organisations to help guide you through the main considerations for restarting your business safely. This Covid-19 Toolkit provides useful documents such as a risk assessment template and action plan, business checklists and useful guides to help you.
In addition to considerations suggested in this Toolkit, please ensure you also keep up to date with current Government guidelines relevant to the control of COVID-19
View the BBfA COVID-19 Tool Kit
COVID-19 Workplace Risk Assessment Template
HSENI have produced an example risk assessment for businesses when carrying out a risk assessment for COVID-19.
You can download the template from their website via the link below.
Find out more on HSENI website.
COVID-19 Business Support Infographic
We have produced a guide to COVID-19 business support, covering government support measures, who is eligible for support and the available schemes.
Click here or the thumbnail below to view the full infographic. You can click the infographic to zoom in.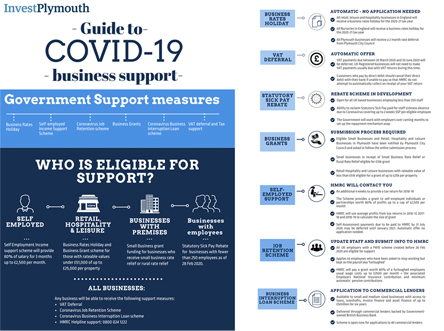 Guidance for apprentices, employers, training providers, end-point assessment organisations and external quality assurance providers
These are difficult times for employers, apprentices and providers of apprenticeship training and assessment. As part of the cross-government efforts to respond to the impact of coronavirus (COVID-19), the Education and Skills Funding Agency (ESFA) is implementing new measures, until further notice, to make it easier for apprenticeships to continue and complete in a different way if they need to, or to break and resume an apprenticeship later when that becomes possible.
Find out more on GOV.UK website
Support from Business Representative Organisations and Trade Associations
The Government is working closely with Business Representative Organisations and Trade Associations to support the national response to coronavirus, including ensuring messages from Government are heard by all businesses and that business voices are heard by Government. Via the below website is a list of organisations you can speak with to get advice. Many of these websites also include sector specific guidance and Q&A.
Find out more on Business Support website
HMRC Business Support Helpline – 0800 998 1098
HMRC have opened a dedicated helpline for businesses and the self-employed to answer queries or concerns regarding tax payments and finding solutions including:
agreeing an instalment arrangement
suspending debt collection proceedings
cancelling penalties and interest where you have administrative difficulties contacting or paying HMRC immediately
In addition to the helpline there is also a webchat service that is available. Both are open from 9am to 6pm Monday to Friday.
Coronavirus WhatsApp Information Service
The Govt has started a Whatsapp information service get provide official, trustworthy and timely information and advice about coronavirus out to as many people as possible. It will provide information on topics such as coronavirus prevention and symptoms, the latest number of cases in the UK, advice on staying at home, travel advice and myth busting via a chatbot.
To use this free service, simply add 07860 064422 in your phone contacts and then message the word 'hi' in a WhatsApp message to get started.
Find out more on GOV.UK website
The Coronavirus Job Retention Scheme will close on 31 October 2020.
From 1 July, employers can bring furloughed employees back to work for any amount of time and any shift pattern, while still being able to claim CJRS grant for the hours not worked.
From 1 August 2020, the level of grant will be reduced each month.To be eligible for the grant employers must pay furloughed employees 80% of their wages, up to a cap of £2,500 per month for the time they are being furloughed.
View the Job Retention (and Self-Employment Income Support) Scheme factsheet here.
You can also download a template if you're claiming for 100 or more employees through the Coronavirus Job Retention Scheme.
Find out more on GOV.UK website
Coronavirus Statutory Sick Pay Rebate Scheme
A new online service was launched on 26 May for small and medium-sized employers to recover Statutory Sick Pay (SSP) payments they have made to their employees, the government announced on 19 May 2020.
This scheme will allow small and medium-sized employers, with fewer than 250 employees, to apply to HMRC to recover the costs of paying coronavirus-related SSP.
Employers will be able to make their claims through a new online service from 26 May. This means they will receive repayments at the relevant rate of SSP that they have paid to current or former employees for eligible periods of sickness starting on or after 13 March 2020.
Find out more on GOV.UK website
To ensure you have up to date access to COVID-19 business support, HM Government have set up a new website which hosts all the details of the schemes the Chancellor has announced.
A full range of business support measures have been made available to UK businesses and employees. This page helps businesses find out how to access the support that has been made available, who is eligible, when the schemes open and how to apply.
See more on HM Government Business Support website.
HM Treasury also post regular video content on their Twitter channel to further support businesses, i.e. Q&A sessions.
See more on HM Treasury Twitter.
Taxable expenses if employee works from home due to COVID-19
Find out what equipment, services or supplies are taxable if your employees are working from home due to coronavirus (COVID-19).
Find out more on GOV.UK website
Government to support businesses through Trade Credit Insurance guarantee
Businesses with supply chains which rely on Trade Credit Insurance and who are experiencing difficulties maintaining cover due to Coronavirus will get support from the government, the Economic Secretary to the Treasury, John Glen has announced.
Find out more on GOV.UK website
Access to financial support document
The HM Treasury has prepared a document to guide businesses on how to access government financial support if you or your business has been affected by COVID-19.
This document highlights key areas of financial support, such as:
If you're a small or medium-sized business, you may be entitled to reclaim the costs of Statutory Sick Pay (SSP) for sickness absence due to COVID-19.
Some businesses will be eligible for a Business Rates holiday for 1 year from 1 April 2020.
If your business is eligible for small business rate relief or rural rate relief, you're entitled to a one-off cash grant of £10,000.
If your business is facing cash flow issues as a result of COIVD-19, there's support available from the British Business Bank and Bank of England.
If you're self-employed or own a business and you're concerned about not being able to pay your tax bills because of COVID-19, you may be eligible for support through Her Majesty's Revenue and Customs' (HMRC) Time to Pay service.
You can view the document here.
For more guidance on UK businesses trading internationally during COVID-19, visit the GOV.UK website.
Measures to support public services, people and businesses
The Chancellor has set out a package of temporary, timely and targeted measures to support public services, people and businesses through this period of disruption caused by COVID-19.
This includes a package of measures to support businesses including:
a Coronavirus Job Retention Scheme
deferring VAT and Income Tax payments
a Statutory Sick Pay relief package for SMEs
a 12-month business rates holiday for all retail, hospitality, leisure and nursery businesses in England
small business grant funding of £10,000 for all business in receipt of small business rate relief or rural rate relief
grant funding of £25,000 for retail, hospitality and leisure businesses with property with a rateable value between £15,000 and £51,000
the Coronavirus Business Interruption Loan Scheme offering loans of up to £5 million for SMEs through the British Business Bank
a new lending facility from the Bank of England to help support liquidity among larger firms, helping them bridge coronavirus disruption to their cash flows through loans
the HMRC Time To Pay Scheme
Find out more on the GOV.UK website.
Visit the Welfare page to find out more about coronavirus and claiming benefits, support with heating, off supply, isolating and fuel debt enquiries, benefits, access to foodbanks, wellbeing and taking care of your staff.
Visit the welfare page.
Changes to Insolvency and Company Rules
Over the weekend BEIS minister, Alok Sharma, announced that the Government would be introducing legislation to support businesses that would otherwise be operating illegally due to being technically insolvent. There will be a temporary suspension of "wrongful trading" rules which make it a criminal offence for a company to keep trading if they know the business is unable to repay its debts, with new rules allowing companies undergoing restructuring to continue to access supplies and raw materials. This will also remove the threat of Directors having personal liability for their business and will apply retrospectively from March 1.
He also announced that companies required to hold Annual General Meetings will be able to do so flexibly in a matter compatible with public health guidance such as holding the AGM online, or by phone using only proxy voting.
Critical workers who can access schools or educational settings
Guidance for schools, childcare providers, colleges and local authorities in England on maintaining educational provision
See more on GOV.UK website