Raise Your Profile
Raise your profile in Plymouth with one of our available sponsorship opportunities. Becoming a sponsor gives businesses a unique marketing opportunity and unprecedented exposure in a relevant event, project or conference. Unlike traditional means of advertisment, in sponsorship deals, a business can reach their target audience more accurately while also forging long lasting relationships with other relevant businesses that the event, project or conference would give them the platform to do.
In Plymouth, you will find a wealth of sponsorship opportunities ranging from tourism tailored events to advanced marine projects - here are the current opportunities.
Plymouth has a strong events programme throughout the year, with a variety of sponsorship opportunities available for business engagement and brand building.
We have produced a document covering all event sponsorship opportunities. You can view it by clicking here or the thumbnail below.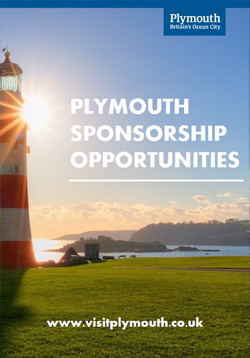 All packages within this document can be tailored and made to best suit your business objectives and needs; contact us for more information.
Click here to get in touch.
---
Marine Tech Expo 2020

The Marine Tech Expo is an opportunity for Marine businesses to come together, collaborate, showcase and make lasting relationships with like minded people.
The next Marine Tech Expo will be taking place in 2021. Check back on the Marine Tech Expo website soon for further details.
If you would like to be a part of an internationally recognised event, please get in touch.
Looking back at Marine Tech Expo 2018...
​Plymouth hosted its second Marine Tech Expo in June 2018, creating a platform to showcase, network and collaborate with the world class marine technologies being developed in the area in the run up to the Mayflower 400 celebrations in 2020. The event brought together decision makers involved in the latest marine innovations in blue technology under one roof at University of Plymouth.
The event saw over 200 attendees and over 25 exhibitors, showcasing the exciting world of marine autonomy, with a broad mix of international, national and local delegates, speakers, companies and collaborations.
​The event was extended into the evening with networking opportunities to meet with the speakers, international clusters, business decision makers, academics and entrepreneurs for an evening sunset cruise and canapes across Plymouth Sound topped off with a buffet and wine in one of Plymouth's favourite waterside venues.