Make Almost Anything: 6-Week Training
Fab Lab Plymouth
Tavistock Place
Plymouth
Devon
PL4 8AT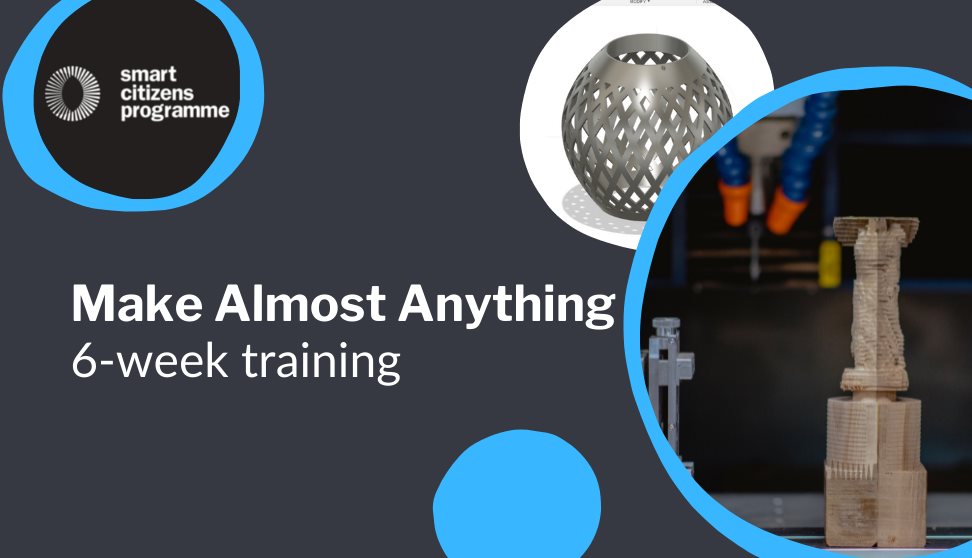 About us
Join our follow-on course to 'Design Almost Anything' and turn your ideas into reality! In this in-person 6-week training, you will continue to develop your digital design skills using free, open-source CAD software and learn how to use digital fabrication machines, such as 3D printers and laser cutters, to bring your ideas to life.
You will explore the various functions of CAD and CAM through a tutor-led project and have the opportunity to develop and make your own personal project.
The skills gained from this training can be applied to almost any project or industry. From designing jewellery, artworks and products to using CAD/CAM in architecture and tech - digital design and fabrication is adaptable to so many careers and pathways.
A good knowledge of CAD/CAM is required to take part in this training, and previous experience of using Autodesk Fusion 360. We would highly recommend watching the recordings of our 'Design Almost Anything' 6-week training before attending this course. The recordings can be accessed for free here: https://www.fablabplymouth.org/events/design-almost-anything-3/
Training Duration
This course will be held at Fab Lab Plymouth over 6 weekly sessions (2.5 hour session including a break). By registering for this course you agree to attend all 6 sessions. Dates and times of each session are as follows:

3 November; 6pm - 8:30pm
10 November; 6pm - 8:30pm
17 November; 6pm - 8:30pm
24 November; 6pm - 8:30pm
1 December; 6pm - 8:30pm
8 December; 6pm - 8:30pm

Book your free ticket here: https://www.eventbrite.co.uk/e/make-almost-anything-6-week-training-tickets-152857227081
TripAdvisor