Northern Lights Dome Experience and Short Films
Market Hall
Duke St
Devonport
Plymouth
Devon
PL1 4PS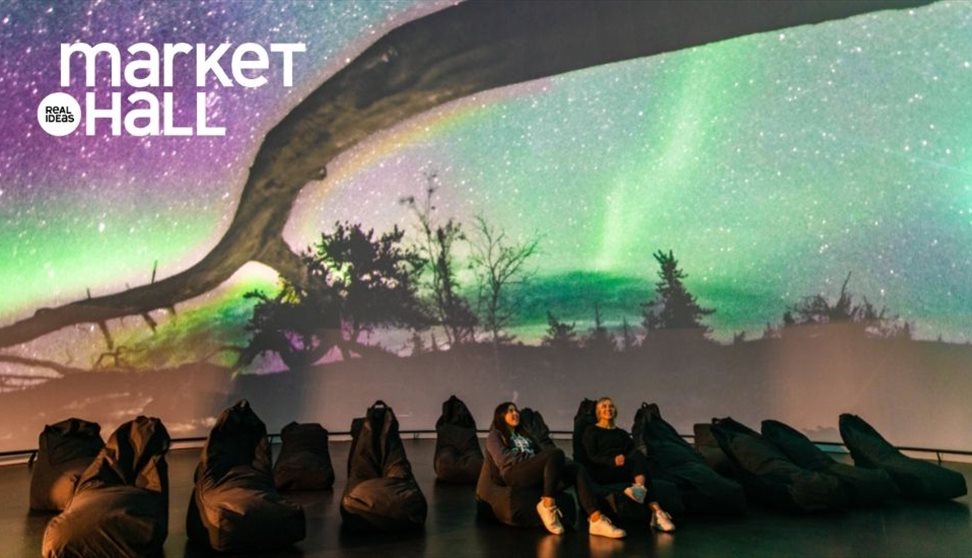 About us
Join us to experience the Northern Lights and a selection of short films.

Résonances Boréales
Enjoy a breath-taking 360-degree view of the Northern Lights as you travel straight into the heart of the boreal forest.

This 360-degree show creates a visual environment in full symbiosis with Roman Zavada's piano compositions and the Northern Lights. This unique experience brings the audience straight into the heart of the boreal forest above the 60th parallel. The stunning real-time images of the aurora boralis combined with the piano performance make for an unmissable immersive experience.

Approx running time: 14 minutes

Light of Home
Light of Home is a short film designed for fulldome immersive projection spaces. Light is both the subject and the medium of this film which explores the emotional connections between light, place and memory. The story is driven by a soundtrack constructed from interviews in which people recall their experiences of light in the place where they grew up.

Approx running time: 10 mins

Thin Air
This 360-degree video was produced by Khaki TV in collaboration with Cydney Uffindell-Phillips and Toby U-P. It's a compelling story of love and loss with beautiful movement and sound.

Thin Air has won 3 Remi awards at the Worldfest Film Festival in Houston, US - a Platinum Remi for Music Videos - New Artist, a Platinum Remi for Performance Arts Film, and a Gold Remi for Live Action Experimental Film.

Approx running time: 10 mins

Doors open half hour before screening begins

Ticket fees are Pay What You Decide
You will be presented with suggested prices but the decision of what you'll pay will be entirely your choice.

Arrival and Admission
Please make sure you have your ticket to hand, ready for check-in. We cannot guarantee entry into events for late arrivals. Your ticket gives you entry to the experience named on your ticket only.

COVID-19
All of our events and experiences have been created at reduced capacity for COVID safety.

We are asking everyone to wear masks whilst in our spaces, including during dome shows, and to take lateral flow tests ahead of their visit. Please do not visit our spaces if you are displaying symptoms of COVID-19 or if you have a positive lateral flow or PCR test.

Should you need to change or amend your tickets to a Real Ideas event due to contracting COVID or needing to self-isolate please email tickets@realideas.org where one of our team will be able to assist you. For more information please read our COVID-19 guidance.

Travel Information
At Market Hall, we are working on a dedicated place for parking, but for now, it's limited.

We are an environmentally conscious organisation and encourage our visitors to prioritise green travel. Please consider getting the bus, cycling or walking to visit us. We have plenty of space for bikes to be parked securely on-site and one electric car charging point. More information on bus routes and car parks nearby can be found here - https://realideas.org/our-spaces/market-hall/

We value the relationship we have with our neighbours so if you need to drive to Market Hall, please avoid parking on the pavements around the building or in front of people's drives. Please make use of the car parks we have identified in the area that are all within walking distance.

When you arrive, please use the main entrance via the steps (Duke Street) or ramp (via Wall Street).

When leaving the building at night please be respectful and consider the people living in the residential area.

There are a couple of disabled parking spaces on site – please advise us of any additional needs so we can make your visit enjoyable and comfortable.
TripAdvisor