Plymouth Coach Station
Plymouth Coach Station
165 Armada Way
City centre
Plymouth
Devon
PL1 1HZ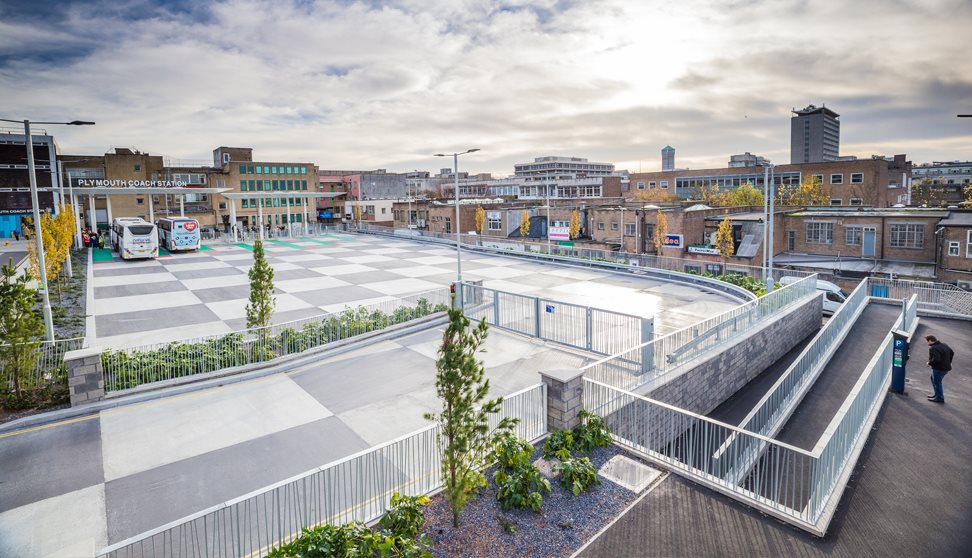 About us
Development Stage 6 – Completed
The new £4.8million Plymouth coach hub moved to the heart of Plymouth city centre in 2016.
Transport links are being further strengthened with the planned regeneration of Plymouth's railway station.
The new coach station will have seven bays, real time passenger information screens, sail like steel canopies to provide shelter, toilets, a staffed ticket office, ticket vending machines, cycle stand, CCTV, a customer help point and a café concession.
National Express, the biggest coach operator in the country, will run the station which is expected to see over 50 departures a day. Around half of them will be scheduled National Express services, with the remaining scheduled services run by Megabus and SW Falcon.
Detail about the build:
Construction began in January 2016
Two giant canopies made of steel are over 5.5 metres high provide shelter for passengers
The outside waiting area has been finished off with granite, including staircase and ramp to a pedestrian opening into Cornwall Street
10,000 tonnes of imported stone were used
1500 square metres of concrete have been poured into the concourse
550 tonnes of granite have laid beneath the canopy
2 miles of cables have been laid
The coach area spans seven lanes which have been created in a chessboard style. Your eyes do not deceive you – it slopes slightly to allow for drainage
There is an electronic barrier so that there will be no access for other vehicles
TripAdvisor