The Box has secured two new sponsorship deals with Babcock and Plymouth Citybus.
Babcock has signed up as the venue's first Corporate Gallery Partner, while Plymouth Citybus has become its first Figureheads Sponsor.
Babcock's sponsorship is for the 'Port of Plymouth' gallery. Spread across two rooms, the gallery highlights Plymouth's development from the Bronze Age to the present day with a particular focus on its maritime and naval history.
Mike Homer Managing Director of Babcock's Devonport Royal Dockyard said: "Babcock has a rich heritage of supporting, building and sustaining the marine industry. Sponsoring a gallery that explores Plymouth's enduring relationship with the sea and which celebrates its maritime history is the perfect choice for us. We're delighted to be involved with such a significant cultural project that will be a huge asset for the city."
Plymouth Citybus have agreed to sponsor the Royal William figurehead. Carved in the 1800s and standing at around four metres high, 'King Billy' as he's affectionately known, is the largest of the 14 Royal Naval figureheads that visitors will be able to see when they arrive at The Box suspended from the ceiling in a spectacular flotilla.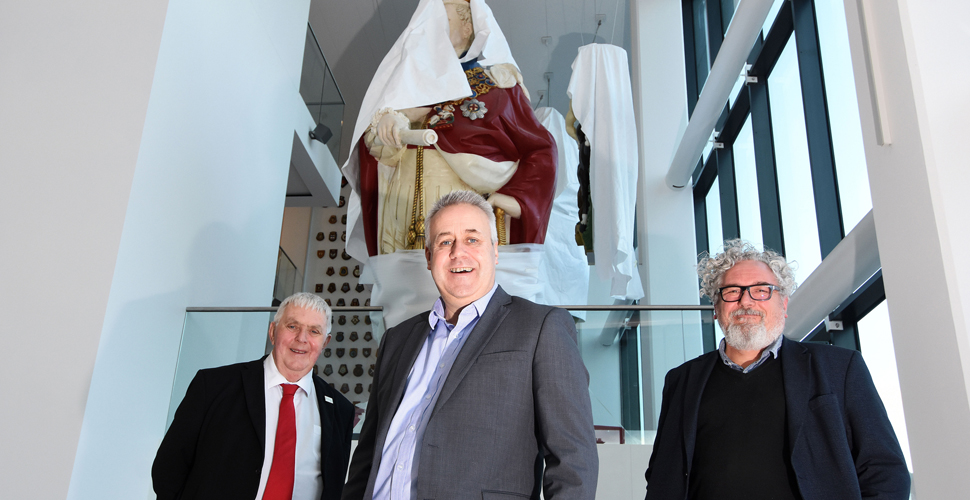 Richard Stevens, Managing Director at Plymouth Citybus said: "Figureheads were once said to symbolise the 'souls of ships' and protect the passengers and crew on the vessels they adorned. We love this proud history plus their connections with Plymouth where many of them were carved and are really pleased to be involved with such an exciting project."
With a projected target of at least 250,000 visitors in its first year and a programme featuring a major commemorative exhibition about the Mayflower and a series of international artists, The Box is already generating regional, national and international press coverage, months before it opens.
Plymouth City Council Leader, Tudor Evans OBE said: "The Box has had a huge amount of backing from funding bodies, trusts and foundations since it started, but it's brilliant to see this level of support also being secured from Plymouth-based organisations. Babcock and Plymouth Citybus are hugely successful in their own right but I'm sure they'll also benefit from being associated with the largest cultural venue to open in the UK in 2020."
Plymouth City Council Shadow Leader, Ian Bowyer said: "The Box is going to be a huge game changer for the city and it's great to see locally-based businesses getting on board with it – especially at such an exciting time as it builds towards its launch on 16 May."
To become a Corporate Gallery Partner, sponsor a figurehead or find out about other sponsorship opportunities at The Box contact Fundraiser, Louise Walsh on louise.walsh@plymouth.gov.uk
0 Comments