Advanced Manufacturing
Plymouth has the highest concentration of manufacturing employment on the south coast of Britain, providing opportunities in management, process engineering and advanced manufacturing. 12% of Plymouth's jobs are in the manufacturing industry, far exceeding the 8.3% national average.
Despite its decline in recent years, manufacturing remains an important part of the UK and Plymouth economies. Locally, it accounts for nearly 13 per cent of the total economy and a similar proportion of the labour market.
In terms of productivity per head - gross value added (GVA), at £47,000 it is worth over one and a third times the average GVA within the local economy.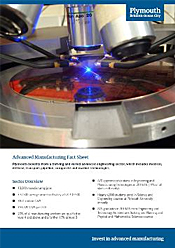 View the Advanced Manufacturing factsheet

---
Plymouth Manufacturing Group (PMG)
The PMG is an informal network of senior level people from manufacturing companies from across the Plymouth Travel-to-Work-Area.
It provides a convenient means of interchange of information, experience and opinion and a channel of communication between members of the Group, local authorities and other appropriate organisations. It encourages and supports the orderly development of industry in the Plymouth area.
Members are from all areas of manufacturing and range from Babcock to Burts and Princess to Plessey.
Plymouth Manufacturing Group (PMG) have officially launched their new website Plymouth Makes, created for young people, their families, and teachers, the website showcases some of the members of the PMG and the amazing products they make.
You can find information about the local manufacturing industry, the exciting apprenticeships available, latest news and real-life career stories, and give your brain a workout with our fun quizzes and worksheets in our learning resources page.
University of Plymouth
The School of Engineering, Computing and Mathematics
The School of Engineering, Computing and Mathematics is home to the University's engineering disciplines, navigation, computing and mathematical sciences, which together provide a vibrant inter-disciplinary and collaborative environment dedicated towards producing graduates with the necessary applied knowledge and skills to meet the demands of employers today and tomorrow. The School is home to a range of research facilities, such as the Coastal, Ocean and Sediment Transport (COAST) Laboratory, located in the Marine Building, and the Plymouth Electron Microscopy Centre. Its academic programme accommodates around 2,000 students, who are working across subjects including Civil and Coastal Engineering; Electrical and electronic engineering and robotics; Mechanical, Marine and Materials Engineering; Computing and Cybersecurity; Navigation and Maritime Science; and Mathematical sciences.
Materials and Structures (MAST) Research Group
The University of Plymouth has conducted research into composite materials and structures since 1967, and for more than 30 years of that, has conducted knowledge transfer and provided continuing professional development under the Advanced Composites Manufacturing Centre (ACMC) banner. Now renamed MAST, the group has wide-ranging specialisations, including: composites manufacturing, especially resin infusion processes; engineered nanomaterials and nanotechnology applications; marine composites; materials characterisation by destructive and non-destructive techniques; and medical implants and biomaterials.
Plymouth Electron Microscopy Centre (PEMC) (UoP)
PEMC has been offering expert and specialist support to industry across a range of sectors for more than 30 years.
In 2017, it was awarded £1.7 million by the European Regional Development Fund (ERDF) to launch the Plymouth Materials Characterisation Project (PMCP), which specifically gives Devon businesses from any sector free access to a specific electron microscope; the only publicly available FIB-SEM (focused ion beam, scanning electron microscope) in the south west, bringing 3D capability to PEMC.
Electron microscopy is largely a problem solving tool for industry – and the support offered is tailored to the needs of the individual business. So far, PMCP has supported Devon companies to do the following, all through a better understanding of the products and materials they use:
identify the unique properties of their product
carry out competitor analysis
understand why a particular component is not working
enter new markets with an existing product
develop a new production process
develop a patent application
create stunning, high resolution images for promotional purposes.
Industry can benefit from using electron microscopy in terms of:
improved products and processes
improved quality control
reduction of waste (and therefore cost)
new product development
promotional images for web and printed materials
uses span manufacturing, engineering, textiles, electronics, biomedical, food and other sectors
South West Manufacturing Advisory Service Ltd (SWMAS)
SWMAS design and deliver programmes of support that enable ambitious businesses to increase their productivity, improve operational efficiency, develop skills and reach their growth potential.
SWMAS work directly with manufacturers, on the shop floor delivering improvement programmes and at board level developing and refining strategy. We provide consultancy services, run public funded programmes, deal with complex funding arrangements and support businesses to leverage UK and European funding for growth and innovation.
The College's Regional Centre of Excellence for STEM provides state-of-the-art facilities for the advanced manufacturing sector. Working closely with industry partners, the College runs apprenticeships and university-level courses in mechanical design and manufacture.
Plymouth Science Park is a world-class office, research and laboratory environment that provides the space, flexibility and support for technology, digital and science-based businesses to accelerate their growth and success.
PSP is investing in new enabling technologies, including a 3D printing suite, and work closely with Faculties and Institutes at the University of Plymouth to develop research collaborations and support enterprise.
---
Key businesses in the city