Business Services
The city has a successful Business Services sector offering financial and professional services with leading commercial law firms, accountants, management consultants and recruitment companies. It also has contact centres located here providing services to local companies with national and international reputations, with particular specialisms within the marine sector.
A variety of services provided to businesses, including banking, insurance, accountancy, legal, consultancy, commercial property, recruitment, machinery rental, computing, security and cleaning services.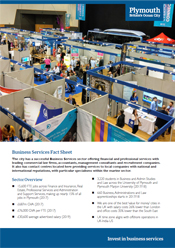 View the Business Services factsheet

---
Based within the Faculty of Business and Law, the Plymouth Business School is one of the largest in the University of Plymouth, encompassing a broad range of subject areas, including accounting, economics and finance; international shipping, logistics and operations; people, marketing and entrepreneurship; and tourism and hospitality. It also includes a graduate school of management, which offers professionally-accredited postgraduate programmes and PhDs in areas such as international business, marketing, finance and human resource management, supply chain management and procurement.
Institute for Social, Policy and Enterprise Research (iSPER)
iSPER brings together academics from across the University of Plymouth and supports them in delivering high quality and impactful social, enterprise and policy research.
It promotes collaboration with academics from other institutions, as well as stakeholders outside the academic community, at a regional, national and international level.
It has a number of themed research areas, including Crime, Justice and Society; Maritime and Logistics, Business and Policy; Markets, Innovation and Competition; People, Organisations and Work; Product and Service Value Chain Innovation through Advanced Technologies; and Responsible Entrepreneurship and Social Innovation.
The Plymouth Law Society represents solicitors in the Plymouth travel to work area.
Committed to maintaining the standards of the profession in the city and beyond through training, sharing of best practice, or providing a collective voice for their members.
The Chamber is the leading independent business representative group in Devon whose fundamental purpose is to improve the environment for doing business in Devon and the South West peninsula.
The Chamber works in three major spheres of influence from which your business can benefit:
In the macro economics and business community of Plymouth and surrounding regions.

Helping you build your business through a structured (but non-compulsory) programme of networking and business events.

By being the source and conduit of crucial business information and intelligence.
The Federation of Small Businesses (FSB)
The FSB is a not-for-profit and non-political organisation. It is a lobbying organisation representing small firms and the self-employed to national, local and devolved government. It was formed in 1974 and has in excess of 150,000 members.
In 2017 the FSB has 184 branches around the UK and these are grouped into the 33 regions.In 2018 it is going through a re-organisation where there will be 7 super regions with some 40 branches.
Launched in 2014, Delt is a truly innovative shared services partnership, working in the public and private and third sectors.
A Teckal company that at the end of last financial year evidenced a smarter alternative to outsourcing, by putting ~£7m (at the end of last financial year) back into the South West economy that would have been lost through traditional outsourcing.
Delivering better, faster and cheaper solutions, making use of economies of scale and a more commercial approach to contract negotiation and management. Delt turnover in 2018 is projected to be £20m+ with a new business pipeline across the whole South West that could see revenues in excess of £100m within 24 months.
---
Connectivity
Plymouth has good broadband connection and is in the top 10 locations in the country for superfast broadband and fifth best for ultrafast broadband. It has the largest free outdoor Wi-Fi network available in the South West.
A healthy supplier marketplace to make cutting edge connectivity competitive.
Plymouth has high take up of broadband and a skilled workforce with high levels of IT skills.
A world class data centre facility is being developed in Plymouth through a private/public consortium.
Connected Plymouth is committed to maintaining Plymouth's leading digital position.
---
Key businesses in the city