Co-operatives
A strategic action plan to double the local co-operative economy in Plymouth by 2025
Plymouth City Council welcomes co-operatives and has pledged to support new and existing co-operatives to develop and grow
People like us can own and run businesses.
Click the image below to view a larger version, or click here to view - PDF 187KB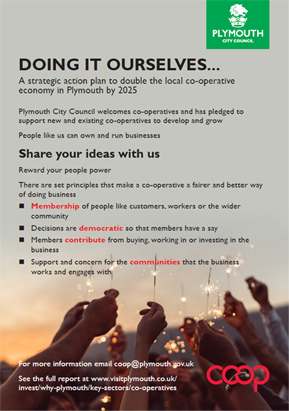 Co-op Fortnight 2019
Plymouth City Council has pledged to take part in Co-op Fortnight 2019 and promote the 'Acts of Co-operation' being carried out across the City. Join us for two weeks of mass co‑operation from 24 June to 7 July 2019 to spread the Co‑op word and share the values that make our businesses different.
View the Co-operative Fortnight - [PDF 790KB] programme
To find out more about making your own Co-op Fortnight pledge, please visit the Co-op Fortnight website.
Doing it ourselves
A strategic action plan to double the local co-operative economy in Plymouth by 2025.
Doing It Ourselves - [PDF 3.2MB]