Co-operatives
A strategic action plan to double the local co-operative economy in Plymouth by 2025
Plymouth City Council welcomes co-operatives and has pledged to support new and existing co-operatives to develop and grow
People like us can own and run businesses.
Click the image below to view a larger version, or click here to view - PDF 187KB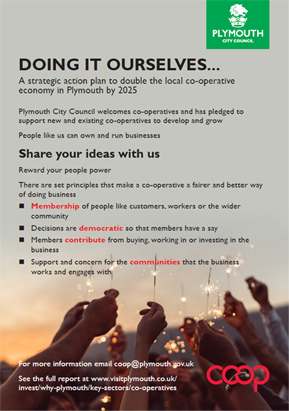 Doing it ourselves
A strategic action plan to double the local co-operative economy in Plymouth by 2025.
Doing It Ourselves - [PDF 3.2MB]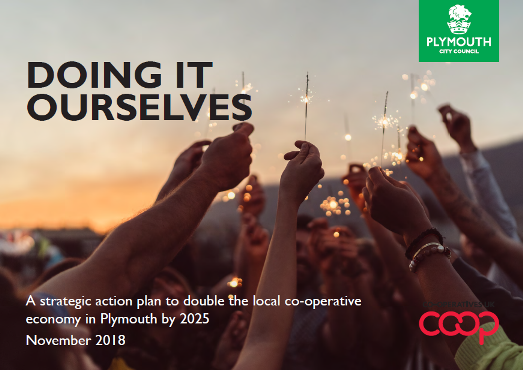 Moving Beyond Food Aid in Plymouth; Co-operative Options
In 2021, Co-operative Futures was commissioned by Plymouth City Council to explore and propose various co-operative business model solutions for Plymouth, to enable the management of food-aid activities in a more sustainable and inclusive manner than the systems that presently exist.
Within this report, 3 different models for co-operative business models in Plymouth are presented and explored:
1. Food co-operatives
2. a) Organisational bulk buying food co-operatives
b) Co-operative Distribution Centres
3. 'Added Value' Food Co-operatives
The new co-operative/s structures should provide a more collaborative and financially viable approach to collecting and distributing food in Plymouth and seek to address both food insecurity and food waste.
Download the Co-operative options for Food Aid providers in Plymouth report
Fighting for a fair share of funding for co‑ops
We're continuing to lobby to ensure that co‑ops can access government funding and support to help them weather the challenges brought about by COVID‑19.
Alongside our arts and culture members, we successfully campaigned for co‑operative and community benefit societies to be eligible to apply for a share of the £500m Culture Recovery Fund. Applications are now open.
We are pressing the British Business Bank to remove barriers for co‑ops trying to access to Bounce Back Loans. If you've struggled to access loan finance due to banks failing to understand co‑operatives, tell us about your issue via our COVID survey.
We have convinced Sheffield City Region to include support for co‑ops and worker buyouts/restarts in its COVID-19 COVID‑19 renewal action plan.
Coming up...
We're writing to Ministry of Housing, Communities & Local Government (MHCLG) and Local Enterprise Partnerships (LEPs). We're asking that the newly announced grants for small business to access specialist support, technology and equipment can be used to obtain co‑op specialist advice where it's required. Co‑ops interested in these grants should contact their local growth hubs right away.
We submitted a detailed proposal to MHCLG on the £150m Community Ownership Fund. We make the case for supporting 'co‑operative approaches' to community ownership and call for the creation of a new institutional investor in the community shares market.
We've submitted an ask to the Comprehensive Spending Review. We've requested £10m to create 20 local 'Ownership Hubs', which will help create worker co‑ops via start‑up and conversion. Support our campaign asks.
Get in touch with our Policy Officer on james.wright@uk.coop and sign up to our policy blogs.