Plymouth 'Newton Abbot Racecourse' Devils
St Boniface Arena
Coypool Road
PLYMOUTH
Devon
PL7 4NW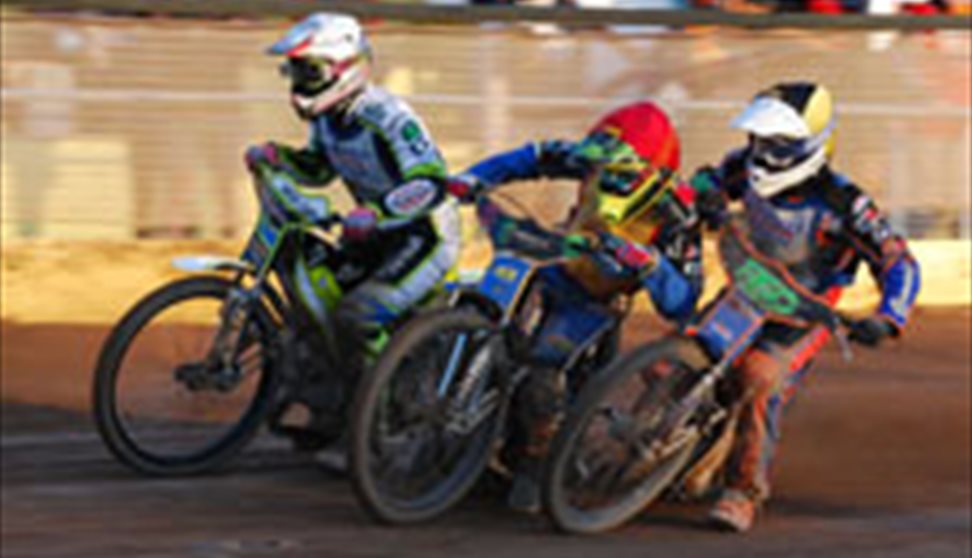 About us
PLYMOUTH 'NEWTON ABBOT RACES' DEVILS.
Thrill seekers and speed junkies? Plymouth has just the sport for you. The St Boniface Arena, home of the 'Newton Abbot Races' sponsored Plymouth Devils, is the only Speedway track in Devon and Cornwall; and is well known for producing some of the most adrenaline-charged racing in Britain.
Speedway is a family friendly sport that everyone will enjoy. The 500cc methanol fuelled bikes accelerate away from the gate at up to 60 mph in 2.6 seconds. Come and watch fifteen exciting heats of four riders battling it out over four laps per race, from tapes to finishes line in just under one minute! The race never over until they pass the chequered flag.
When the tapes rise, the riders drop their clutch and hurtle out the starting gate and into the first bend on motorbikes with no brakes or gears. Elbow to elbow, wheel to wheel. To get around the tight corners of the oval track at high speed, the riders have to accelerate in to the bends and bring the rear wheel out so that they exit the corner in a 'skid', without losing power. The roar of the engines, the cheers of the crowds. Every rider battling for points and for the lead….
Why not come along to the St Boniface Arena and prepare to become hooked.
Our friendly 'meet and greet team' will be happy to explain the sport to you and the point scoring system. Get the kids to come and say 'hello' to Neville the Devil, have their photograph taken with the riders and collect autographs.
The arena has a raised disabled viewing area. A fully licenced bar, gift shop and outside catering. The two main grandstands are uncovered, so wrap up warm on chilly evenings! Please check our website, media or telephone ahead, to check if the meeting may be in doubt, due to poor weather.
The Plymouth Devils race in the British Premier League.
For further information, please visit our website at: http://www.plymouthdevils.co/
Our Facebook page at: https://www.facebook.com/plymouthdevils
Or our Twitter account: @plymdevils
Plymouth Speedway is run by Peninsula Promotions Ltd.
Photograph courtesy of 'Nick Truscott Photography Ltd'
Where to find us:
St. Boniface Arena,
Coypool Road.
Plymouth.
PL7 4NW.
Telephone 07875 868202
The Plymouth 'Newton Abbot Racecourse' Devils race their home meetings most Friday (alternately Saturday) nights from April to October. (Please check before travelling as fixtures are subject to change.)

GATES OPEN :- 5:45pm
TAPES UP:- 7:15pm TILL 9:45pm


UP COMING MEETINGS
MAY
SATURDAY... 14th Plymouth v Edinburgh PL KOC
SATURDAY....21st Plymouth V Somerset L/C
FRIDAY........ 27th Plymouth v Workington PL

JUNE
FRIDAY.........10th Plymouth v Rye House PL
SATURDAY....18th Plymouth v Edinburgh PL
FRIDAY.........24th Plymouth v Ipswich PL
JULY
FRIDAY.........1st Plymouth v Reserved
FRIDAY........15th Plymouth v Redcar/Glasgow PL KOC QF
FRIDAY........22nd Plymouth v Redcar PL
FRIDAY........29th Plymouth v Scunthorpe PL

AUGUST
FRIDAY.........5th Plymouth v Berwick PL
FRIDAY.........12th Plymouth v Glasgow PL
FRIDAY.........19th Plymouth v Reserved
SATURDAY....27th Plymouth v Somerset PL

SEPTEMBER
FRIDAY..........2nd Plymouth v Reserved
FRIDAY ........9th Plymouth v Reserved
FRIDAY........ 16th Plymouth v Reserved
FRIDAY........ 23rd Plymouth v Reserved
FRIDAY........ 30th Plymouth v Reserved

OCTOBER
FRIDAY.........7th Plymouth v Reserved
Book Tickets
TripAdvisor
Opening Times
* Gates Open 5.45pm
Tapes Up 7.15pm till 9.45pm