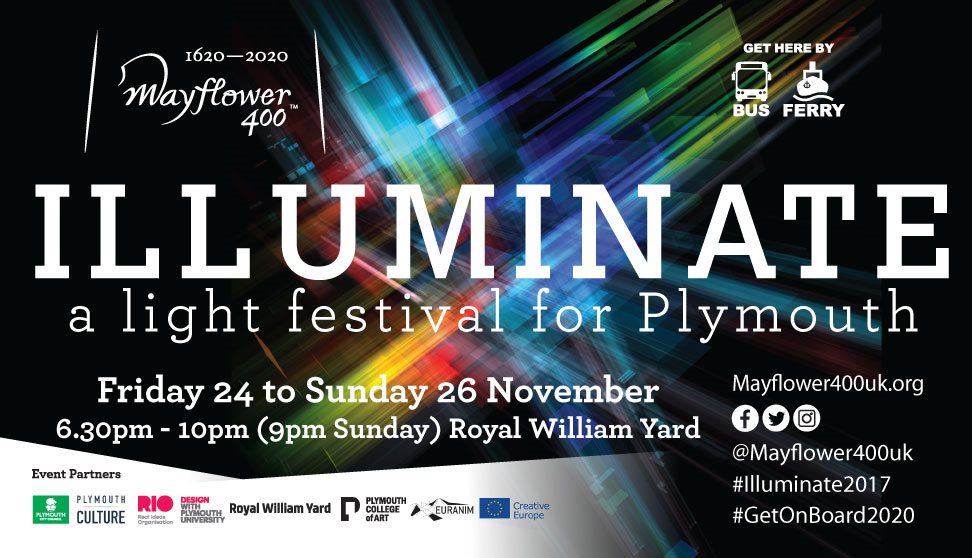 About us
From 24 to 26 November the Royal William Yard will be lit up with light installations, immersive visual art and light projections. Illuminate, an event marking the anniversary of the sailing of the Mayflower, has grown for 2017, and taken on a new location in Plymouth's historic former victualling yard.
The main event will be on Friday 24 November with showings at: 6.15pm, 7.15pm and 8.15pm.
Crowds will have the chance to walk around and see some fantastic light installations and projections around the yard as well being entertained by music and a local DJ. Food stalls and a bar will also be open all evening.
The projections and music will end at 10pm.
Free Entry however there will be an optional participatory element with a small charge of £2 per person.
---
Workshops: Ocean Studios
Mini Mapping (11 +)
Thursday 23 and Friday 24 November
10am to 12noon and 1pm to 3pm
Working alongside The Media Workshop, participants will create mini loop-able projection-mapped installations that will be displayed in various locations throughout Illuminate. Muybridge, zeotropes, flick-books and cinemagraphs will inform the development of short looped animations, which will be mapped onto selected locations.
https://mini_mapping.eventbrite.co.uk
Coding with Light Workshop (5+)
Thursday 23 and Friday 24 November
10am to 12noon and 1pm to 3pm
Plymouth College of Art present a fun workshop playing with coding and light! Using starter kits, participants will be taught how to connect wires and components to Arduino circuit boards. No soldering will be necessary as the wires are directly inserted into circuit blocks and boards. Participants will be taught to write and link code, creating a wide range of possibilities involving the use of LCD displays, light sensors and LEDs. No prior knowledge of coding is necessary but basic use of computers is recommended. All materials and equipment will be provided.
https://coding_light.eventbrite.co.uk
Reflective T-Shirt Printing Workshop (5+)
Saturday 25 and Sunday 26 November
10-12noon , 1 to 3pm, 3 to 5pm
During this fun workshop delivered by Rosie Drake-Amery of Native Makers and Plymouth College of Art, you will design and decorate your own reflective T-shirt using decorative textile techniques. You will be shown how to print using garment vinyl to create a reflective motif. Blank T-shirts will be provided, please wear closed toe shoes. No prior textiles experience is required. Delivered by Plymouth College of Art.
https://tshirt_printing.eventbrite.co.uk
---
Workshop Booking
Only £3 per person
Open to school groups and ideal for families with children 5+ years old.
School Groups
To book a school group email claire.honey@realideas.org
Places are extremely limited and payment of £3 per child will be required upon booking.
Weekend workshops
Open on a first come first served basis – walk ins welcome; payment will be taken on the door.
Enquiries
01752 395028
It will also be possible to participate in the Arts Award. For more information about Arts Award please visit: www.artsaward.org.uk
---
Performances
Barbican Theatre and Street Factory will be choreographing performances throughout the evening of 24 November.. They will use Xylobands to create a light performance which will involve the whole crowd. There will be opportunities to take part throughout the evening with a small fee of £2.
---
Event Partners
Plymouth College of Art
Royal William Yard
Plymouth Culture
University of Plymouth
Real Ideas Organisation
Creative Partners
JHAV
The Media Workshop
QED Productions
Euranim Project (PCA)
Romeo Echo Papa
Ocean Studios
City College Plymouth
Illuminate Partner

TripAdvisor