Tall Ships
The details below are from our 2019 event. These will be updated for our 2020 event at a later date.
There will be two tall ships docked in Sutton Harbour on Quay Square, free for all to go aboard.
Grayhound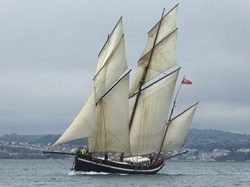 Onboard we offer adventure sailing experiences and low carbon cargo delivery under sail. Grayhound we are passionate about treading as lightly as possible on our planet's resources so we started a small family run business that does this.
The Grayhound sails two cross channel cargo routes. The 'Muscadet' Route and the 'Johnny Route'. These deliveries run on a regular schedule and provide a credible cargo route seven months of the year between the South West of the UK and France. We offer 8 cargo crew berths on every delivery. Our cargo voyages are useful, working sail experience with a brilliant purpose and Channel sailing for the adventurous.
Grayhound was built by Marcus, Freya and team in 2011 in Millbrook, Cornwall. Grayhound is a replica 1776 Cornish Privateer and is built in the traditional way and her build was approved by the MCA.
---
Johanna Lucretia
The Johanna Lucretia, which has appeared in the film 'Amazing Grace' and TV show 'Cabin Fever', will be appearing at Pirates Weekend Plymouth