Plymouth Pirate Weekend
The Barbican, Quay Square & Sutton Harbour
Plymouth
Devon
PL1 2LR

About us
The award-winning Plymouth Pirate Weekend returns to our shores on Saturday 13 and Sunday 14 May for two days packed full of family fun.
Taking place in The Barbican, Sutton Harbour and West Hoe Park this promises to be a cracking year for budding young pirates.
Say "Ahoy!" to Jonty Depp, Plymouth's very own Captain Jack Sparrow lookalike as he pits his wits against old foe Captain Barbossa, board a real Pirate ship and enjoy some live family entertainment.
Budding pirates can go aboard a real Pirate Ship with its scurvy crew, complete with live canon and musket firing, if that's not your thing you can enrol in the Mermaid School where you can meet a real life Mermaid, take in some shanty singing or watch a pirate themed puppet show.
Take a wander along the waterfront and pick-up your own pirate trail and activity sheet for just £2 at The Barbican Tourist Information Centre for a chance to win a great Pirate prize and personalise your very own Pirate story.
New for this year you can get the most out of your day and hop aboard the Plymouth Land Train for free to visit the children's activity area and Pirate themed Fun Park at West Hoe.
Download the Plymouth Pirate Weekend leaflet here.
We have a fantastic Facebook competition on offer in which you could win one of three family tickets to the National Marine Aquarium. To enter click here. Entries open until 12 May 2017.
---
Tall Ship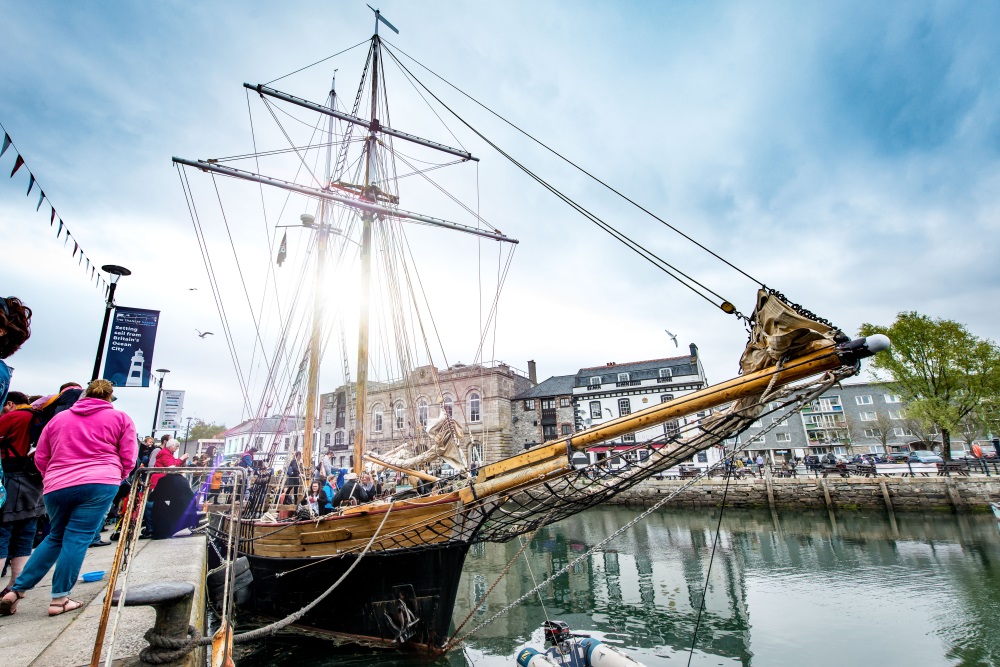 The Tall Ship sponsored by The National Marine Aquarium will be docked in Sutton Harbour on Quay Square and is free for all to go aboard and explore.
The Johanna Lucretia was built in 1945 at the Rhoose shipyard in Ghent, Belguim. Although originally built as a fishing vessel she was never used for this purpose and laid as a completed hull and deck for a number of years before being sold in 1952.
She was then converted and completed in 1954 for recreational use by her new owner and sailed Dutch waters from her home port of Enkhuizen in the Netherlands. In 1989 there was a change of ownership to a British citizen who registered Johanna as a national vessel with Plymouth as her home port.
In 1991/1992 she was refitted at T Nielsen & Co. Ltd. in Gloucester UK to her present configuration and was used for sail training and private charter from Gibraltar, The Caribbean and the East coast of the USA.
---
Museum On Tour
All Aboard M'Hearties with Museum On Tour at the Mayflower Musuem!
Come along, one and all, to make your very own pirate hats and pirate accessories so you can voyage around the Barbican as a proper pirate. Ahha!
Cost: £2.50 per child (accompanying adults go free) access to the Mayflower Museum is included in the price.
Booking is advised as places are limited. You can pay on the day but remember first come first served. Please book: www.motpirates.eventbrite.co.uk
---
Jonty Depp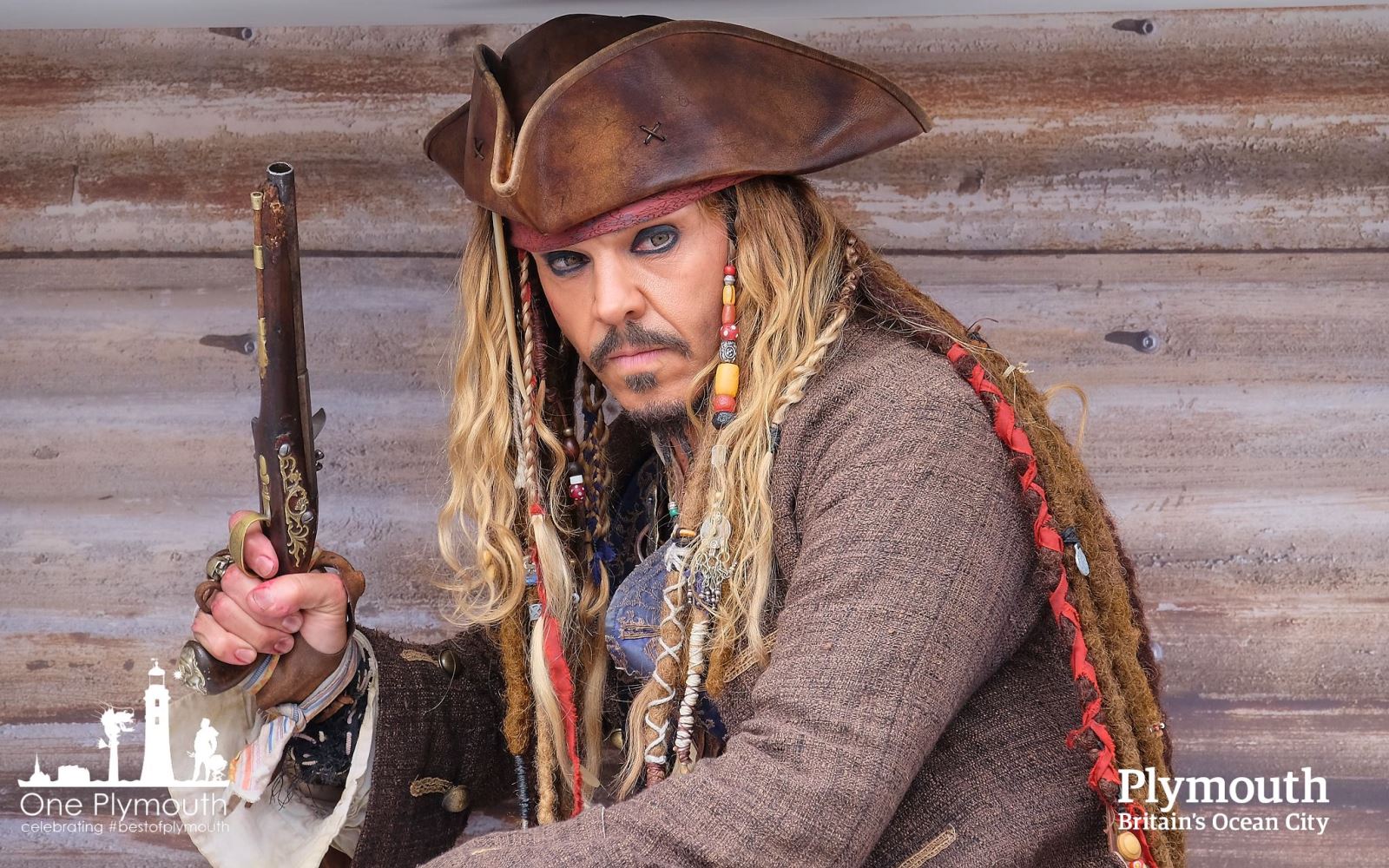 A firm favourite for the event and the weekend will include the extremely popular roaming Jack Sparrow impersonator mingling with the crowds and retailers. This year Jack will be accompanied by his arch enemy Captain Barbossa, just stand back and watch the two pit their wits!
---
Puppertree Company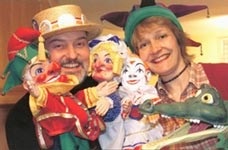 A team of two professional puppeteers with over thirty years of experience entertaining audiences with their 'Jack Tarr and Baggywrinkle' Pirate Puppet Show. This is an original tale told with beautifully crafted glove puppets with plenty of fun for the audience to join in the pirate adventure.
Jack Tarr runs away to sail the sea. He solves the mystery of the dissappearing food rations with the help of his cat Baggywrinkle!!
---
Pirates of St Piran
On Sunday 14 May, the Pirates of St Piran will be singing shanty songs and sword fighting.
---
Melody the Mermaid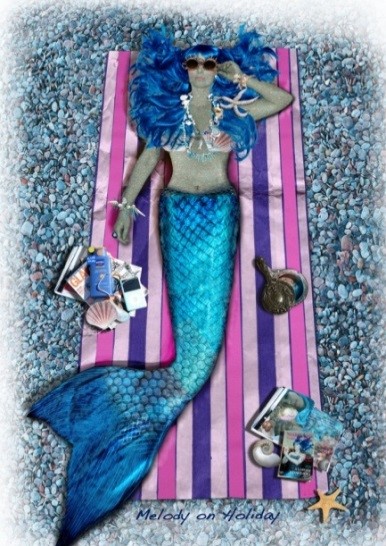 Melody the Mermaid will be meeting and greeting the land dwellers of The Barbican and hold her famous Mermaid school and arts and crafts workshops.
Saturday 10am - 12noon: Melody meet and greet
Saturday 1.30pm - 3.30pm: Mermaid school craft activity 'Make a wish in a fish' at the Tourist Information Centre
Sunday 10am - 12noon: Melody meet and greet
Sunday 1.30pm - 3.30pm: Mermaid school songs and storytelling at the Tourist Information Centre.
---
Society of King George the Third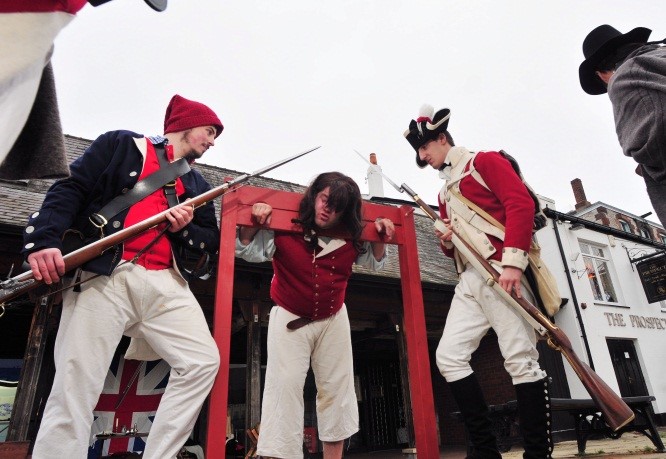 The Society of King George the Third will stage black powder displays and several quality table displays from which the public may handle. They will also bring a batch of children's sized red uniforms.
---
Tavy Tars
On Saturday 13 May the Tavy Tars will be adding to the fun at Plymouth Pirate Weekend with their selection of sea shanties and songs of the sea.
They offer a mixture of harmonies and fine musicianship, but mainly lots of high energy and familiar songs with a nautical flavourthat you will recognise and want to join in with!
---
Soft Play - Giant Octopus
Back again this year on West Pier there will be a Giant Octopus soft play activity centre over the two days.
---
Tyburn Jig - Storytelling and Walkabout Act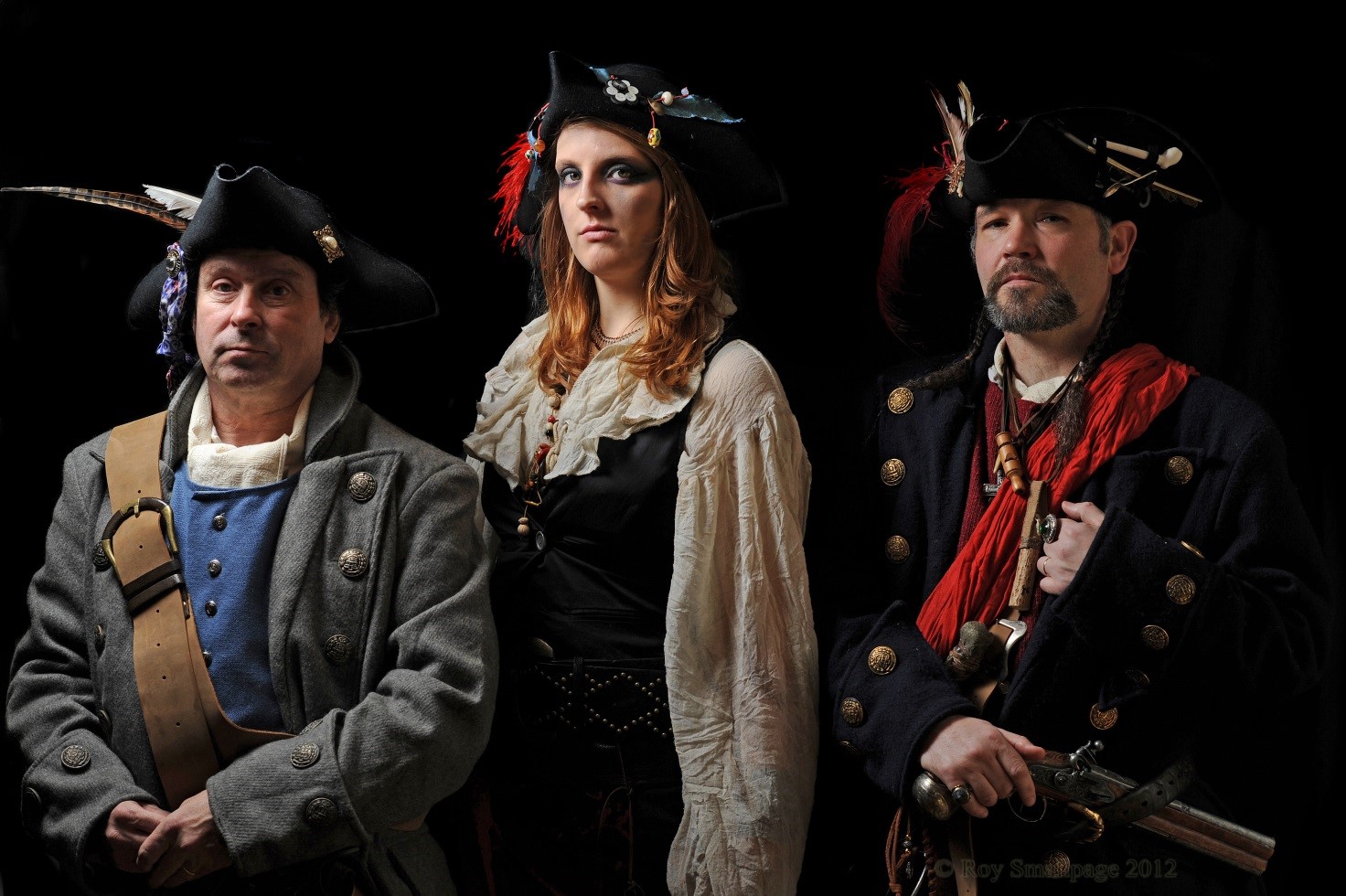 Tricorn Shonkey impressively costumed will bring a weave of musical tapestry of pirates, smugglers, press-gangs, sea voyages, highwaymen and ne'er do wells! Shanties, jigs and reels are also given the Shonkey treatment; bringing a whole broadside of fun to sailors and land-lubbers' ears alike! Listen also to a clutch of stories to tickle your ears- tales of mermaids and pirates!
---
West Hoe Park
Sand Sculpture: Have your photo taken alongside the amazing Pirate sand sculpture or get involved with the free workshops and learn how to create your very own miniature sand sculpture. 20% off the children's rides – train, cups 'n saucers, bouncy castle and bungee jump.
Visit the Pirate-themed Treasure Island Fun Park – trampolines, adventure golf, bumper boats.
Jack Sparrow and his nemesis Captain Barbossa will be visiting the area between 10.30 and 11.30am, see if you can get a selfie with one or both Pirates of the Caribbean characters.
---
Plymouth Land Train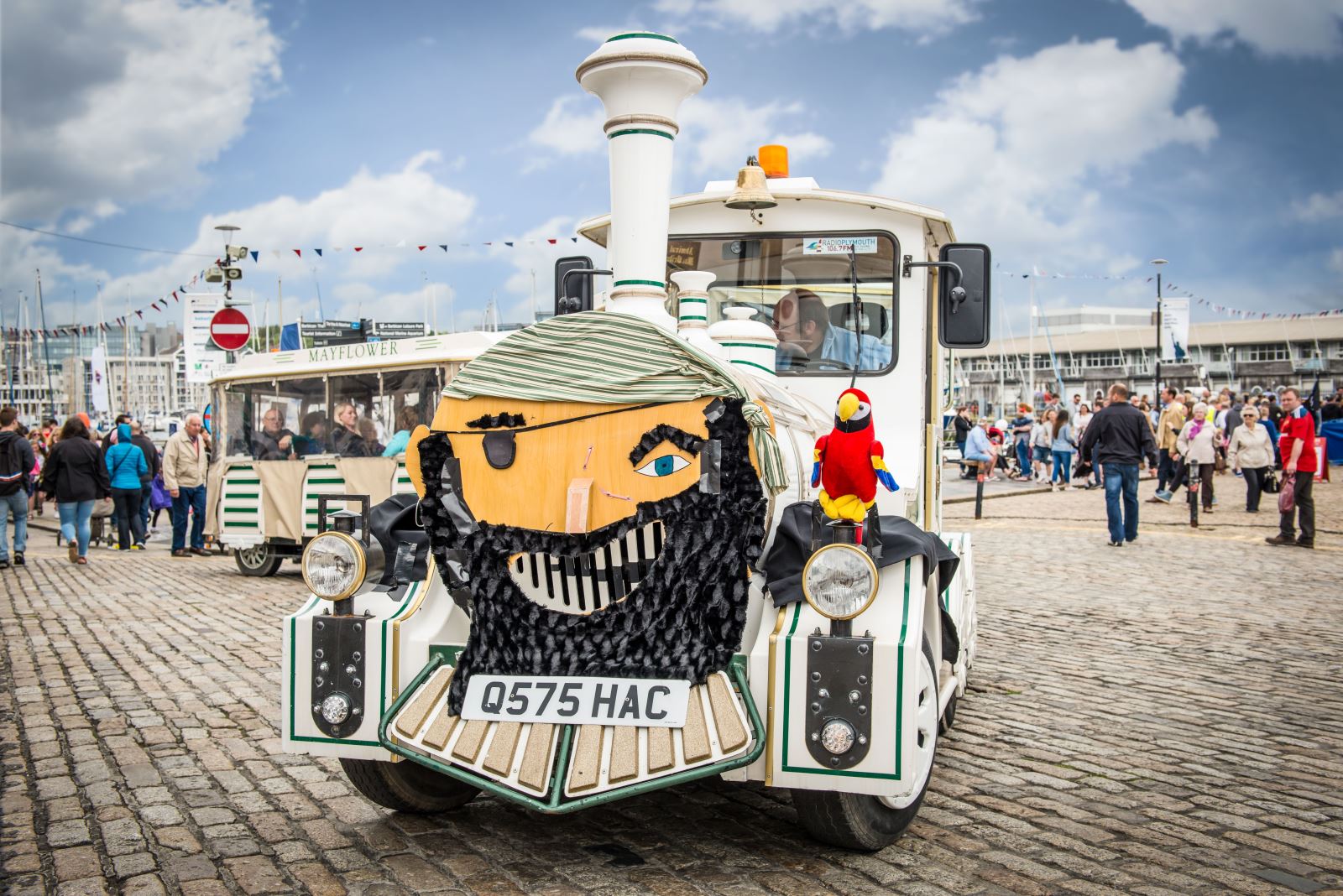 The Plymouth Land Train will be available free of charge over the weekend (places are limited)
Timings - Departure times
Plymouth Guildhall: 10am, 11am, 12noon, 1pm, 2pm & 3pm.
Mayflower Steps: 10.15am, 11.15am, 12.15pm, 1.15pm, 2.15pm & 3.15pm
Smeaton's Tower: 10.25am, 11.25am, 12.25pm, 1.25pm, 2.25pm & 3.25pm
West Hoe Park: 10.35pm, 11.35pm, 12.35pm, 1.35pm, 2.35pm & 3.35pm
---
Fancy Dress Competition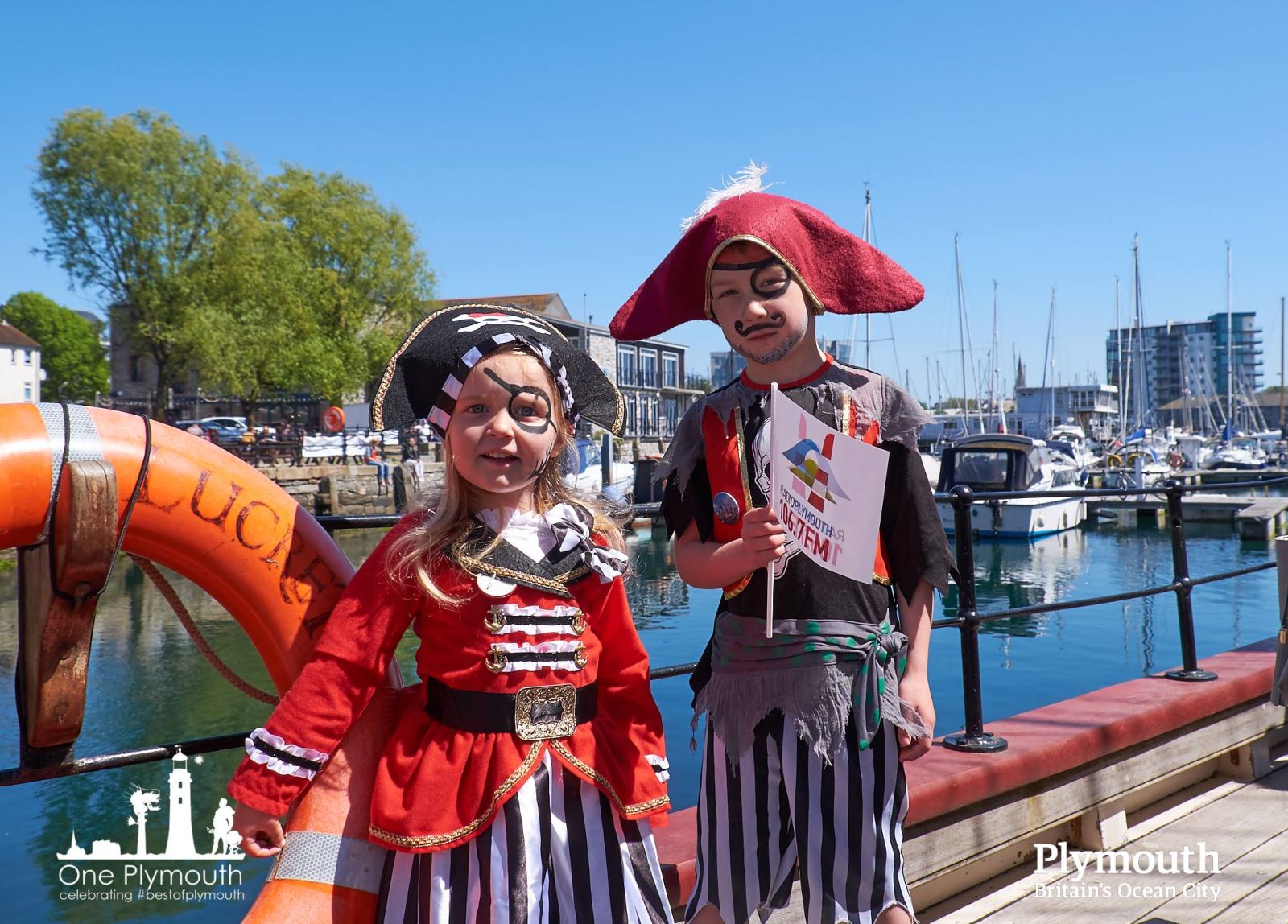 Announced 3.30pm each day after the puppet show. There will be a prize for the best dressed boy and best dressed girl (Under 12s). Don't forget to visit The Barbican Tourist Information Centre to buy your Pirate essentials!
---
Other Highlights and Local Business Involvement
- 'Best Dressed Pirate' competition
- Face painting
- Giant Octopus - a soft play area
- Atwell Martin in Southside Street, are giving away 250 crab lines and buckets over Pirate Weekend. Pop by the shop to collect them while stocks last.
- Cafe Kiss on North Street will be projecting pirate-themed movies onto their exterior wall over the weekend for families to enjoy.
- The National Marine Aquarium staff – all dressed as pirates - will also be joining in the fun with a host of events and competitions at the aquarium, including pirate hat crafting, a special display of whale artefacts, a pirate trail and games for the whole family. To mark the event children wearing full pirate fancy dress get into the Aquarium for free on 13 & 14 May.
---
TripAdvisor