Beaches a stone's throw from Plymouth
There are loads of fantastic beaches to enjoy that are a short distance from Plymouth city centre either by car, like the sandy Bovisand beach, Wembury and Jennycliff, which take 15-25 mins to drive to. Or a 30-minute ferry ride from the Barbican are the beautiful Cawsand and Kingsand beaches.
However, there are several wonderful beaches that are even closer to Plymouth to visit...
East Tinside Beach (at Plymouth Hoe)
The beach at East Tinside is a popular site for Plymothians and visitors alike - whether swimming, snorkelling, paddleboarding, kayaking or just sunbathing or sitting watching all the activity and taking in the amazing view, you will always someone at the area just next the art deco Lido. It is a relatively sheltered pebble and shingle beach surrounded by a concreate promenade and steps down to the sea, with rocky outcrops. Buoys mark safe swimming areas and floating pontoons are present in the summer months to enjoy a break or some sun.
Getting there
The East Hoe beach is a short walk uphill from the Barbican where you can look out over Plymouth Sound and see some of the historical sites. It can also be reached walking through Hoe Park towards the lighthouse. Paid on street parking is available which has a maximum 3 hour stay. There are also two carparks located at the Barbican.
Access and Facilities
The beach is accessed via steps at the Hoe in the area just in front of Smeaton's Tower, there is however, no wheelchair access. There are public toilets below the Terrace Café, and plenty of options for food and drink in the surrounding area. Dogs are welcome all year round.
Firestone Bay
A popular spot with swimmers, snorkelers and paddleboards, Firestone Bay is a lovely area looking out over Drake's Island, Mount Edgcumbe and to Rame Head. Located next to Devil's point it is a pebble beach, most of which is covered by water at high tides, giving way to boulders that rise steeply to an archway through to the historic Royal William Yard. Swimming buoys mark safe areas to swim avoiding boats, but it should be noted that the currents can be strong out at these points. There is tidal pool right next to the slipway for younger visitors or those just wanting a paddle.
Getting there
There is a small car park next to Devil's Point which allows 3 hours free parking. There is also paid parking available in Royal William Yard itself.
If you are coming by bus the 34A city bus leaves from Royal Parade and stops right outside RWY. In the summer months, a ferry runs from the Barbican landing stage round to RWY which offers a beautiful view of Plymouth hoe from a different vantage point.
Access and Facilities
There is a walkway and stairs down to the beach just off Admiralty Road, next to which there are public toilets. The beach can also be accessed via the archway through to RWY but please be aware that it is a relatively steep walk down over boulders. There are several cafes, restaurants bars and independent shops nearby and Southwest SUP which provide paddleboarding lessons and rentals. If you want to improve your open water swimming, sessions are run there by Ace Swimming. There are no lifeguards present at this beach.
Mount Batten
The beach at the south side of Mount Batten Bay is a fantastic spot to relax with the family, walk the dog, or go for a swim. A semi exposed sand and shingle beach it offers some great views of Drake's Island, the Breakwater and surrounding Coastline. Next to the beach you can get access to the Southwest Coastal Path, where you can also walk to the nearby Jennycliff and Bovisand beaches.
This spot is a treasure trove for rockpoolers, from a cast of shore crabs, seaweed covered spider crabs to anemones and the aptly named candy striped flat worm, there is plenty to find for keen eyes. It is also popular with paddleboarders wanting to explore the nearby coast and is located near to the Mount Batten Centre.
Getting there
There are 2 carparks a 5-minute walk from the beach. The number 2 bus runs regularly from Royal Parade stopping in front of the beach entrance. Or why not get the Mount Batten Ferry which runs from the Barbican landing stage every 30 mins, it is the quickest way to get there by foot and is a short walk round to the beach.
Access and Facilities
There are a number of cafes, and pubs offering refreshments and traditional menus. Public toilets are located next to the Hotel Mount Batten, near the ferry slipway. Please be aware, access to the beach is via wooden stairs so is not suitable for wheelchair users.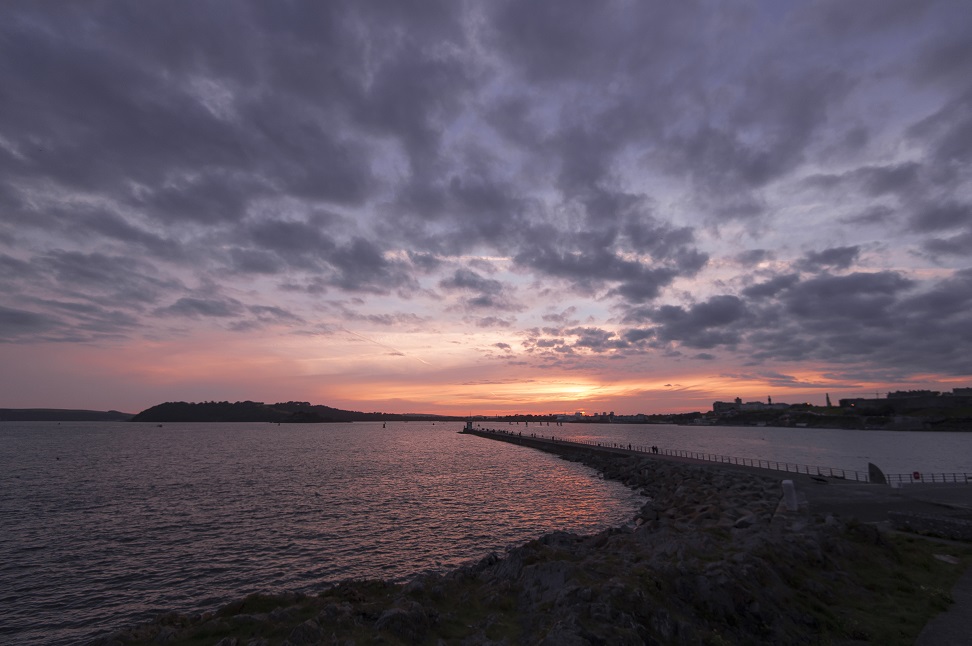 Barn Pool
Just across the water from Plymouth is the beautiful Mount Edgcumbe House and Country Park where Barn Pool beach is located. Found on the grounds of Mount Edgcumbe close to the pedestrian ferry slipway at Cremyll, this beach is mostly shingle and stone and is popular with families and other visitors.
It is a great beach for a swim or to launch a paddleboard and is dog friendly. There is a grassy area above the beach with picnic tables and plenty of room to run around and play.
You can also walk from Mount Edgcumbe, taking in the fantastic views from The Folly along the coastal path to Cawsands and get the 30 minute ferry back to the Barbican.
It is best to avoid the northern most beach beside the ferry slipway as there are constant strong currents present.
Getting there
The quickest way to get to Mount Edgcumbe is by the pedestrian ferry (although there is a bus service that runs regularly). A service connects the Barbican – Royal William Yard – Mount Edgcumbe, which runs during the summer months. There is also a ferry which runs all year round leaving from Admiral's Hard at Stonehouse to the Mount Edgcumbe Cremyll landing, the times for which change seasonally, and takes about 10 minutes.
Access and Facilities
There are public toilets available on the grounds of Mount Edgcumbe Park. The Orangery Café and The Farriers Café offer some great food options, as does the family and dog friendly Edgcumbe Arms, which is a great place to grab some food and a drink while you wait for the ferry. There is also a coffee van and small shop near Barn Pool.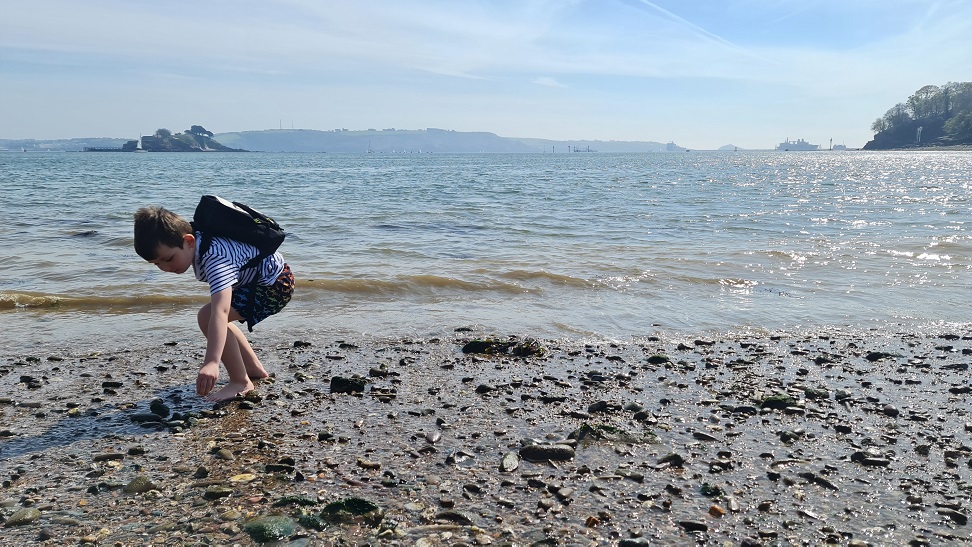 Cawsand and Kingsand
Please not that during the summer months dogs are only allowed on Cawsand Beach when getting on and off the ferry. The adjacent Kingsand beach, however, is dog friendly all year round.