10 Date Night Places to Eat
Looking for somewhere romantic to wow your date? With incredible sea views, amazing food and cosy atmospheres, here's some of our 10 recommended date night places to eat that are perfect for a first date spot to woo your beloved or celebrate an anniversary.
You can view more places to eat and drink in Plymouth.
Barbican Kitchen
Housed in the world famous Plymouth Gin distillery, the Barbican Kitchen was established in 2006 by the Tanner Brothers, Chris and James. With a great menu showcasing stunning local ingredients and the opportunity to have a drink in the Refectory cocktail bar before or after dinner Barbican Kitchen is a wonderful date night option, for a special evening.
Himalayan Spice
One of Plymouth's best kept secrets, Himalayan Spice is an authentic Nepalese and Indian Restaurant serving fresh cuisine from the finest ingredients. Offering a sit down menu in one of New Street's historic buildings this is a great restaurant for a relaxed date night.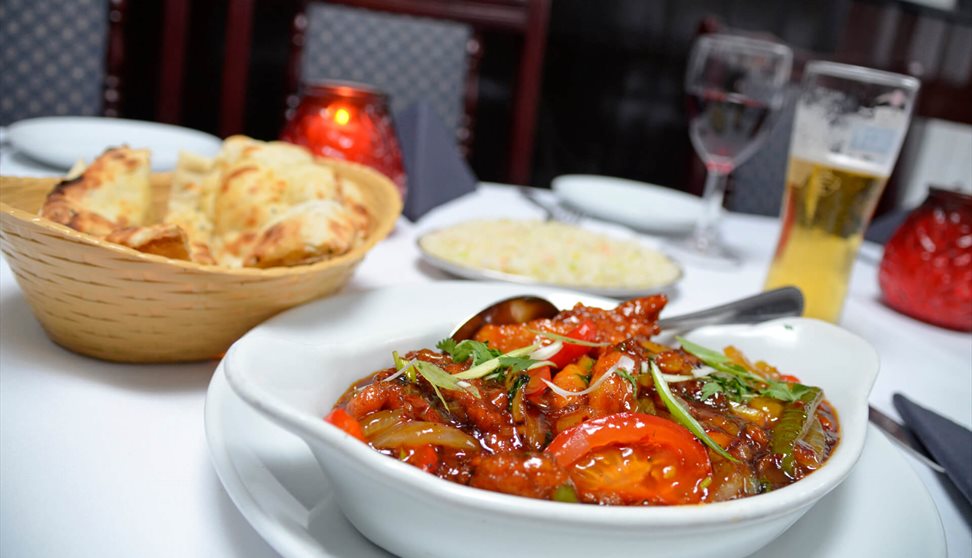 The Stable
On Plymouth's bustling waterfront, the The Stable is perfect for a first date, grab a table – order a pizza and a cider taster board to share and let the conversation and romance sizzle whilst you soak up the waterfront views. With over 80 varieties of cider and sourdough base pizza with homemade tomato sauce and delicious locally sourced toppings you'll be spoilt for choice!
Bistrot Pierre
Head to Bistrot Pierre if you're looking for somewhere for a more refined, but relaxed date night dinner. Specialising in great value French cooking and seasonal menus in the historic setting of Royal William Yard. If you're feeling extra romantic you can even book a room at the Bistrot Pierre Rooms just over the green at Residence One, the grade II listed building that was once home to the Navy Admiral for an extended date night!
Artillery Tower
If you're looking for a unique location for a romantic evening, the Artillery Tower restaurant is it! Set on the sea wall overlooking Plymouth Sound, Drake's Island and Mount Edgcumbe and just one minute walk from Royal William Yard the restaurant is housed within a 15th century tower with exposed walls, walnut ceilings and a wood burning stove. With a delicious menu focused on local ingredients from artisan producers it's fit for a perfect date.

Le Vignoble
Not a restaurant, but a wine experience that serves delicious Tapas, Le Vignoble is a wine bar with a difference, great for enjoying a glass of wine and some nibbles with your partner. With over 180 wines and champagnes from around the world to choose from, and the opportunity to try a taster using their wine serving machines you can have a fantastic time trying out new wines together.
Pier Master's House
Overlooking the stunning surroundings of Plymouth Sound, Pier Master's House was once the gateway for all travellers arriving in Plymouth but has undergone a drastic renovation into a beautiful restaurant offering both indoor and outdoor seating. The menu boasts everything from seafood dishes to tasty burgers, as well as vegetarian and vegan options. There's also nibbles to enjoy if you just want a light bite with a glass of wine.
KUKU
Just seconds away from the bustle of Plymouth city centre, KUKU offers the perfect place for casual date night drinks and dinner. Dishes are prepared using innovative food combinations, combining local seasonal ingredients and crossing boundaries by pairing traditional Japanese offerings with new and refreshing flavours and textures. You can even grab a seat at the hand crafted maple sushi-bar as the chef's work before your eyes creating and serving exceptional dishes.
A post shared by KUKU (@kukuplymouth) on
Fletcher's Restaurant
With a relaxed and cosy – yet elegant – atmosphere and a menu filled with tantalising fine dining dishes, Michelin-starred Fletcher's in the city centre is the perfect romantic date night spot. Family-run and independent, the team pride themselves on exceptional service and incredible food made using locally sourced ingredients.
Bonne Sante
Bonne Sante is a trendy restaurant and cocktail bar, located in the historic Custom House building on the Barbican. It offers a unique and exciting dining experience, inspired by world cuisine. You can enjoy fresh, seasonal and locally sourced food, as well as bespoke cocktails and a variety of drinks. There's plenty to enjoy, whether it's brunch, lunch, dinner or a late-night treat,