COVID-19 Hospitality & Tourism Advice
Updated 12 May 2021
The hotels and other guest accommodation guidance has been updated to include measures that will apply from Step 3 from 17 May in England. Please see a summary of the changes below, see the full guidance for more detail.

Business operations
All guest accommodation can open for leisure stays. This includes hotels, hostels, B&Bs and other types of accommodation that rely on sharing facilities (including kitchens, sleeping areas, bathrooms and indoor communal areas such as lounges, sitting areas, and any lifts, staircases or internal corridors used to access the accommodation). More information on how to operate shared facilities is available in the section on changes to facilities and services.
Overnight stays in guest accommodation are restricted to groups of up to 6 people or 2 households/bubbles. People should stay socially distanced from anyone they do not live with or share a bubble with.
Where reasonably necessary, there is an exemption to the social contact limits for residential visits organised by schools, colleges, further education and higher education providers for educational or educational training purposes. See the full guidance for more information on educational bubbles. More information is also available in the guidance for schools, further education colleges and providers and higher education providers.
Residential trips for out-of-school settings, such as youth groups and children's extra-curricular clubs, should be restricted to groups of up to 6 people or 2 households/support or childcare bubbles, including supervising adults. More information is available in the guidance for out-of-school settings.
All guest accommodation can open permitted businesses and services on-site for access by guests and by the general public, including where the entrance is within the guest accommodation. This includes indoor and outdoor sport facilities (such as swimming pools and gyms), spas and personal care facilities (such as hair, beauty, and massage services), and retail facilities. Saunas and steam rooms can reopen. Also check the guidance for sport facilities, close contact services and retail shops, stores and branches to ensure the relevant requirements are adhered to. See the section on hospitality in the hotel guidance and the guidance for restaurants, pubs, bars and takeaway services for other relevant measures.
Food and/or drink (including alcohol) can be provided through room service. Communal spaces such as lounges or lobbies may remain open to guests but no food or drink should be served in these spaces, people should not be encouraged to gather and social distancing should be observed.
Indoor entertainment is permitted. This includes venues such as theatres, cinemas and concert halls, and performance/screening areas within the premises of another venue such as a pub, hotel or holiday park. More information on these measures is available in the sections on changes to operations, changes to facilities and services and hospitality.
For existing bookings, if guests are not able to take a planned holiday due to coronavirus restrictions, accommodation providers should give guests a chance to cancel their bookings. If a booking is cancelled, either by the guest or the provider, accommodation providers are encouraged to offer alternative dates if this can be agreed with the customer. If this cannot be arranged, businesses are expected to provide a refund depending on the terms of the booking contract.
Roadmap out of Lockdown
There is the four-step plan to ease England's lockdown, which could see all legal limits on social contact lifted by 21 June, if strict conditions are met.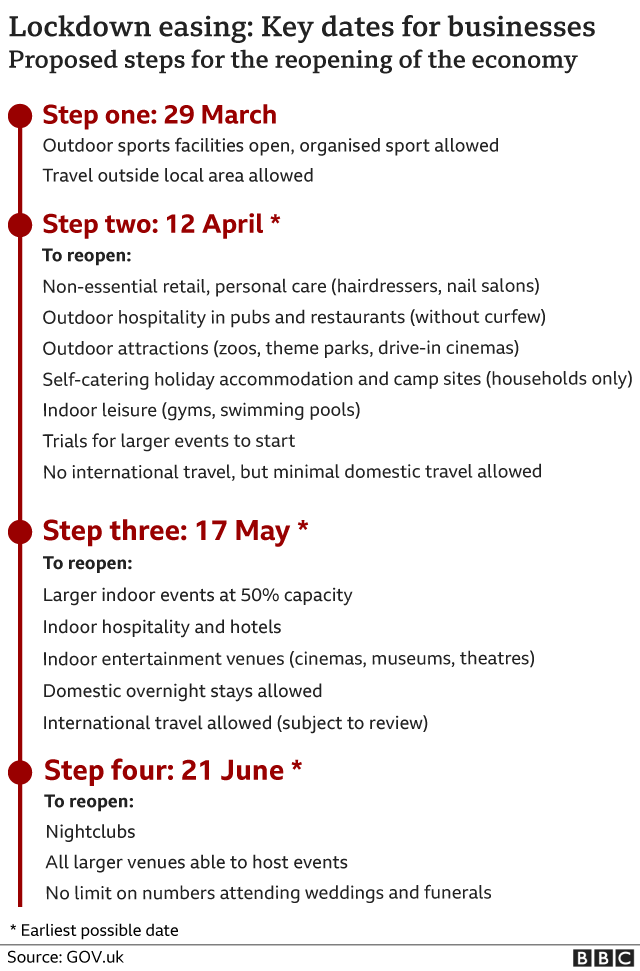 You can find out more about coronavirus in Plymouth on the Plymouth City Council website.
---
Just think 111 first this summer
As the summer approaches, we're reaching out to those working in local businesses to help us keep the NHS safe and alleviate the pressure on emergency departments.
The NHS 111 campaign aims to signpost people to one service which can be used for urgent medical advice and it applies both to residents and visitors who are here for the summer.
Coronavirus outbreak business communications toolkit
In the event that your business is affected by COVID-19, good communications will go a long way to support your staff, reassure customers and neighbours, and protect your reputation. This toolkit will help your business take the right steps to recovery. It complements the support that your local public health team will give you on operational matters.
View the toolkit here
Visit Britain are closely monitoring the COVID-19 outbreak and are working hard to provide you with the very latest information to support your business at this very challenging time. They are feeding in industry concerns to Government via the Tourism Industry Emergency Response Group and will be sharing practical advice as soon as it becomes available, publishing the latest announcements and industry information on their dedicated COVID-19 page. The resources focus on practical guidance to help tourism businesses operate in a COVID-19 Secure way during the pandemic.
Information on emergency funding, including Government support, can be found on our Support for tourism and event businesses during COVID-19 page.
This page is dedicated to the latest tourism-related news and tourism for UK tourism businesses on the outbreak of COVID-19, including links to useful information and advice.
Apply for an animal welfare grant of up to £100,000 for your zoo or aquarium affected by coronavirus (COVID-19).
Find out more on GOV.UK website
Professional Association of Self Catering
The Professional Association of Self Catering is currently 100% focussed on getting Business Support measures from HM Government for self-catering businesses. Any self-catering business can sign up for a free weekly newsletter covering the impacts of COVID-19 on our sector.
Find out more on PASC website.
The best source of information for any visitors with individual questions or health concerns is Public Health England.