COVID-19 Hospitality & Tourism Advice
Updated 23 February 2021
Roadmap out of Lockdown
There is a new four-step plan to ease England's lockdown, which could see all legal limits on social contact lifted by 21 June, if strict conditions are met.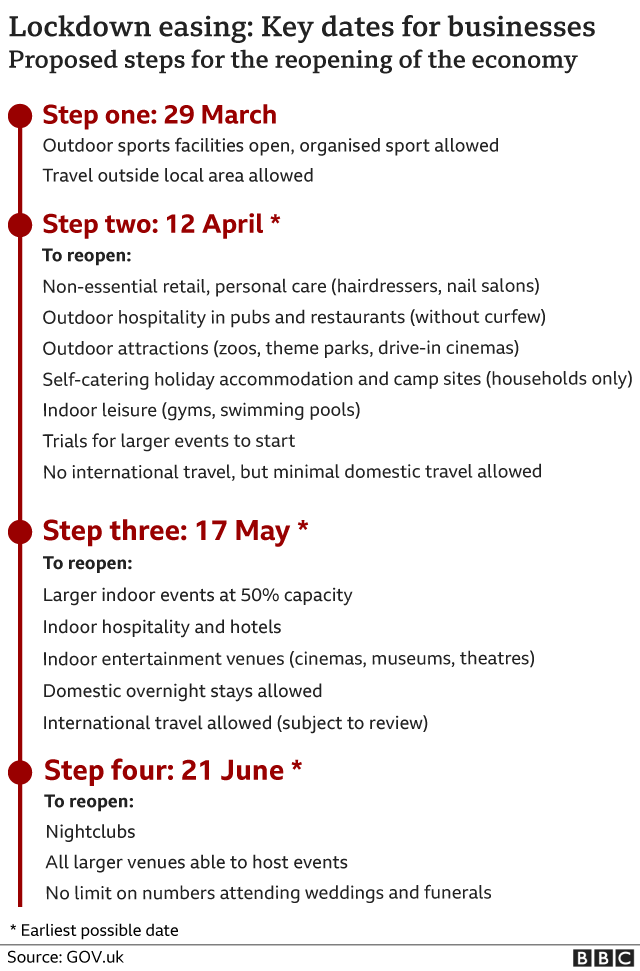 Updated 5 January 2021
National Lockdown
From Tuesday 5 January 2021, new national lockdown restrictions are in place, including:
People will be required to stay at home and are only allowed to leave home for specific reasons including education, work if you cannot work from home, for exercise (limited to once per day) with your household or on your own with one person from another household, for medical reasons and to escape injury or harm, to shop for food and essentials and to provide care for vulnerable people, or as a volunteer
Non-essential shops, leisure and entertainment venues will be required to close - though click and collect services can continue and essential shops will remain open.Workplaces should stay open where people can't work from home - for example in the construction or manufacturing sectors.
accommodation such as hotels, hostels, guest houses and campsites, except for specific circumstances, should close.
Single adult households can still form exclusive support bubbles with one other household, and children will still be able to move between homes if their parents are separated
For more details on the National Lockdown please check the latest Government guidance.
You can find out more about coronavirus in Plymouth on the Plymouth City Council website.
---
Coronavirus outbreak business communications toolkit
In the event that your business is affected by COVID-19, good communications will go a long way to support your staff, reassure customers and neighbours, and protect your reputation. This toolkit will help your business take the right steps to recovery. It complements the support that your local public health team will give you on operational matters.
View the toolkit here
Visit Britain are closely monitoring the COVID-19 outbreak and are working hard to provide you with the very latest information to support your business at this very challenging time. They are feeding in industry concerns to Government via the Tourism Industry Emergency Response Group and will be sharing practical advice as soon as it becomes available, publishing the latest announcements and industry information on their dedicated COVID-19 page. The resources focus on practical guidance to help tourism businesses operate in a COVID-19 Secure way during the pandemic.
Information on emergency funding, including Government support, can be found on our Support for tourism and event businesses during COVID-19 page.
This page is dedicated to the latest tourism-related news and tourism for UK tourism businesses on the outbreak of COVID-19, including links to useful information and advice.
Apply for an animal welfare grant of up to £100,000 for your zoo or aquarium affected by coronavirus (COVID-19).
Find out more on GOV.UK website
Professional Association of Self Catering
The Professional Association of Self Catering is currently 100% focussed on getting Business Support measures from HM Government for self-catering businesses. Any self-catering business can sign up for a free weekly newsletter covering the impacts of COVID-19 on our sector.
Find out more on PASC website.
The best source of information for any visitors with individual questions or health concerns is Public Health England.