Plymouth's spectacular Illuminate light festival is back and bigger than ever!
11th October 2019
Categories: Latest News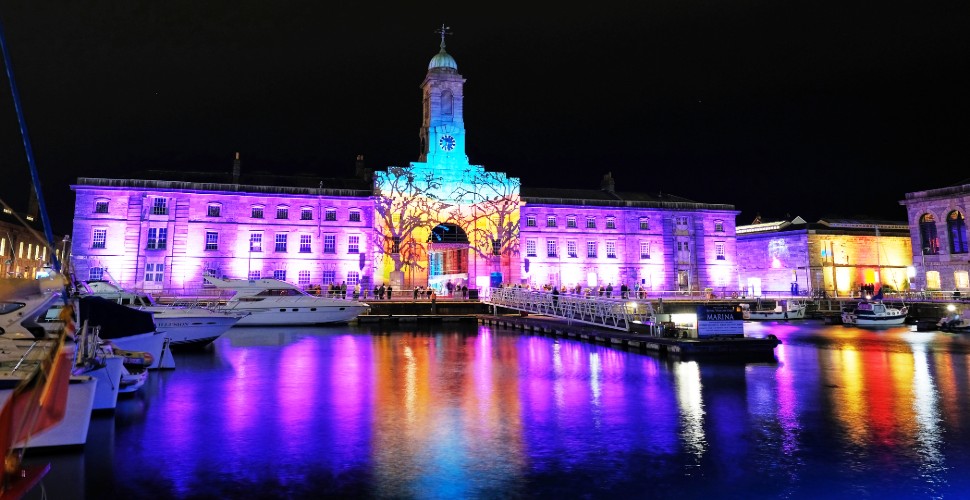 Plymouth's stunning light festival, Illuminate returns to Royal William Yard, the Barbican and Mount Edgcumbe.
From 5.30pm each evening from 28th November to 1st December, the free festival promises immersive visual art, spectacular projections and interactive installations set out across it's festival centre, Royal William Yard. New for 2019 Illuminate welcomes you to enjoy additional installations at the Barbican and Mount Edgcumbe Country Park.
Claire Honey, Project Manager for the festival, said: "In 2018, Illuminate stunned with incredible light installations, interactive artworks and spectacular projections from local, national and international artists. The festival was enjoyed by over 28,000 people across the four days. Now a multi-site festival we're really excited to welcome new artists creating awe-inspiring light art to inspire visitors of all ages."
Illuminate will open the Mayflower 400 commemorations in November 2019 during Thanksgiving and close them in November 2020. The project is a signature event in the Mayflower 400 programme and connects the partner destinations across the UK and internationally.
Adrian Vinken OBE, Chair Mayflower 400 and Destination Plymouth, said: "Growing on the back of previous years' festivals Illuminate has become a real highlight in Plymouth's annual events calendar. It's such a special event and we're thrilled that this year it will act as the opening moment of the Mayflower 400 commemorations, not just in Plymouth but across the whole country."
This year's festival hosts a variety of installations from local, national and international artists. Illuminate is proud to welcome back Spanish artist Xavi Bové, who will headline the 2019 festival with his piece 'Tree of Memory'. The installation will transform the front of Mills Bakery through beautifully poignant projection mapping, into the centrepiece of the Yard.
Also returning to the festival is creative explorer Thomas Voillaume. Voillaume is returning for this year's festival with an even more spectacular humanoid installation 'DIVA'.
Other artists creating installations include ARCAAN Collective, Alison Pym, The Media Workshop, Mike Cobb from Highly Interactive, Illumaphonium ltd, BLAST ART, Ace Delos Santos, Ada Krzoska, Dan Sumner, Eliza Newman, Maisie Newman & Rowan Evans.
Illuminate is a free event, open to families and people of all ages, which will run for 4 days at Royal William Yard with additional installations at the Barbican and Mount Edgcumbe Country Park.