Enjoy free entertainment at Plymouth Christmas Market
2nd December 2019
Categories: Latest News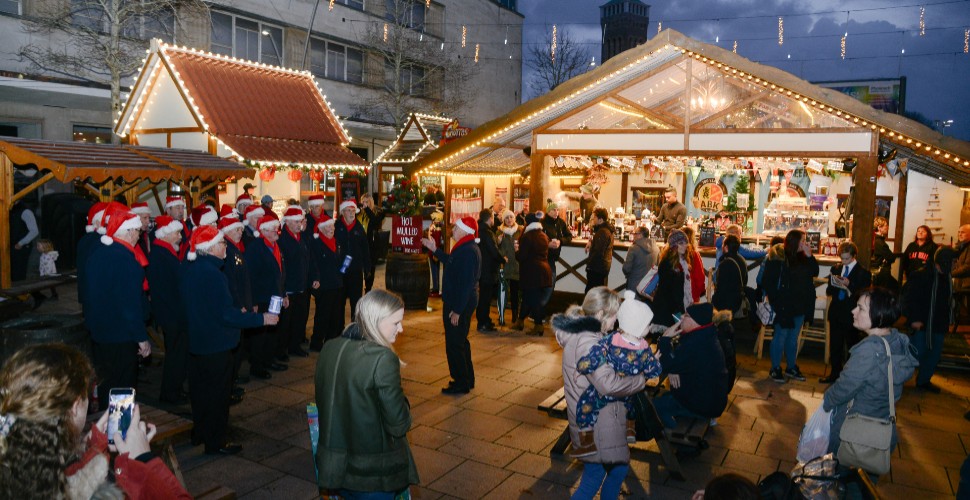 Enjoy an exciting line-up of entertainment at Plymouth Christmas Market, which runs until 19 December.
Visitors to the festive market can enjoy a great range of entertainment – from live music to children's activities – every Thursday evening, Saturday and Sunday for the duration of the market.
There will be live music performances to enjoy from local choirs, bands and singers and free children's activities from the Creation Station.
An award-winning, London-based vocal group will also be making two appearances at Plymouth Christmas Market. The Mike King Collective (MKC), a soul, jazz, gospel and R&B vocal group will perform on Saturday 7 and Sunday 8 December.
MKC has recorded for the BBC, performed live on Channel 4, sold out Edinburgh Fringe and worked with some of the music industry's biggest names including Mark Ronson, Florence and the Machine and Lily Allen.
There's also the chance to enjoy tunes from 18-piece instrumental band Vortex, who will perform a range of modern favourites and classic Christmas tunes with trumpets, saxophones, trombones, French horn, bass, guitar and percussion.
Vortex will be spreading festive cheer to shoppers at Plymouth Christmas Market on Saturday 14 December, and with additional performances at M&S in Drake Circus at 7.30pm on Thursday 5 and Thursday 12 December, and at House of Fraser at 11.30am on Sunday 8 December.
Steve Hughes, Chief Executive of Plymouth City Centre Company, said: "There's so much to see and do in Plymouth city centre this Christmas and this brilliantly varied entertainment schedule at the Christmas Market means there's something for everyone to enjoy, from award-winning bands to free family activities."
Plymouth Christmas Market is open seven days a week, from 10am to 6pm Monday to Wednesday, Friday and Saturday, 10am to 9pm on Thursday and 10am to 5pm on Sunday.
Full entertainment schedule
Thursday 5 December
5pm – Plymouth Youth Concert Band
Saturday 7 December
2pm - Sandy Sparkle
4.30pm – Mike King Collective
Sunday 8 December
11am – Mike King Collective
10.30am to 1.30pm - Creation Station, Free kids' activities
2pm to 3.30pm - Meet Mr Grinch
Thursday 12 December
5pm – Off Key (choir)
Saturday 14 December
11am - Hands in Harmony Signing Choir
12.30pm - Samba Kernow
2pm - Chloe Carrubba
3.30pm – Vortex
Sunday 15 December
10.30am to 1.30pm - Creation Station, Free kids' activities
Thursday 19 December
6.30pm - The Humming Birds