Matthew Bourne's Romeo and Juliet coming to Theatre Royal Plymouth
25th April 2019
Categories: Latest News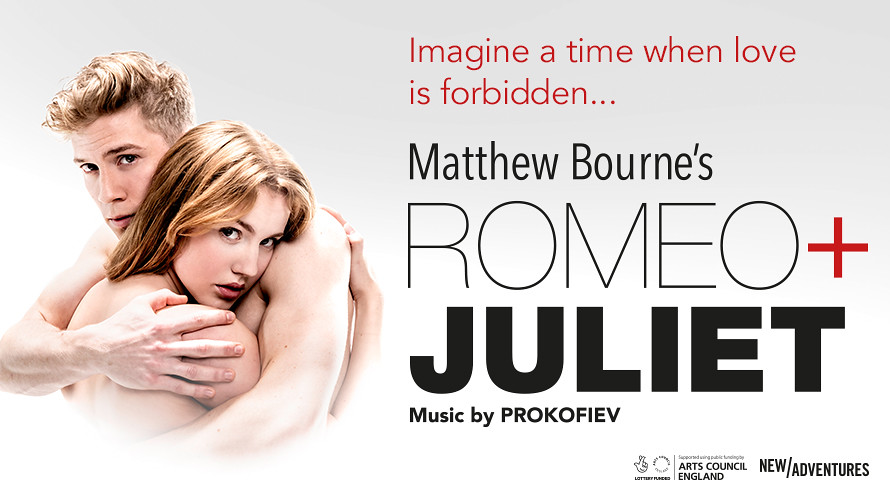 Matthew Bourne's Romeo and Juliet, featuring six local dancers, comes to Theatre Royal Plymouth Tuesday 4 to Saturday 8 June with a passionate and contemporary re-imagining of Shakespeare's classic love story.
Bursting with youth, vitality and Matthew Bourne's trademark storytelling, Britain's brightest young dance talent join the New Adventures company for this World Premiere production.
As part of New Adventures' ambition to support the next generation of on-stage talent and inspired by the success of "Lord of the Flies" in 2014, which combined professional dancers and young men with little or no dance experience, Romeo and Juliet will feature the finest emerging male and female dancers from around the UK. The search began in April 2018 with a call-out for the next generation of young dancers currently in training aged between 16 and 19. Attracting over 1000 applications and following a UK-wide audition tour, six Young Cast members at each venue will perform alongside the New Adventures company. This unique opportunity will nurture and develop young talent with a view to them embarking on a career in dance.
Matthew Bourne said: "New Adventures' Romeo and Juliet will be a celebration of youthful energy, talent and creativity both on and off-stage and, uniquely, in all aspects of Choreography, Design and Music through the appointment of a series of "Young Associate Artists".
"As we enter our fourth decade as a company, I'm finding the development of young talent ever more important and fulfilling. Our current company of "Swan Lake" features 29 young dancers making their debuts with us, many of those have come through our Company initiatives such as "Swan School", "A Summer Adventure" and of course, our production of "Lord of the Flies" which inspired so many young men to seek careers in dance. This time we are focusing on nurturing young male and female dancers, and I have been overwhelmed by the talent that we have had to choose from throughout the UK.
"I'm particularly happy to be working alongside my Young Associate Choreographer, Arielle Smith, an exceptional young dancemaker of great maturity and vision. In turn, after 30 years as a professional choreographer, I look forward to being refreshed and inspired by what this team of young artists will bring to Shakespeare's classic tale of tragic conflict and young love".
The title roles of 'Romeo' and 'Juliet' will be played by six New Adventures rising stars and two exciting new dancers making their professional debuts.
'Juliet' will be played by Seren Williams, who joined the company in 2016 with Matthew Bourne's award-winning production of "The Red Shoes". 'Romeo' will be performed by Andrew Monaghan, currently 'The Pilot' in "Cinderella",
They are joined by leading New Adventures artists, Madelaine Brennan and Danny Reubens who will create the "adult" world of "Romeo and Juliet". Ben Brown, Kate Lyons, Stephen Murray and Mark Samaras who will come to this production direct from our USA Tour of Matthew Bourne's "Cinderella".
In addition there are sixteen young artists making their debut with New Adventures: Natasha Chu, Gaby Conn, Monique Jonas, Sharol Mackenzie, Hannah Mason, Asher Rosenheim, Catrin Thomas, Chris Thomas and Roisin Whelan; along with Benjamin Derham from Canterbury, Cameron Flynn from Aberdeen and Billy Scott from Plymouth who all performed in the Young Cast in the acclaimed New Adventures production of "Lord of the Flies" in 2014; and Alexander Fadayiro at Central School of Ballet, Jana Baldovino at Rambert School of Ballet and Contemporary Dance and Stanley Duventru-Huret at Urdang Academy who are completing their third year of dance training while on tour with Romeo and Juliet.
Joining the full time cast in Plymouth will be six young cast members making their debut with New Adventures:
Jamel Maarfi was born and raised in Plymouth. He is training with the Exeter CAT scheme. He auditioned for "Romeo and Juliet" because New Adventures is one of his favourite dance companies and he wanted to have the opportunity to experience what it's like to part of it.
Maea Morgan was born in Truro and lives in Helston. She is training with the Exeter CAT scheme, at Truro College and the Bev-Lyn School of Dance. She is looking forward to gaining insight into rehearsing and performing with a professional company; and the challenge of using acting and characterisation skills in a new Matthew Bourne production.
Samuel Parham was born in Plymouth and lives in Callington. He returns to Theatre Royal Plymouth having performed as part of the Young Cast in "Lord of the Flies" in 2014. The experience inspired him to pursue a career in dance and he is now in his graduate year at Elmhurst Ballet School. He auditioned for "Romeo and Juliet" because he wanted so much to work with the company again; and for the opportunity to explore and develop, creatively and artistically. This is a dream come true and he can't wait for opening night!
Ella Roberts was born in Swindon and lives in Dartmouth. She is training at Exeter College. She was inspired at an early age watching a performance of Matthew Bourne's "Nutcracker!". She was fortunate enough to meet some of the company after the performance and now she can't believe she will get to perform alongside them.
Jessica Tarrant was born and raised in Torquay. She is training at Totnes School of Dance. She has always been inspired by Matthew Bourne's productions having seen "Cinderella", "Edward Scissorhands" and "Swan Lake"; and looks up to the dancers in the company. It's always been a dream of hers to work for New Adventures.
New Adventures is committed to finding and developing diverse young talent from across the UK. Since "Lord of the Flies" in 2014 New Adventures has been supporting young dancers from this production on their journey into training and professional work. The company have delivered various initiatives, including Swan School, two week-long intensives designed to prepare graduate level dancers for the audition process.
Continuing New Adventures' commitment to developing off-stage talent we have recruited a team of Young Associate Artists to work alongside the Artistic team in the creation of this world premiere production. Arielle Smith joins as Young Associate Choreographer; Elin Steele as Young Associate Set & Costume Designer and Ali Hunter as Young Associate Lighting Designer. Further Young Associates will also be appointed in the Sound and Music departments.
Tickets for Romeo & Juliet are priced from £15 and can be booked online at www.theatreroyal.com or by calling the Theatre Royal Plymouth Box Office on 01752 267222. Concessions are available.