Summer of Fun planned for Plymouth City Centre
7th June 2019
Categories: Latest News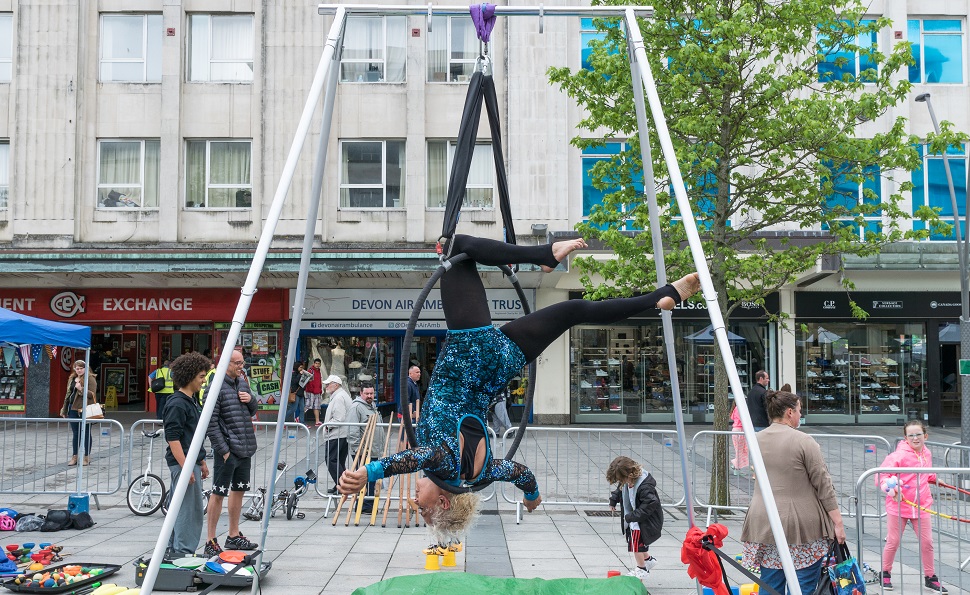 This summer, Plymouth will have a packed programme of family friendly events thanks to a new festival of fun organised by the Plymouth City Centre Company.
Promising a summer full of entertainment for all the family, Plymouth Summer of Fun kicks off on 6 July with Plymouth Summer Circus, a free day of circus entertainment and workshops on the Piazza.
Events and activities will take place every weekend during the school holidays with the aim of bringing more visitors to the high street.
Steve Hughes, chief executive of the Plymouth City Centre Company, said: "The summer holidays are a fantastic opportunity for families to come together and spend time having fun.
"City centre businesses have told us they love our flagship events such as Flavour Fest but wanted to see other more regular events, so that's what we've done. We hope Plymouth Summer of Fun will be a huge success and become an annual event.
"Whether you're looking to enjoy a circus spectacle, get involved with some hands on activities, bring the little ones along for story time or challenge your friends and family to some ping pong, Plymouth Summer of Fun has plenty going on to bring you in to Plymouth City Centre."
Plymouth Summer of Fun promises a variety of entertainment across the holiday period, from circus workshops to dance, story time, arts and crafts and sport, all rounded off with the grand finale of the West End Carnival and 60th Anniversary of Plymouth Market on 31 August.
If you're a fan of Plymouth Bike Nights don't miss Plymouth Bike Day on the Piazza on 27 July, a local meet for bikers from Plymouth and South East Cornwall in support of local charities.
Pete Batten, one of the Bike Night organisers, said: "The Plymouth Motorcycle Club and their supporters are really excited to be working alongside the Plymouth City Centre Company to bring the very popular Plymouth Bike Nights events held on the Hoe Promenade for the last nine years into the City Centre for the first time as 'Plymouth Bike Day' to the Piazza."
Also attending will be Devon and Cornwall Air Ambulance charities, the Chestnut Appeal, British Heart Foundation, Devon Freewheelers Blood Bikes along with many of local motorcycle traders displaying the very latest new motorcycles.
For more information and the full programme, head to the Summer of Fun event page.