Plymouth to be a 'High Alert' area when lockdown ends
26th November 2020
Categories: Latest News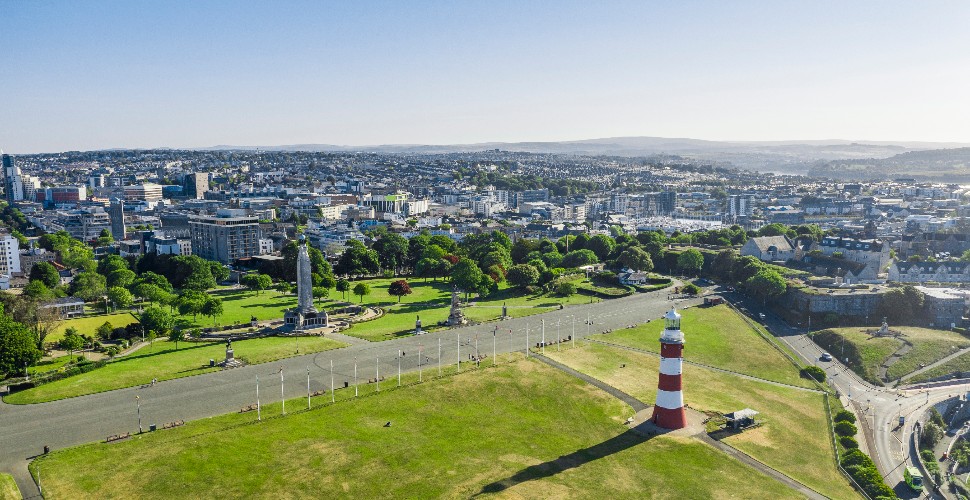 Plymouth will be in tier 2 'High Alert' area when the national lockdown ends on Wednesday 2 December.
This means the lockdown restrictions will end and shops, schools, indoor leisure, entertainment, places of worship and hotels can all open in a covid-secure way.
However, mixing households indoors, apart from support bubbles, will not be allowed and the rule of six will apply when meeting outdoors.
Pubs and bars can only open if they are operating as restaurants and alcohol can only be served with a substantial meal. Venues must stop taking orders at 10pm and close by 11pm.
Most City Council services have continued to operate during the lockdown but those that had to close, such as libraries and The Box will re-open with covid-secure measures in place to keep visitors safe.
Brickfields Sports Centre and Plympton Swimming Pool in Plymouth, managed by sports and leisure operator Everyone Active, will reopen their doors on Wednesday 2 December.
Councillor Tudor Evans, Leader of Plymouth City Council, and Chair of the Plymouth Local Outbreak Engagement Board, said: "People in Plymouth have done a great job in bringing the number of COVID-19 cases down after the rapid rise we experienced a few weeks ago.
"It's unfortunate that the Government made an error by leaving Plymouth off its list of tiers published today, but we have been assured by ministers they are correcting this. While Plymouth will now be in a High Alert area due to the change in criteria, I know Plymouth businesses will be relieved that they can reopen and start trading again in this critical period.
"It's been very tough for all businesses – particularly the hospitality and retail sector so it is crucial that we all help our businesses. I would urge people to shop local and use the stores that employ local people – but do so safely.
"Many retailers are helping ensure we can feel safe when shopping by extending opening hours so we can shop in quieter periods.
"This is always a busy time of year and we don't want to ruin it by seeing COVID-19 cases rise again. COVID-19 is still very much with us and we can't afford to relax too much. We can enjoy ourselves while still being careful to keep up the measures to stay safe, whether at home or when out and about."
Ruth Harrell, Director of Public Health for Plymouth, said: "The recent fall in the number of COVID-19 cases in Plymouth is down to the brilliant effort of city residents in getting behind the lockdown and sticking with the guidance on staying safe.
"It has been a great effort because every action counts when it comes to stopping the virus spreading. Washing hands frequently, wearing a face covering, making space and getting tested if you have symptoms make it much less likely that you will get coronavirus or inadvertently spread it to others.
"The ending of the lockdown does increase the risk of the virus spreading as more people will be out and about, so it is vital that we all keep our guards up. If we relax too much and socialise in groups or forget to social distance or wash our hands, the figures could rise quickly again.
"The virus spreads very easily in confined, indoor spaces so it is especially important to take extra care in the run up to the festive season. It is important that people are not tempted to mix households indoors and this is not permitted in tier 2 high risk areas. It is much safer if you are able to meet people outdoors.
"It also helps to keep a window open to increase ventilation.
"We don't want to undo all the good work so far so I would urge everyone keep up all the measures to stay safe that we are now so familiar with and not be tempted to relax your guard.
"We need to remember that this is not forever. We now have vaccines on the way and until then we need to keep doing everything we can to keep ourselves, our loved ones and our city safe."
What being in Tier 2 High Alert area means
You must not socialise with anyone you do not live with or who is not in your support bubble in any indoor setting, whether at home or in a public place
You must not socialise in a group of more than 6 people outside, including in a garden or a public space – this is called the 'rule of 6'
Businesses and venues can continue to operate, in a COVID-Secure manner, other than those which remain closed by law, such as nightclubs
Pubs and bars must close, unless operating as restaurants. Hospitality venues can only serve alcohol with substantial meals
Hospitality businesses selling food or drink for consumption on their premises are required to:
provide table service only, in premises which sell alcohol
close between 11pm and 5am (hospitality venues in airports, ports, transport services and motorway service areas are exempt)
stop taking orders after 10pm
Hospitality businesses and venues selling food and drink for consumption off the premises can continue to do so after 10pm as long as this is through delivery service, click-and-collect or drive-through
Early closure (11pm) applies to casinos, cinemas, theatres, museums, bowling alleys, amusement arcades, funfairs, theme parks, adventure parks and activities, and bingo halls. Cinemas, theatres and concert halls can stay open beyond 11pm in order to conclude performances that start before 10pm
Public attendance at outdoor and indoor events (performances and shows) is permitted, limited to whichever is lower: 50% capacity, or either 2,000 people outdoors or 1,000 people indoors
Public attendance at spectator sport and business events can resume inside and outside, subject to social contact rules and limited to whichever is lower: 50% capacity, or either 2,000 people outdoors or 1,000 people indoors
Places of worship remain open but you must not socialise with people from outside of your household or support bubble while you are indoors there, unless a legal exemption applies
Weddings and funerals can go ahead with restrictions on numbers of attendees – 15 people can attend wedding ceremonies and receptions, 30 people can attend funeral ceremonies, and 15 people can attend linked commemorative events such as wakes or stone settings.
Organised outdoor sport, and physical activity and exercise classes can continue
Organised indoor sport, physical activity and exercise classes will only be permitted if it is possible for people to avoid mixing with people they do not live with (or share a support bubble with). There are exceptions for indoor disability sport, sport for educational purposes and supervised sport and physical activity for under-18s, which can take place with larger groups mixing
You can continue to travel to venues or amenities which are open, but should aim to reduce the number of journeys you make where possible
If you live in a tier 2 area, you must continue to follow tier 2 rules when you travel to a tier 1 area. Avoid travel to or overnight stays in tier 3 areas other than where necessary, such as for work, education, youth services, to receive medical treatment, or because of caring responsibilities. You can travel through a tier 3 area as a part of a longer journey.