Plymouth gets ready to make a splash with National Marine Park, starting with unmissable free residents' weekend at the aquarium
16th February 2022
Categories: Latest News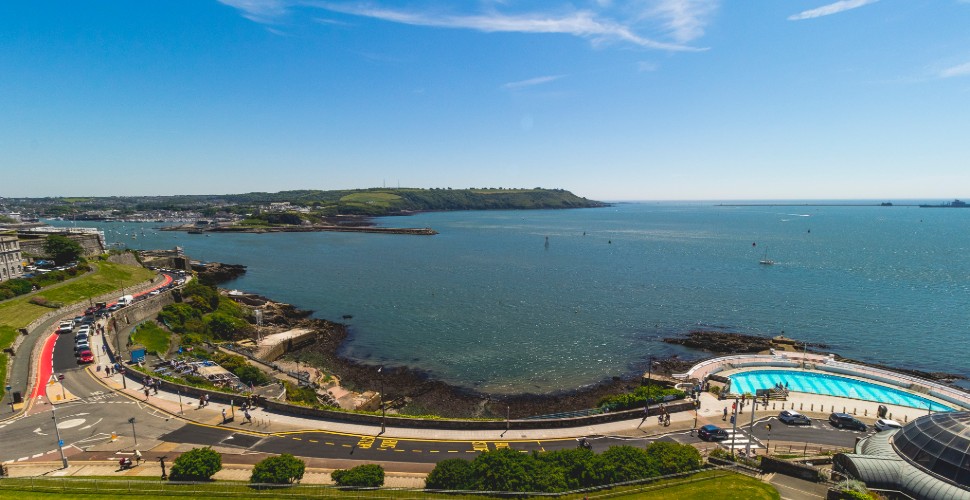 The 12-month programme has been designed to not only enable people to have fun and explore but also for residents to be able to have their say and shape the NMP, which is being made possible thanks to £9.5 million funding from The National Lottery Heritage Fund.
Council Leader Nick Kelly said: "We're so excited to be sharing more details of the activity planned for the Plymouth Sound National Marine Park during 2022 and into next year.
"The park aims to improve access to Plymouth's natural and maritime heritage to ensure that all our citizens can enjoy the significant benefits that being on, in, under and next to the water provides. By increasing community connection with the natural environment, we aim to improve engagement with sustainability and ocean protection, improve the health, wellbeing and resilience of our community and boost the blue economy.
"It's incredibly important to us that everyone in Plymouth has the chance to get involved and have their say about what the park means to them. That's why we're so excited to today be announcing our first National Marine Park event, an open weekend exclusively for Plymouth residents to find out all about what the National Marine Park has to offer and to start to feedback and shape the future plans for delivery."
The programme kicks off with the official National Marine Park Open Weekend, an exclusive free event for Plymouth residents at the National Marine Aquarium on 1 to 3 April.
Roger Maslin, CEO of the Ocean Conservation Trust, said: "We are proud to partner on the UK's first ever National Marine Park. We truly understand the importance of protecting vital ocean habitats and believe connecting people with the Ocean is key to this. We are delighted to welcome communities and organisations from across the City to the National Marine Aquarium for the weekend to help celebrate the Plymouth Sound National Marine Park."
The National Marine Park Open Weekend is just the first in an exciting line-up of events and activity that will be taking place throughout the year as part of the activity plan announced today.
The activity programme has been created by the NMP Horizon project partners to provide loads of different ways for Plymouth residents to give feedback, engage in activities, learn more about the Park and help design what comes next.
Plenty of online activity will take place too. This includes the introduction of brand new webcams which will be viewable through the NMP's website and give a unique insight into the Park.
Councillor Tudor Evans OBE, Leader of the Opposition, added: "The year of activity planned for the Plymouth Sound National Marine Park offers a unique chance for us to come together and shape the city's future. Ultimately the Park will bring new opportunities in the forms of entertainment, employment, environment and enterprise, so it's really important that we maximise this and that everyone has their say."
The Plymouth Sound National Marine Park Horizons Project has been made possible thanks to money raised by National Lottery players with £9.5 million of funding from the Heritage Fund.
Stuart McLeod, Director, England - London & South at The National Lottery Heritage Fund, said: "We're thrilled that communities in Plymouth are getting an early chance to be involved in shaping the future of the UK's first National Marine Park. We at The National Lottery Heritage Fund are proud to have supported the initiative with a £9.5million grant. The people of Plymouth are at the heart of this project and thanks to National Lottery players, we are able to fund invaluable projects like these that have a hugely positive social, economic and environmental impact and make these communities better places to live."
To find out more about the NMP and to see all the latest updates, please visit www.plymouthsoundnationalmarinepark.com.
Exclusive National Marine Park Open Weekend for Plymouth residents
For the first time in 24 years, the National Marine Aquarium is throwing its doors open for free on 1 to 3 April, with thousands of free aquarium tickets up for grabs for people living within Plymouth.
The whole Aquarium will be open to explore, with the Ocean Discovery Rangers on hand to immerse visitors in ocean experiences. Not only will visitors be able to see the 4,000 animals that live there, including Friday the Green Turtle, they can also get involved in a range of special activities to introduce and showcase all that the National Marine Park has to offer.
This includes fun and inspiring talks, feeds and shows, interactive workshops and games, immersive virtual reality experiences, 'meet the mermaid' sessions, crafts for toddlers and hands-on engineering challenges.
All of the new NMP gateways will be represented at the event to share how people can get involved in, on, under and next to the water. This includes the National Marine Aquarium, which is the anchor institute for the NMP, alongside the Mount Batten Watersports and Activities Centre, Mount Edgcumbe, Tinside Lido, and Smart Sound. There'll also be opportunities for local businesses, charities and other organisations to showcase their work happening within the National Marine Park.
How to get tickets
Free tickets are only available for Plymouth residents. Anyone who wants to attend will need to register on the National Marine Aquarium's website. Registration is open from 16 to 23 February.
Everyone who registers will then receive a link to book tickets at 7pm on 24 February, and tickets will be bookable on a first come, first served basis with a maximum of six tickets per person.
For people unable to register online, a small number of tickets will be available to collect from the aquarium's box office at 6pm on 24 February. Tickets will also be given directly to community groups and organisations across the city to ensure that as many Plymouth people as possible have the opportunity to come along and have their say.