Following on from the success of the latest Theatre Royal Plymouth production, The Kneebone Cadillac (2018) comes the premiere of Phil Porter's new play, God Of Chaos, to Plymouth from Thursday 7 to Saturday 23 March in The Drum. David Mercatali directs Oman Austin, Ryan Early, Laura Waldren and Lizzy Watts in his first production for Theatre Royal Plymouth.
We spoke to Phil Porter before the show's opening night in Plymouth.
What was your inspiration for God of Chaos?
I was trying to find an idea that summed up the fast-moving, paranoid, argumentative, scary, fascinating times we live in. I then heard a podcast about content moderators. These are people who spend their working day censoring content that has been flagged as potentially inappropriate on social media sites - pornographic and/or violent images and videos, 'fake news' articles, hate speech, etc. I became fascinated with what this kind of work might do to a person, and the bigger question of whether this kind of censorship really makes the world a better place.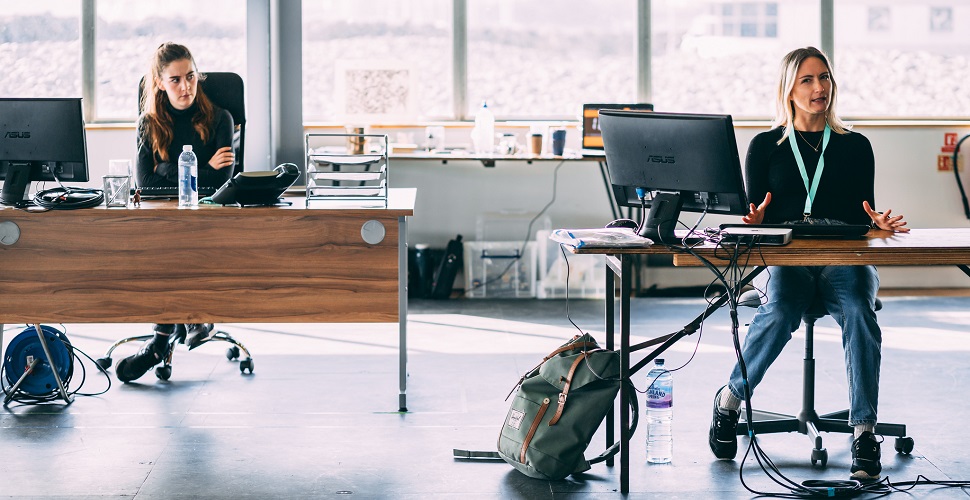 How would you describe the play?
God Of Chaos is a prickly, provocative, funny and romantic play about misplaced anger, new technology, optimism, extremism, grief, unrequited love and trying to be good.
The internet can clearly be a dangerous and radical place, what level of involvement do you think moderators should play in this day and age?
I really don't know. The play is, in part, an expression of my uncertainty in relation to that question. I think the internet has, to an extent, re-normalised various kinds of bigotry, misogyny, racism and bullying, and I think that's a terrible thing. But I also feel that the censorship of these things may fuel them, and may be part of the reason for their apparent increase. Come to the play to hear all sides of the argument but don't expect a simple answer: there isn't one.
Tell us a bit more about the design for the show, we hear there are lots of screens involved…
The design is very exciting. Our designer Grace Smart has created an abstract version of the office environment that is the main location of the play. This includes many screens that will come to life at points, and give a flavour of the words and images which the moderators are being asked to consider (though nothing too distressing, I promise.) I worked for a year after university editing the subtitles for BBC news, and the design reminds me of that year - information overload! The design also springs an interesting surprise later in the play.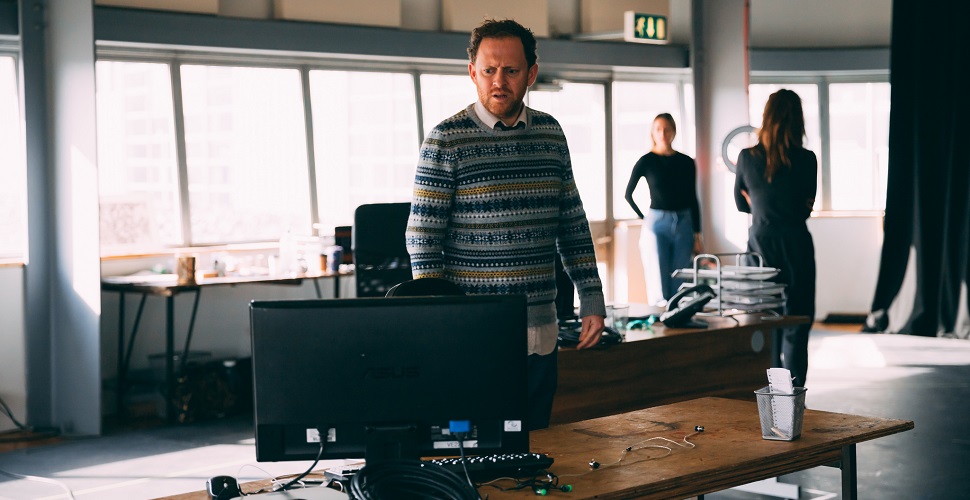 You've worked with Theatre Royal Plymouth before, most recently on The Man With The Hammer, how would you describe working with TRP?
I had a great time working on The Man With The Hammer in 2016, a play about drugs and cycling. TRP has a great reputation nationally for its new work, and it attracts the best talent. It also has fabulous rehearsal and workshop spaces. I am very fond of Plymouth itself - when I was growing up my uncle, who was a submariner, lived here, so I've known the place for a long time. I fell in love with The Hoe and various pubs and cafes last time around - I plan to revisit them all again!
Why do you think people should come and see the show?
People coming to see God Of Chaos can expect a play that is absolutely about this very moment in time. I have tried to write a play that is hard-hitting and provocative without being gratuitous, that wrestles with important themes without being self-important, and that finds plenty of humour and pathos even in dark places.
Tickets are priced from £11 and can be booked online or by calling the Box Office on 01752 267222. Concessions are available.
0 Comments