This Friday 8 May is VE Day 75, marking 75 years since the end of World War II in Europe.
In 1945, it was a day of great celebration as well as a chance to reflect on nearly six years of war and remember those who lost their lives during the conflict.
Three quarters of a century on, plans had been made for a fantastic community event on Plymouth Hoe but with these unable to go ahead due to coronavirus, we're inviting you to host your own celebrations at home with your household!
We – along with Plymouth City Council and The Box – have pulled together everything you need for a VE Day themed party at home.
Please join us in two key moments during the day, as we remember and give thanks to all those who lost their lives during the war.
At 11am, there will be a nationwide two-minute silence. Then at 3pm, join in with the Nation's Toast to Heroes of WWII. Simply raise a glass of a drink of your choice and toast: "For those that gave so much, we thank you."
You can also share a salute to VE Day by sending us a photo for our photo gallery.
Wartime recipes were severely influenced by rationing, which included limiting the quantities of eggs, sugar, butter and milk that adults could purchase every week. This led to some inventive cookery creations!
If you're feeling brave enough, we have pulled together a range of sweet and savoury wartime recipes to try, including Lord Woolton Pie, VE Day trifle and chocolate cake.
For a more contemporary themed treat, why not whip up a batch of red, white and blue cupcakes? Bake Away Plymouth has created an easy to follow video tutorial showing you how.
Make sure your house looks the part by hanging up Great British Bunting in the windows. If you design your own bunting then make sure you enter our competition – there's a delicious chocolate hamper up for grabs for two lucky winners!
Check out our top tips for 1940s hairstyles, outfits and make-up to wear on the day. There are even two video tutorials to follow to help you recreate popular hairstyles from the era – will you opt for the Victory Roll or Bumper Bangs?
Set the atmosphere with our Spotify playlist packed full of classic wartime tunes and have a singalong (we've helped by pulling together some popular lyrics). Don't miss the nationwide singalong of 'We'll Meet Again' at 9pm on the day.
Plymouth Dance has also shared three easy-to-follow dance tutorials, with music provided by the Drat Pack, so you can try out some new moves and enjoy a tea dance at home!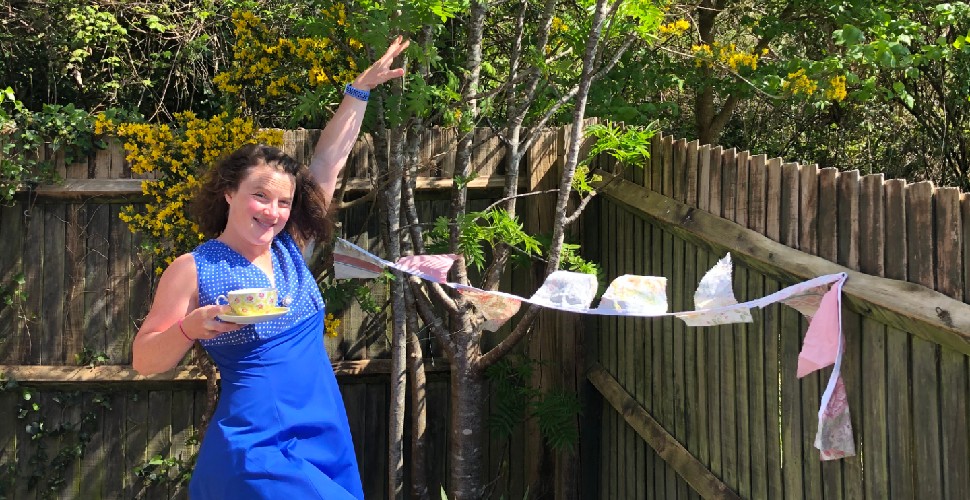 The Box has shared incredible archive footage of Plymouth during the war, including a secret visit from the Royals in 1941 and the Home Guard standing down on Plymouth Hoe. There's also an amazing selection of images from 8 May 1945 in Plymouth, showing people celebrating at street parties across the city.
We have created lots of activity sheets for children to follow in the run-up to and during VE Day 75. The activities include word searches, rationing-themed maths puzzles, a simple recipe for coconut ice and even a guide to make your very own paper Spitfire!
We would love to see how you're spending VE Day 75, so please share your photos and videos with us over on Facebook or Twitter. Remember to use #VEDay75Plymouth!
However you choose to mark VE Day 75, please stay safe and follow all social distancing guidelines. You should only celebrate at home, with members of your household.
0 Comments