Shop4Plymouth's resident blogger Lucy Young @_Oceancityliving takes a look around The Box, Plymouth's new cultural destination.
I love everything about museums. I love the lofty high ceilings of old municipal buildings. I love wandering room to room in a slightly revered hush. I love gazing at ancient objects and marvelling at modern creations. I especially love a really good museum cafe and an excellent museum gift shop.
I was therefore beyond excitement about my recent preview visit to The Box. The hotly anticipated opening of Plymouth's City Museum and Art Gallery has been 4 years in the making. It finally opens its doors to the public on Tuesday 29 September but I was lucky enough to get a sneaky peak last week and I can confirm it is mind blowingly brilliant. It more than exceeded my expectations and is a definite must-see: so much so you'll want to go again and again.
I've no doubt at all that the new £46 million cultural destination, led by Plymouth City Council, will put Plymouth firmly on the map. Tipped as the most significant cultural initiative the UK has seen in 2020 (and that's no mean feat in the middle of a pandemic), The Box describes itself as the place where the city's sea-faring heritage meets contemporary art, where archives meet interaction and where The Mayflower meets a woolly mammoth.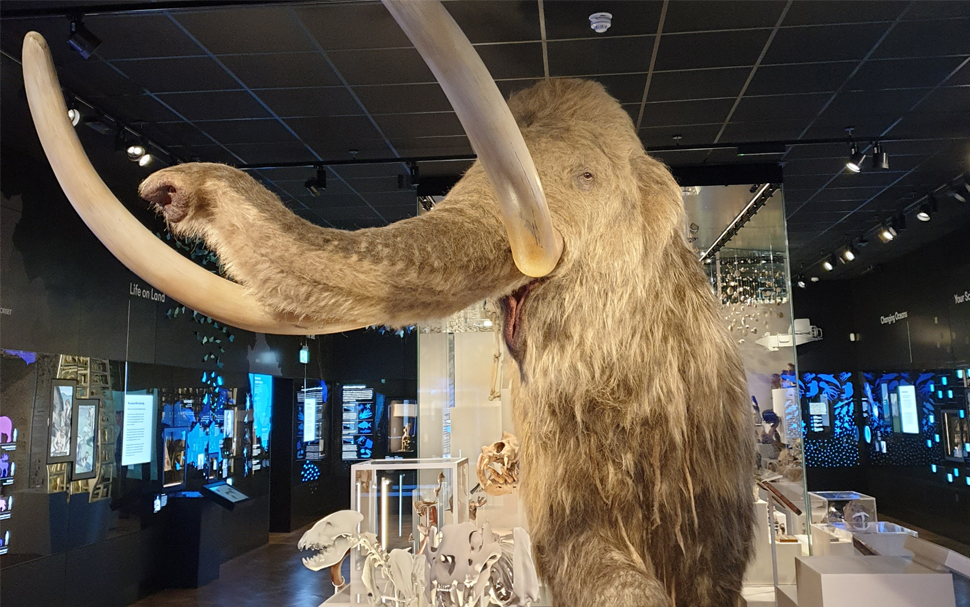 And there really is something for everyone (yes, including a woolly mammoth). Six national collections house over 2 million artefacts, archives, film and photography which celebrate Plymouth's fascinating past and its dynamic present day. It's clear from walking through its impressive galleries that families are placed at the heart of The Box's offer with fun and informative hands on activities and state of the art immersive experiences.
I used to regularly go round the museum as a child whilst visiting family during the school holidays. I'd spend an afternoon there with my Dad and brother whilst my mum went round Dingles. Years later when I had moved to the city, I took my son on rainy days when we combined it with baby singing and signing next door in the library. So I couldn't help feeling nostalgic wandering round and imagining all the fun a new generation of explorers will have when they visit.
It made me feel incredibly proud of the city too. The Box manages to balance commemorating significant historic events with important educational information, not least of all with its impressive Mayflower 400 flagship project. There are so many fantastic photographs, film and artwork of the city through the ages with an elevated 'archive in the sky' which provides amazing research and learning facilities.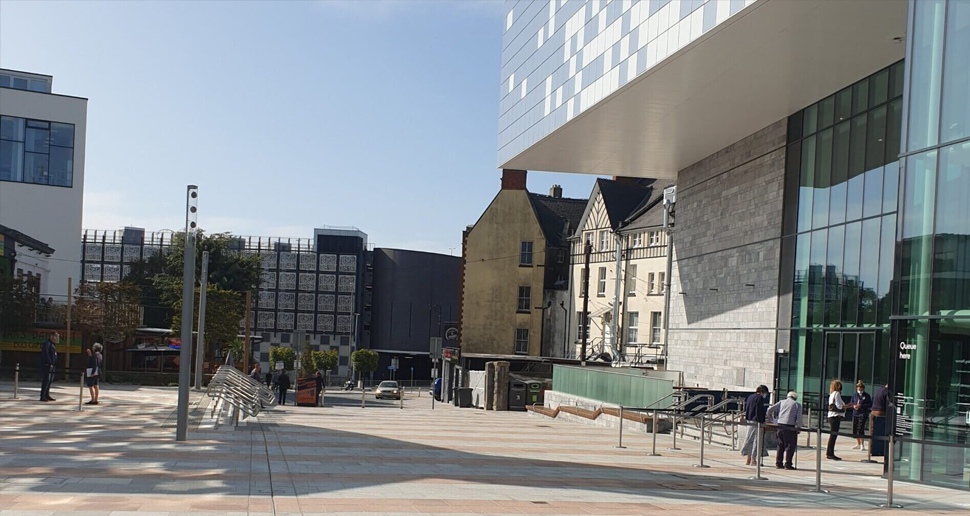 The approach to the museum entrance on Tavistock Place is also pretty special. The striking steel and glass architecture of The Box blends seamlessly with the original museum building, which has been cleverly extended and beautifully restored. It combines Edwardian elegance with cutting edge modernity and connects to the original City Library as well as expanding across a newly paved piazza to the renovated St Luke's Chapel which houses contemporary art exhibitions. The outside space also provides an impressive new public square for gigs, performances, theatre and events, of course when these can take place again in the future.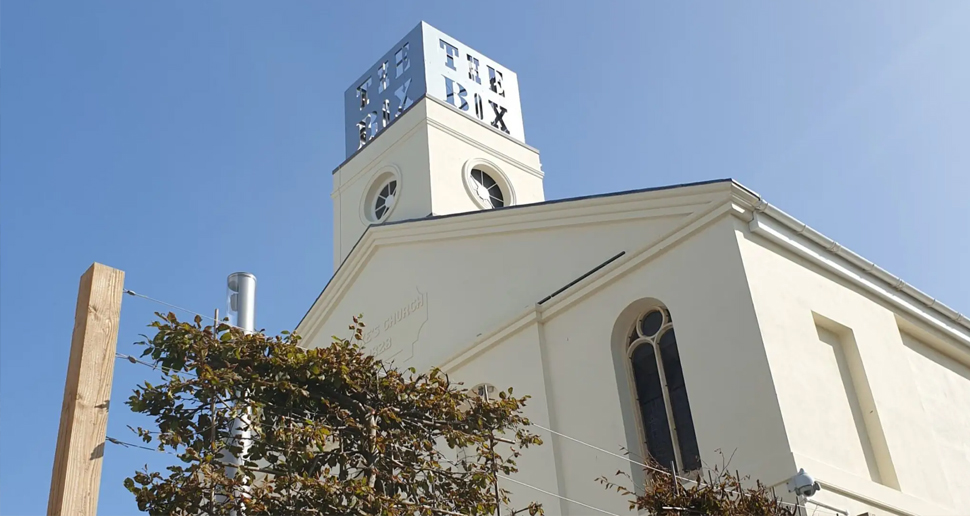 Opening a major attraction in the middle of the coronavirus crisis has no doubt been a bit of a logistical nightmare. But I was really reassured by the safety measures in place. The Box is adhering to strict operational guidelines for the safety of its staff and guests and with a pre-booking system to secure your free timed slot and reduced entrance capacity, your trip could feel a bit like a private view.
So on to the cafe and the shop… The Box Kitchen and Bar offers a unique dining space in the light and airy atrium beneath a flotilla of ships' figure heads. Under the direction of Executive Chef Nat Tallents, who took part in the BBC's Masterchef: The Professionals, the emphasis is on seasonal food that celebrates the wealth of fantastic local produce we have on our doorstep. From breakfast and brunch through to lunchtime specials and on to coffee and (seriously good) cake, there are also plans for an evening menu which would make it the perfect place for a pre-theatre dinner or al fresco cocktails.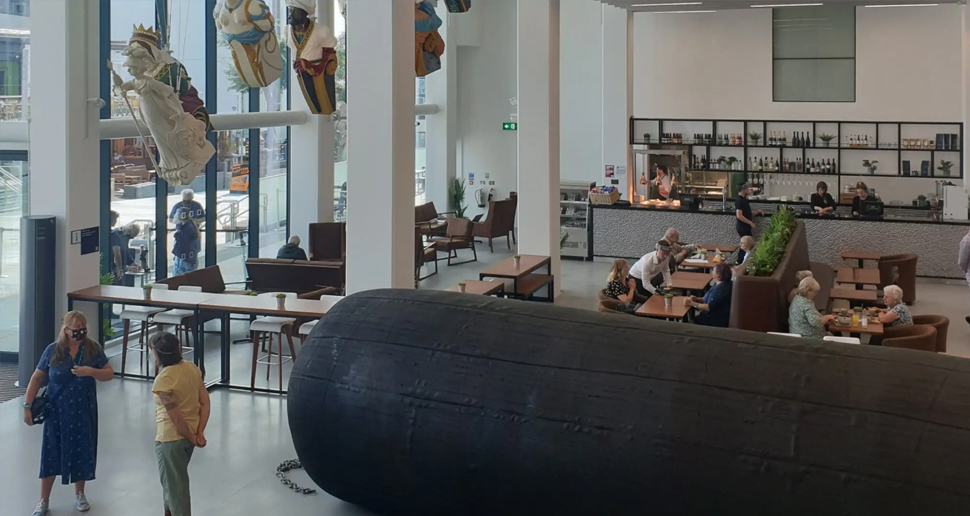 Refuelled, I headed for the shop before I left, which has a fabulous collection of souvenirs and gifts celebrating Plymouth and the South West. There are prints, accessories, books, homeware and pocket money treasures… I couldn't resist a few buys on my way out and already have it earmarked as the perfect place to pick up some unusual Christmas gifts too.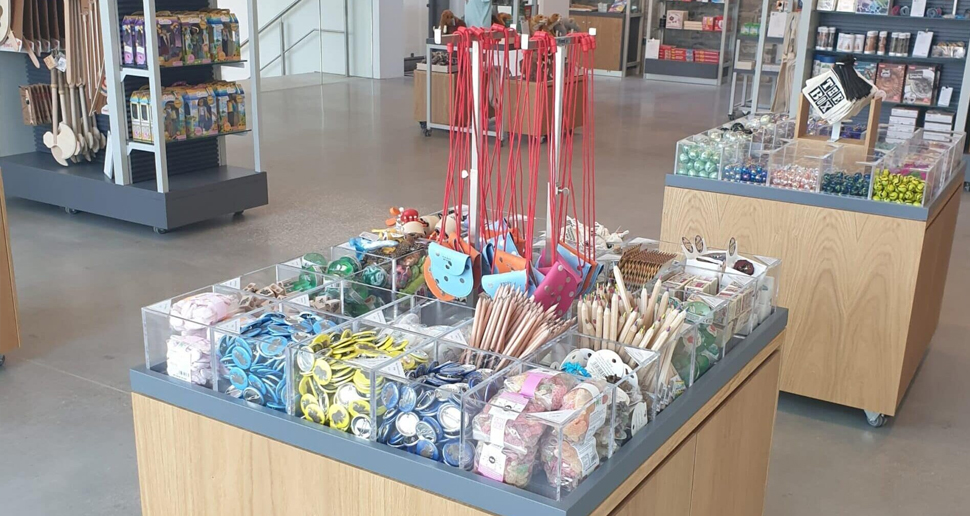 There really is so much to look at and with exhibitions set to change every six months you're sure to want to plan a return visit. The Box is definitely a museum for the 21st Century and a destination that Plymouth can take pride in.
You can find out more and book your tickets on The Box website, and follow them on Facebook, Twitter and Instagram.
---
Funded by the Reopening High Street Safely Fund, part funded by the European Regional Development Fund and HM Government
0 Comments