Shop4Plymouth's resident blogger Lucy Young @_Oceancityliving takes a trip to Royal William Yard for her Christmas shopping.
It's true to say that there have been many creative and innovative ways to carry on shopping in 2020. Lockdown one and two saw High Street chains and independent traders offering click and collect, turn up and take away as well as competitive delivery and most businesses certainly upped their game with their online presence as we all learnt to shop more remotely.
Most of us have got used to these new ways to buy what we're after and I'm sure they'll be here to stay into the New Year. But for me, nothing beats the buzz of shopping 'in real life', especially in the run up to Christmas. So with restrictions newly lifted again last week I headed off to one of my favourite spots in the city to crack on with my Christmas present purchasing and get my retail fix in the flesh.
The Royal William Yard is not only visually stunning with its beautiful Georgian architecture and waterside location, it also has a wealth of great local businesses offering unique goods and services that make it the perfect shopping destination if you're looking for something a little different this Christmas. Plus there are plenty of food and drink venues to choose from so you can stop and get refreshed and refuelled in fabulous surroundings whilst you're there.
On a freezing cold Friday morning I began my visit at Ocean Studios in the Factory Cooperage for a pick-me-up coffee and a chance to check my list. Not only does the cafe sell great coffee and delicious cakes, it also houses some brilliant artwork, jewellery and souvenirs that are locally designed and produced by a collection of contemporary crafters, makers and artists. I picked up a great tote bag for a friend in Germany who used to live in Plymouth and some cards to send to family up country.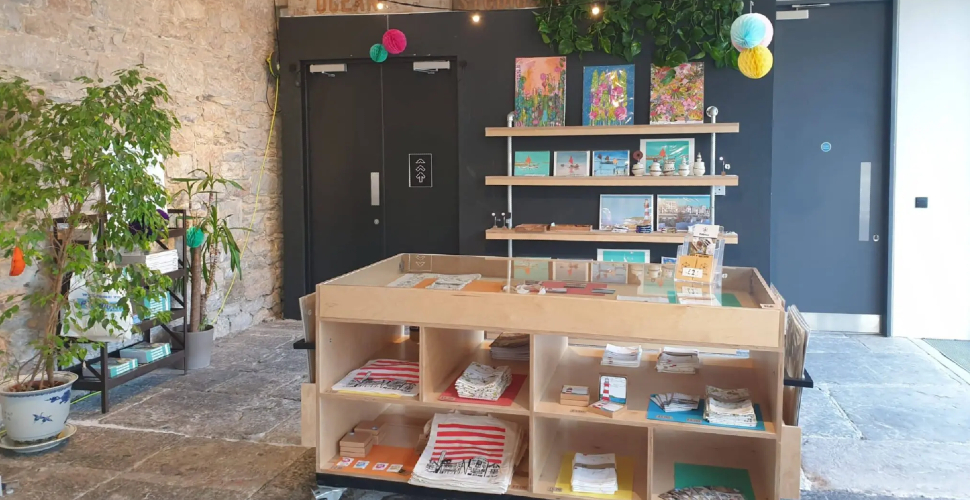 Next I popped into The Pottery next door and had a lovely browse and chat to maker Tweeny Van Mierlo who has created some gorgeous gift ideas from hand thrown mugs, bowls and plant hangers to unique wall art and Christmas decorations. I bought some beautiful glazed hanging stars to gift to friends and work colleagues. And if you're looking for an alternative present idea, Tweeny runs a variety of workshops and bespoke pottery sessions throughout the year. Jewellery designer Nicky Sadler has the unit next door to The Pottery and is also open for customers to browse her collection of handmade copperware and jewellery.
Make at 140 in Ocean Studios is like an Aladdin's cave of beautiful fabrics, buttons and haberdashery essentials. There's a wealth of present ideas for the keen crafter in your life or you can check out the many workshops that owner Lizzie Evans runs upstairs above the shop if you're after an alternative gift experience. From weekend sewing courses to arm knitting, crochet clubs to Roman blind making as well as beginners and advanced dress making that utilise the gorgeous fabric that Lizzie stocks.
My next stop was Domeafavour chocolate shop to see what festive delights chocolatier Nick Kittle has on offer for the festive season. The bijou unit in the Yard's Brewery building is packed to the rafters with a Willie Wonka-style array of sweet treats and Christmas confections. Christmas pudding hot chocolate bomb anyone? Or how about a Star Wars Belgian chocolate selection box? Trust me when I say Domeafavour has some of the best chocolate I've ever tasted. But you don't need to take my word for it; Nick has just won South West Chocolatier of the Year in the Corporate LiveWire Prestige business awards.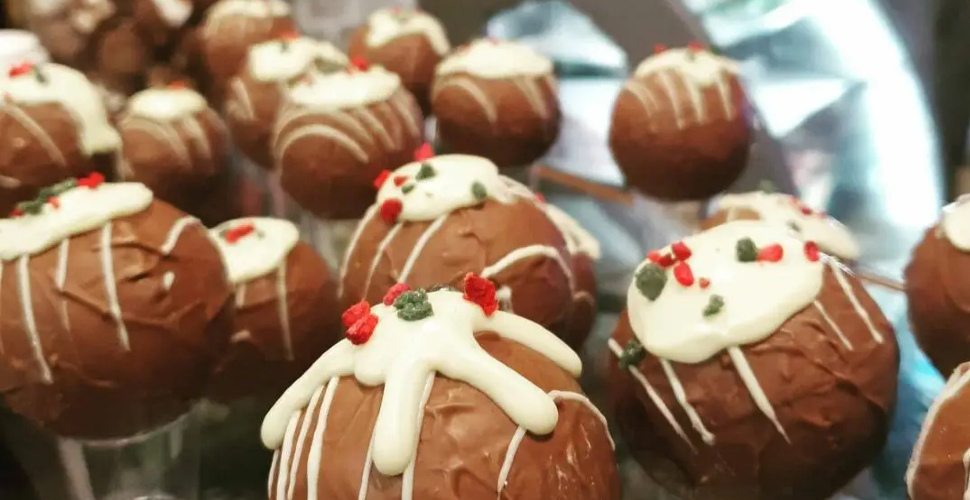 And if you're after other foodie Christmas treats, Le Vignoble in the New Cooperage building has an amazing selection of wines and spirits to add a little festive cheer as well as special cheese and wine seasonal hampers. The Steel Brew Company round the corner in the Melville building have also designed some awesome gifts for beer lovers from mixed boxes of their signature brews to beer club membership or monthly and annual beer subscriptions.
Across the road in the Mills Bakery building Identity Fashion has happily reopened its doors too and co-owner and creative director Denitsa Avramova provides a warm welcome back to shoppers. There are plenty of stunning clothes and accessories to choose from and fabulous jewellery and accessories for fashion conscious friends. The only trouble is it's a shop where I always end up buying gifts for me as well. (Cue fabulous gold hairband to jazz up my Christmas outfits.)
And after months with many of us having to neglect our hair and beauty regimes why not treat yourself or a loved one to a gift voucher to book some much needed treatment time at Enhance Beauty and Aesthetics. The beautiful boutique wellness centre is in The Guardhouse, just inside the Yard entrance, and offers spa treatments as well as skincare solutions.
With shopping bags a-plenty and in need of warming up with another coffee and some lunch at Seco Lounge, there was just time to take in the awesome Christmas window of YOKE the Salon. Designed in collaboration with local family design firm We Are Alfa, the Wham! inspired lyrical loveliness couldn't be more apt for 2020.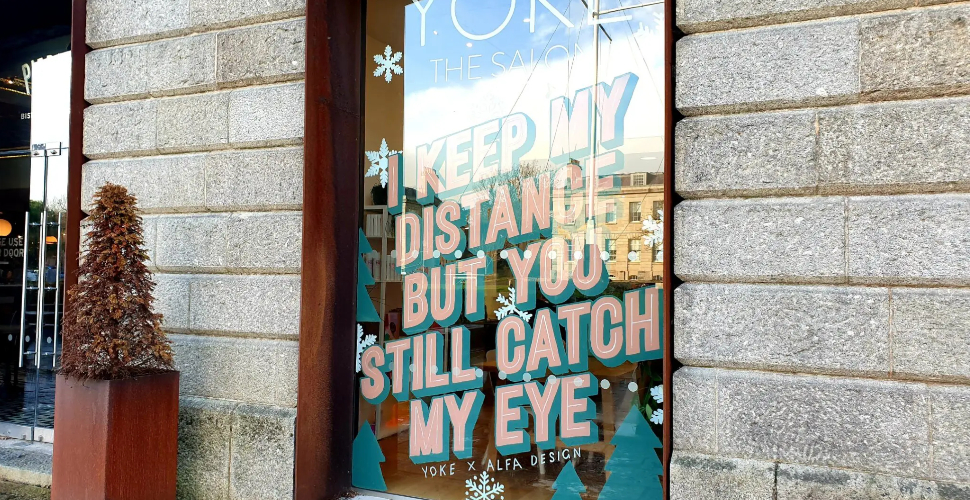 It was so nice to get back out to the shops and choose individual and unique presents in real life but the highlight was chatting to the lovely owners and makers, movers and shakers that make the Yard such a great shopping experience. Go and check them out; they'll be glad to see you again.
All the shops and venues I visited are adhering to Covid safety measures; limiting numbers inside to keep to social distancing rules, offering hand sanitiser and of course, asking shoppers to wear face masks.
On Thursdays in the run up to Christmas most businesses are open for Late Night Shopping in line with the City Centre shops, but check ahead to make sure if there is somewhere specific you're looking to visit.
---
Funded by the Reopening High Street Safely Fund, part funded by the European Regional Development Fund and HM Government
0 Comments