The Shop4Plymouth resident blogger Lucy Young @_Oceancityliving looks ahead at this year's festive season.
It's hard to believe that this time last year we were in the midst of a mini lockdown and Christmas shopping was a very different experience for us all. With only essential shops and services open we had to adjust quickly to buying online, ordering click and collect or relying on deliveries.
High Street stores and independent shops were really creative in their response of how to get their products out to the people, but I think we all missed the festive fun of the build-up to the Big Day. And whilst we still need to stay safe out there and remain vigilant to Rotten 'Rona spoiling the party, it looks like Christmas 2021 is most definitely ON!
And I'm here for all of it: the big lights switch on, the markets, the late-night shopping complete with cheesy chart songs; the panto, Santa's grotto, mulled wine vendors and mince pie flavour everything... heck, we missed out on so much of what makes Christmas, Christmas last year, I intend to soak up as much seasonal cheer as possible, starting from now. So, who's with me?
Time to Shine
Nothing signals the start of the Christmas countdown quite like the switch on of the city centre's lights and next week Plymouth is set to come alive with thousands of twinkles that are guaranteed to get you in the festive mood.
The Christmas Lights Switch-on returns this year on Thursday 18 November in the Piazza with lots of entertainment, carols and Christmas songs on the night starting from 4pm. Local NHS heroes, nominated by their colleagues, will be doing the honours, with the switch on due to take place between 6 pm to 6.30pm. With some brand-new, state of the art lights that have been specially themed to reflect Plymouth's connections with the sea, the city centre is set to sparkle extra brightly this year.
I'm looking forward to seeing the beautiful new wave-shaped arch that will form a walk-through entrance to the Christmas Market near the Sundial and I'm getting ready for a Christmas selfie at the ever-popular giant bauble, complete with jazzy new multi-coloured lights. Go to Visit Plymouth to find out more details about the night.
Also, from Monday 15 November Illuminate light festival returns to the city for a two-week long experience of immersive light installations, playful projections, art works and performances at the Royal William Yard's Ocean Studios and Devonport's Market Hall, complete with 360-degree immersive dome screenings. Back after having to cancel in 2020 due to the challenges of covid, Illuminate has been reintroduced and reimagined by Real Ideas Organisation and its programme of events will showcase the fantastic creative talent in the city and beyond. I can't wait to wander the historic Yard buildings and try some hands-on activities at the newly opened Market Hall. Illuminate promises to brighten the dark November nights, adding a little cultural sparkle and shine in the run up to Christmas.
Aiming to be accessible and available to all, Illuminate is a free event, but will be ticketed this year to help it run safely, ensuring controlled venue capacity so it is a comfortable and enjoyable experience for all. Visit Real Ideas to book your advance free ticket.
Later in the month, on Saturday 27 November, the Barbican Lights Switch-on takes place with some free, festive fun for families from 12pm to 4.30pm. Plymouth's Lord Mayor, plus a special guest, will press the button to light up the historic waterfront from 5.20pm.
The Barbican has a great selection of independent shops to browse for unique gifts as well as lots of foodie treats to enjoy. Strolling round the historic cobbled streets and soaking up the festive atmosphere seems like the perfect place to start shopping and getting some inspiration for gift ideas. I'm looking forward to taking in the shop fronts taking part in the Best Dressed Widow Display competition too. Visit the Barbican Waterfront for more details about the evening.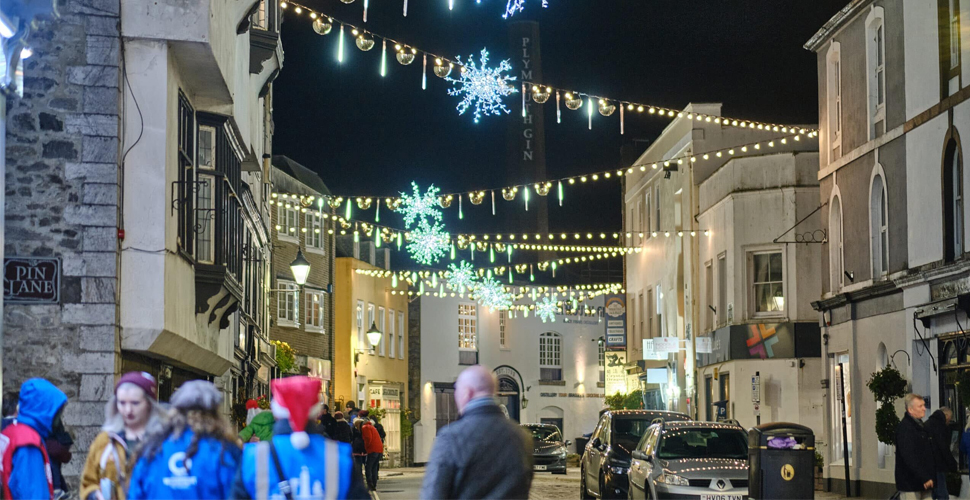 Late Night Feelings
One of the things I love to do in the run up to Christmas is go into town for a little late-night shopping. Even if I can pop in at other times of the day, there's just something about shopping after dark, under twinkly lights, with cheesy Christmas tunes on and the hustle and bustle of shoppers with handfuls of bags, ticking things off your list and stopping to refuel with a festive tipple and a mince pie.
From 2nd December, lots of shops across the city centre will be staying open later every day and you can enjoy late night shopping in Drake Circus every Thursday before Christmas, with many shops open until 9pm. Over at the Royal William Yard, there are also some Late-Night Shopping Markets taking place on Wednesdays from 5pm to 9pm on 1, 8 and 15 December.
Or if early mornings are more your (well-filled shopping) bag, some retailers will be opening earlier, particularly in Drake Circus. So, if you want to avoid the crowds or beat the queues, then shopping early or later in the day is the best bet.
And now that The Barcode complex has lots of new food and entertainment offers, you could always make an evening of it and enjoy a Christmas movie or a meal out to congratulate yourself for finishing your shopping!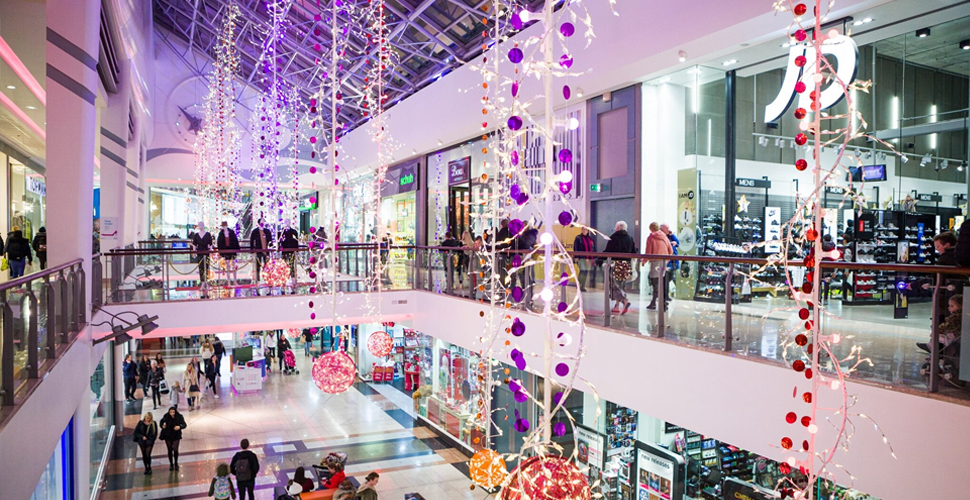 Market Merriment
I think Christmas markets really make the seasonal shopping experience feel even more festive; the smell of roasted chestnuts and spicy mulled wine hanging in the air, the hand-crafted decorations, unique gifts and delicious produce for sale.
Sadly, so many had to be cancelled last year, but they're back with a bang for 2021 and as many take place outdoors they offer a safe way to shop, soak up the atmosphere and pick up some unusual presents and yummy food for your festive feasting.
Plymouth Christmas Market opens in the Piazza from Thursday 2 to Sunday 19 December with an open-air festive bar, food and drink stalls, plenty of artisan gifts, live music and entertainment on offer. The Royal William Yard also has its Good Food and Craft Markets happening on Sunday 5, 12 and 19 December from 10am to 3pm as well as its Wednesday Late-Night Shopping Markets that I mentioned above. Plus, the popular Native Makers returns on Saturday 20 November and 11 December at the Yard's Ocean Studios, so there are plenty of ways to get some market merriment and support local independent makers and retailers in the run up to the Big Day.
One thing's for sure, there's so much happening across the city during the festive period you can't fail to get into the spirit of things this year. And fingers crossed we can make up for all the things we missed in 2020 to make this Christmas one to remember. Now pass me a gingerbread latte...I'm ready to shop!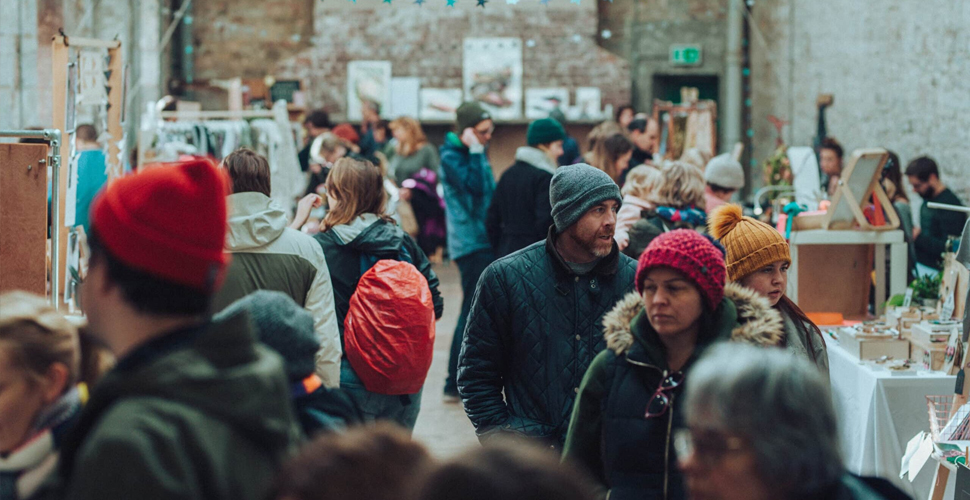 ---
Funded by the Reopening High Street Safely Fund, part funded by the European Regional Development Fund and HM Government.
Plymouth is easily accessible by train with a wide range of services running from a variety of locations within England. Although some services may require a change or two.
Travelling from London takes around 3 hours with Great Western Railway, if you're coming from the north, the trip from Manchester can take 5 hours 15 minutes.
Alternatively, the recently renovated Night Riviera Sleeper service runs Monday – Friday and Sunday evenings. Visit gwr.com/sleeper for more details on times and how to book.
We recommend using GWR.com to search for the fastest and best route for your journey, and book in advance for the best price.
0 Comments