The National Marine Park Big Blue Splash is coming to the waterfront on 23 and 24 July from 10am to 4pm, giving everyone in Plymouth the chance to enjoy and explore our amazing National Marine Park, thanks to funding from The National Lottery Heritage Fund.
There are lots of free activities on offer over the weekend, including a variety of water sports, and although many of the bookable activities have sold out very quickly there's still plenty for you to turn up for and enjoy.
If you have already booked an activity for the National Marine Park Big Blue Splash please check your Eventbrite ticket for more details, including times, location and accessibility.
What to see and do
The Tinside Lido area will be the hive of activity for Big Blue Splash – head to Tinside Lido on Hoe Road to learn all about rock pools and meet their fascinating inhabitants with The Rockpool Project, have a go at riding an electric bike, join in a 'beach explorers' session with the Ocean Conversation Trust, practice using scuba equipment to see what it's like breathing underwater or have a swim in the Lido. In addition to this there will be face painters, entertainment from the Barbican Theatre, music and food stalls on shore! You can also take part in taster Stand Up Paddleboarding sessions at Mount Batten Watersports & Activities Centre.
See all the details on our webpage.
The information below is based around the activities taking place at Tinside Lido during the National Marine Park Big Blue Splash weekend. If you are looking for specific event information, please refer to the activity's Eventbrite page for all the information you need, including travel, accessibility etc.
Accessibility
There is a lift available to get down to Tinside Lido pool, as well as a hoist to get people into the water. There is a disabled shower and toilet. Due to the amount of people we expect to arrive over the two days, it would be much appreciated if people could use the stairs to the west of the lido and leave the lift access for those who need it.
Information points
If you're looking for information or help on the day, there will be members dressed in yellow Plymouth Sound National Marine Park clothing on hand to assist.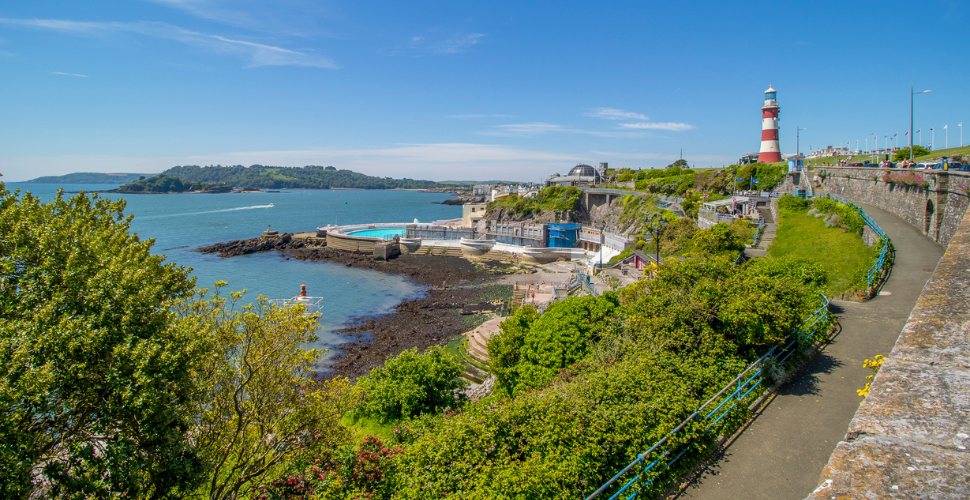 Road closures
Hoe Road will be closed from 9am to 5pm on both days of the Big Blue Splash event (23 and 24 July).
Parking
As space is limited in the area, there is no event specific parking. Please make use of on street parking, or park in nearby city centre car parks. If you're a blue badge holder, we recommend using the blue badge parking in the surrounding area.
Toilets
There will be a toilet block containing two normal and one accessible on the pavement above Tinside Lido. There are also toilets within the changing rooms of Tinside Lido.
The two closest public toilets to Tinside Lido are on the Hoe Promenade or West Hoe.
The Hoe Promenade toilets are open until 8pm. This includes eight gender neutral toilets, and one disabled toilet with baby changing facilities.
The West Hoe tolets are open until 6pm. This includes 10 automatic toilets all with baby changing facilities, two of the toilets are disabled friendly. These are pay as you go toilets.
Sustainability
If you're planning on joining us this weekend, we can't wait to welcome you.
All we ask is you help us look after our stunning natural space in these simple ways:
Take your litter home and recycle if possible, or use the bins provided to help keep our National Marine Park clean
If you're visiting waterside spaces like our beaches and you spot some litter, help us out by picking it up. A few minutes cleaning a beach can make a huge difference
If you can, swap the car for public transport, and make a sustainable trip to the water
Remember to stay hydrated and make the switch to a reusable bottle, you can save around 150 single-use plastics from use every year, and benefit from a sustainable way to hydrate.
We would like to thank the sponsors of the National Marine Park Big Blue Splash for their support: Brittany Ferries and Education Partner University of Plymouth.
0 Comments