Plan for Plastics
Plymouth gets full plastic free city status!
Campaigners in Plymouth are celebrating as the city has been awarded Plastic Free Community status in recognition of the hard work of partners across the city to reduce single use plastics and tackle plastic pollution.
The success was announced at the second birthday party of Environment Plymouth. The event will also see a celebration of the first anniversary of the launch of the Plymouth Britain's Ocean City Plan for Plastics led by the city's Plastics Task group.
Read our latest news story on plastics: Plymouth awarded Plastic Free City status in recognition of fight against plastic pollution
Taking action on plastics in Plymouth
Organisations across Plymouth are working together to tackle the issue of single use plastics and plastic pollution.
As Britain's Ocean City we are only too aware of the effects of plastic pollution and want to do all we can to reduce the amount of waste and the devastating effect it can have on our environment. A starting point for this is looking at the quick wins of reducing our reliance on single-use plastics like straws, disposable cups and plastic cutlery.
Plastic free city
On Friday 8 June 2018, it was announced that Plymouth was the first UK city to be accredited by the global charity Surfers Against Sewage with Plastic Free Communities status for its waterfront district. This makes Plymouth the first in the UK to achieve such status for a city district. The application for the Plastic Free Communities status was led by Environment Plymouth, with support from the Plymouth, Britain's Ocean City Plastics Taskforce.
More than 70 business pioneers and 50 community ambassadors in Plymouth including local businesses, schools and community groups, supported the city's bid by pledging to reduce the amount of single use plastics they consume.
Communities of all sizes are invited to apply to the charity Surfers Against Sewage for the Plastic Free Coastline status, but they must be able to demonstrate that both businesses and the community have already taken action to reduce the use of three single use plastic items such as straws, drink stirrers and disposable cups. Find out more on the Surfers Against Sewage website.
Week of Action on Plastics
A week of action on plastics took place from Friday 1 June to Friday 8 June 2018 including an International Marine Park Conference, the launch of our Plan for Plastics and a number of smaller events including litter picks, beach cleans and a paddle for plastics. You can watch this short video to see highlights from the week of action.
Sea Bin Trial and Water Refill Points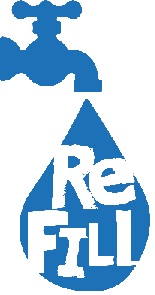 Two exciting new projects to tackle plastic pollution were announced by Plymouth City Council's Cabinet on 5 March 2019.
A new 'Sea Bin' is to be trialled as part of the city's ongoing commitment to tackle plastic pollution. Plymouth City Council is working with Queen Anne's Battery and the University of Plymouth on the trial.
A Sea Bin is a floating rubbish bin that can capture annually 90,000 plastic bags, 35,700 disposable cups or 16,500 plastic bottles. The announcement was made at Plymouth City Council's Cabinet meeting on Tuesday 5 March 2019. Find out more about the Sea Bin trial here.
In addition, South West Water and Plymouth City Council are working together to review how tap water refill points could be made more freely available in public places in Plymouth, and the plan is to have three in place before the summer begins, with the locations to be determined.
A fourth drinking water fountain will also be installed as part of the Central Park improvement works at its new café.
Find out more about the plans for drinking water refill points in Plymouth here.
Plan For Plastics
The new Ocean City Plan For Plastics is being launched and will detail our broader commitment as a city to reducing single use plastics in the city. It is one of Plymouth City Council's pledges, along with trialling the use of a new sea-bin to collect plastics and other solid materials directly from the sea. The Plan has now been launched and can be viewd below.
The delivery of the Plan for Plastics will be driven, monitored and supported by the Britain's Ocean City Plastics Task Force, with representatives from the public, private, voluntary and academic sectors.
Click here to read the Plan for Plastics PDF [PDF, 11MB]
---
What can I do?
There are lots of things you can do to help your local environment and help to tackle the scourge of single use plastics.
Buy a reuseable cup
You could buy one of the new One Plymouth / Britain's Ocean City branded reuseable cups. These are available from a range of outlets in Plymouth or you can buy one on the One Plymouth website.

Take part in a litter pick
You could volunteer to do a litter pick in your local park or other green space Visit our Volunteer with nature page for more information.
Do a beach clean
The National Marine Aquarium organise a number of beach cleans throughout the year and you can find out more on the National Marine Aquarium website.
Recycle all you can
In Plymouth, most hard plastic items – such as milk bottles, plastic food punnets, and a lot of plastic packaging – can be recycled. Research by WRAP has found that more than 50 per cent of bathroom items –such as shampoo and shower gel bottles – are thrown in the bin when they could in fact be recycled. Find out all you can recycle on our What goes in each bin page.
Partners involved in the Britain's Ocean City Plastics Taskforce
This is such an important issue that no single organisation can do this alone so partners from a range of public, private and voluntary sector organisations have joined together to have maximum impact through the Britain's Ocean City Plastics Taskforce.
Plymouth City Council
Plymouth Waterfront Partnership
Destination Plymouth
Environment Plymouth
National Marine Aquarium
University of Plymouth
Plymouth Community Homes
Theatre Royal
Redrok
Marine Biological Association
Babcock
Plymouth Marine Laboratory
Environment Agency