SHIVER ME TIMBERS! National Marine Aquarium Sponsors Tall Ship for Plymouth's Pirate Weekend
27th April 2017
Categories: Latest News
Local Traders All Getting Involved Too
The National Marine Aquarium (NMA) will be hoisting the Jolly Roger over the Tall Ship Johanna Lucretia this year as a sponsor of the family favourite Pirate Weekend.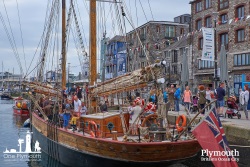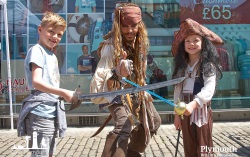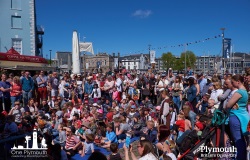 The event promises two days of swashbuckling action as salty sea dogs and land lubbers get together in Plymouth for a host of great entertainment.
The Plymouth Pirate Weekend has been drawing bigger and bigger crowds since it began in 2011.
This year thousands are expected to attend in pirate fancy dress and enjoy a boat load of free events, including great music, the chance to meet the scurvy crew of a Pirate Ship and live canon and musket firing. Businesses all across the Plymouth Waterfront get involved and this year the NMA will be sponsoring the beautiful Tall Ship the Johanna Lucretia, which will be docked in Sutton Harbour on Quay Square and is free for all to go aboard.
Built in 1945 as a fishing boat at the Rhoose shipyard in Ghent, Belgium she was sold and converted to a recreational vessel in 1954. In 1989 she was sold again and later refitted – registering Plymouth as her home port – and is now used for sail training and private charter from Gibraltar, the Caribbean and the East coast of the USA.
NMA staff – all dressed as pirates - will also be joining in the fun with a host of events and competitions at the aquarium, including pirate hat crafting, a special display of whale artefacts, a pirate trail and games for the whole family.
Josh McCarty, Head of Marketing, National Marine Aquarium said: "Ahoy me Hearties! As a charity invested in our oceans, we believe Pirate weekend is a great event for families, particularly given the heritage of our coastline and the seafaring history of Britain's Ocean City. Our staff plus the many other organisations and businesses involved in the weekend really capture the imaginations of young minds and get them interested in our oceans. So come along for a great family day out, say argh to the pirates and ahh wow to the amazing marine animals we house. To mark the event children wearing full pirate fancy dress get into the Aquarium for free on 13 & 14 May."
The award-winning event – on 13 & 14 May – includes Jonty Depp, Plymouth's very own Captain Jack Sparrow lookalike, as he pits his wits against old foe Captain Barbossa – a new addition this year!
Youngsters can enrol in the Mermaid School where they can meet a real life Mermaid, take in some shanty singing or watch a pirate themed puppet show.
There are pirate trails with great prizes and, new this year, visitors can hop aboard the Plymouth Land Train for free to visit the children's activity area and pirate themed Fun Park at West Hoe.
Janet James, who runs rides at West Hoe Park comments "We are really happy that West Hoe Park is getting involved this year. We have all our rides running throughout the two days and we're sure this year's Pirate Weekend will be the best yet. It's such a great event for the whole family and the kids just love it."
Elsewhere Café Kiss on North Street will be decked out in pirate paraphernalia and projecting some of Hollywood's greatest pirate movies onto a wall in the café. Mary McKay, who owns Café Kisss, comments "Come stormy seas or becalm we plan to provide a safe haven for those little, and not so little, swashbuckling pirates who need a little time out to count their booty and plan the next adventure. Pop in to pick up your 'Pirate Phrases Competition Sheet' and draw your picture on the Pirate Ship, or just sit with a selection of colouring and pirate books, eating Hot Dogs for Sea Dogs whilst the salty old sea dogs - mum and dad - have a soothing cuppa or a noggin of rum."
Whilst over on Southside Street, Estate Agents Atwell Martin will be giving away 250 crab lines and buckets for children, while stocks last. Senior Partner Andrew Bullivant comments "This is a fantastic event and I'm sure everyone is going to have a really good time. We are absolutely delighted to be taking part in the Pirate Weekend this year and we can't wait to start handing out our buckets and crab lines. The Pirate Weekend puts Plymouth on the map and we're happy to be joining in the fun."
Other highlights across the weekend include the Best Dressed Pirate competition, storytelling events, face painting and a soft play area with a Giant Octopus.
And with sea shanties, great food and a host of things to see and do Waterfront Manager Sarah Gibson said this year would be as great for the parents as the children.
She added: "The Plymouth Pirate Weekend is the South West's best family pirate event with entertainment for all of the family. As we celebrate the return of one of the city's most anticipated annual events, businesses across the city's spectacular Waterfront are getting involved.
"When we launched the Pirate Weekend six years ago we had no idea it would become so popular.
"It's one of the highlights of the Plymouth events calendar and attracts local residents and visitors from across Devon & Cornwall, as families flock to the historic quayside.
"We're thankful to the National Marine Aquarium for sponsoring our Pirate ship this year and really looking forward to all of the events at West Hoe Park, Bretonside, The Barbican and Sutton Harbour. It will be an unmissable weekend!"