Illuminate Light Festival's free event app is now live
13th November 2019
Categories: Latest News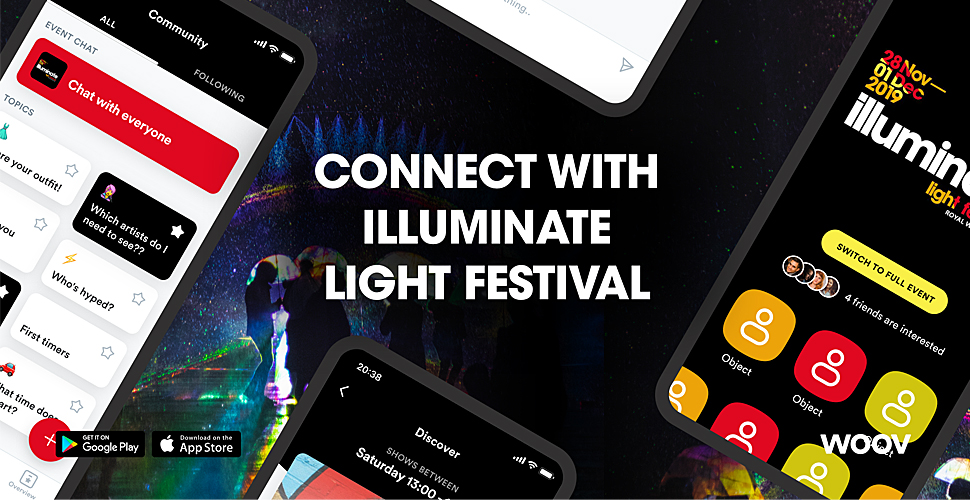 Illuminate Light Festival has teamed up with Woov, an Amsterdam-based tech company, to create a free festival app to help audiences navigate their way through the event. The festival app, which runs from 28 November to 1st December, will offer a deeper interactive experience to those attending the event.
The interactive app offers several exciting extras to make visitors' Illuminate experience as immersive and interactive as possible. The app, which can be downloaded via the App or Play Store, will include information such as the artist line up, important announcements and extra useful information such as parking.
The most exciting addition to this year's event is a fully interactive 3D map that shows the location of every display for Royal William Yard alongside the additional sites at the Barbican, Sutton Harbour and Mount Edgcumbe.
The app has been built with its end user in mind. Woov's passion is creating easy and intuitive apps that look to make the user's experience an unforgettable one – reducing the amount of time visitors spend trying to find their favourite artist enables Illuminate visitors to soak up more of the event.
Claire Honey, Project Manager for the festival, spoke about the new addition to this year's festival: "We have an impressive number of installations and interactive displays, across multiple locations for 2019 and we want to be able to share what's on offer as widely as possible. We're really excited to be working with Woov to create their first ever non-music festival app. This collaboration has allowed us to create a unique experience that hasn't been available to attendees at previous festivals, making it even easier to not only enjoy and interact with the spectacular displays, but to also interact with each other."
Fons Mans, Design Lead at Woov, spoke about working with Illuminate: "We are really excited to work together with Illuminate Light Festival, connecting their audience and helping them explore the festival grounds with our interactive map.''
You can download the Illuminate Festival App here.
Illuminate is a free event, open to families and people of all ages. Now in its third year, Illuminate has firmly secured itself as a must-visit event in the city.
Visit the Illuminate website for more information.