Weekend of winter events coming to Sutton Harbour
21st November 2019
Categories: Latest News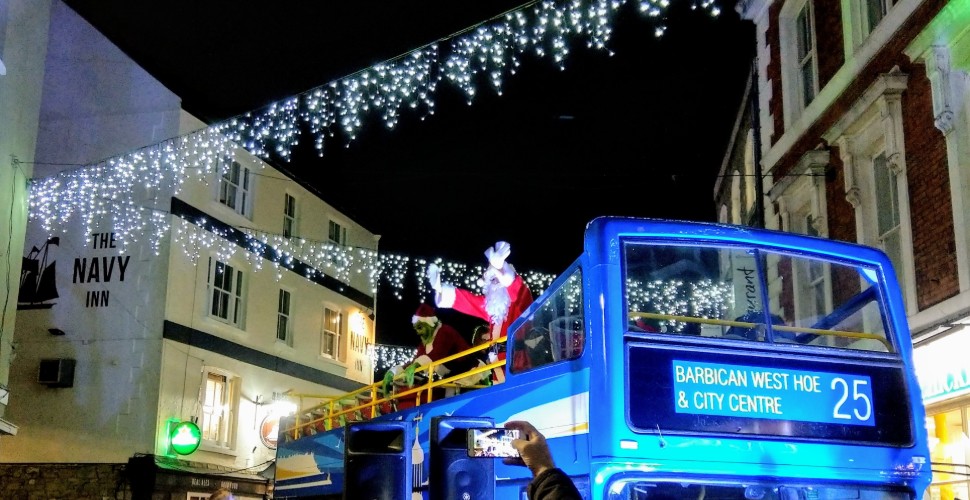 Sutton Harbour will host two major light installations and welcome an American marching band during four days of winter events taking place across Plymouth's historic waterfront.
Sutton Harbour Group is supporting this year's Illuminate light festival, which will mark the official launch of the Mayflower 400 year, with two creative light installations being hosted in the harbour – including one projected over the water in Sutton Harbour Marina.
The Group is also welcoming an American youth marching band to the quayside for the city's annual Thanksgiving celebrations, while Sutton Harbour venues will be marking the occasion with themed American fare on offer. Finally, Sutton Harbour and the Barbican will celebrate the Barbican Christmas Lights switch-on ceremony as the countdown to Christmas gets underway.
The four-day series of events in Sutton Harbour will take place between Thursday 28th November until Sunday 1st December.
Illuminate – Thursday 28 November to Sunday 1 December
This year's Illuminate light festival will be bigger and better than ever before as it acts as a launch pad for the wider Mayflower 400 year of events.
Illuminate will be a multi-site event in 2019, with colourful and creative immersive light installations at the Royal William Yard, Mount Edgcumbe, the Barbican and Sutton Harbour. Sutton Harbour Group is delighted to be hosting two stunning light installations.
A free-standing, light-based art installation called Curio designed by Trigger Stuff will be sited alongside the harbour opposite the Mayflower Museum and Tourist Information Centre. This engaging and interactive installation will be switched on from 5.30pm each day of the festival.
A second water projection installation called Baitball created by The Media Workshop will operate over the harbour itself, with a durational video projected onto a water screen in the harbour between The Parade and Quay Road from Friday 29th November until Sunday 1st December. The audience will be asked to reflect on what is beneath the surface of our ocean with an iconic visual showing the formation of a 'baitball' of sardines over the water. Head to the harbour's edge outside The Ship for an optimum viewing area
Thanksgiving – Thursday 28 November
The Illuminate festival and Mayflower 400 commemorations launch date was planned to coincide with the city's celebrations for the American Thanksgiving holiday.
Sutton Harbour will welcome the Plymouth (USA) High Schools Marching Band on the day with a performance at 11.30am.
The 56-strong band plus colour guard have journeyed from their home in Plymouth, Massachusetts – known as "America's Hometown" – and will be performing a selection of pieces in Quay Square and along the harbourside.
The band is a combined ensemble of students from two high schools and two middle schools and regularly take part in competitions and perform at community events.
In addition, some of Sutton Harbour's tenant businesses are joining the Thanksgiving celebrations by offering USA-themed festive fare on their menus.
Louise's Coffee and Donuts based in Quay Square will be serving American-style donuts for the day – priced at 5 for £3.50 for, or 10 for £6.
And Honky Tonk Wine Library on North Quay has a range of American wines and ales on offer, including a 2016 Merlot called The Velvet Devil (Washington State), a 2016 Syrah called Boom Boom (Washington State), a 2017 Riesling called Kung Fu Girl, and two American Ales – Goose IPA and Goose 312, an urban wheat ale.
Barbican Christmas Lights Switch-On – Sunday 1 December
Sutton Harbour and the Barbican will come together for a day of family-friendly festive fun with Santa arriving via the RNLI lifeboat to dock by Cap'n Jaspers on Quay Road before switching on the waterfront's Christmas lights at 5pm.
Head down earlier to join in the fun with activities for children from 12pm, street entertainments and more, with The Grinch at large in and around Southside Street keeping a look out for Santa himself.
Philip Beinhaker, Executive Chairman of Sutton Harbour Group, said: "We are committed to supporting Plymouth's dynamic events calendar and working closely with the city council and local businesses to make the best use of the city's fantastic waterfront for the benefit of local residents and visitors alike. Earlier this year we appointed an Events Manager to support our offering and enable more events to take place along the historic quayside, and we are especially pleased to support the Illuminate festival this year to help launch the Mayflower 400 year of commemorations."