Challenging plays, smash hit musicals and family-friendly productions to keep the kids entertained during the holidays – there's a lot going on in Plymouth's theatre land during April. Read on for our preview of all the shows taking to the stage this month, and snap up your tickets while you still can.
Theatre Royal Plymouth
Kite – 2 to 6 April
Inspired by the world of indoor-kite flying and stories such as The Snowman and The Red Balloon, Kite is a play without words, with originally composed music, dance, puppetry and of course kites. Suitable for age 7+.
Welsh National Opera – 3 to 6 April
The Welsh National Opera are bringing three different shows to Plymouth this spring: The Magic Flute, Roberto Devereux and Un Ballo in Maschera.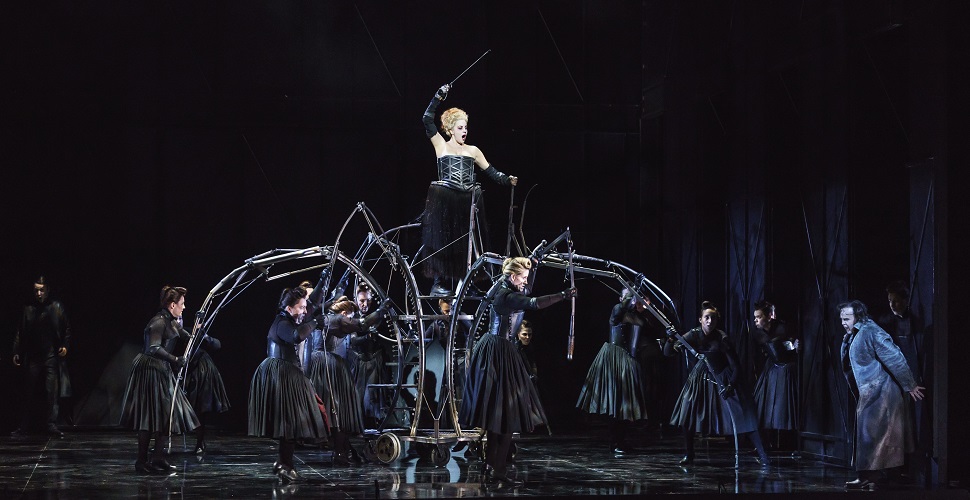 An Evening of Eric & Ern – 7 April
A brilliant homage crammed full of renditions of Morecambe and Wise's most loved comedy sketches, songs and routines.
Abstract – 8 to 9 April
A raw performance in the lab, this tells the story of a young, aspiring designed tackling the biggest job of his career and the toll it takes.
The Worst Witch – 9 to 13 April
The famous 'The Worst Witch' series is brought to life on stage! Long before Harry Potter there was Mildred Hubble, an ordinary girl who found herself in an extraordinary place: a school for witches. This show features original songs, music, magic and a dose of pandemonium!
She's a Good Boy – 10 to 11 April
An honest, moving, and hilarious show exploring the non-binary gender using Elise Heaven's real life experiences, taking place in The Lab.
Creep – 11 to 13 April
What gives you the chills? Is it spiders, clowns, or that inexplicable dark shadow in the corner of your room? Creep explores fear, what it feels like, and why we enjoy it so much…Presented by Theatre Royal Plymouth Young Company, suitable for age 12+.
The Simon & Garfunkel Story – 14 April
The Simon & Garfunkel Story is a critically acclaimed concert style theatre show about two young boys from Queens, New York who went on to become the world's most successful music duo of all time.
Woodland Tales with Granddad – 15 to 18 April
This incredible show, suitable for children aged 3+ has an important environmental message to share.
NOISE – 15 to 18 April
An immersive, intimate, multi-sensory audi-performance set on a fictional Dartmoor, this show in The Lab takes place in darkness, blending meditation with a unique and contemporary tale.
Pepperland – 16 to 17 April
Mark Morris Dance Group celebrates the anniversary of Sgt. Pepper's Lonely Hearts Club Band with an exuberant new dance work that revels in the eccentric charm and joyful optimism of The Beatles' ground-breaking album.
We're Going on a Bear Hunt – 18 to 20 April
Based on the much-loved picture book, expect catchy songs, interactive scenes, plenty of adventure and a few surprises along the way with this mischievous play, suitagle for children aged 3+.
Hair the Musical – 22 to 27 April
Adored for its Grammy award-winning score featuring iconic hits, experience the intoxicating power of Hair with this exuberant 50th anniversary production of the legendary rock musical.
The Department of Distractions – 24 to 27 April
This play in The Drum offers a conspiracy-theory documentary-exposé detective story for the 21st century that asks: What aren't you looking at?
Endless featuring N:Dless – 20 April to 4 May
Enjoy this funny, ocassionally moving, coming of middle age music documentary for the stage – it's not Spinal Tap, Top of the Pops of the Bros Documentary, but if you like those then you might like this.
B-Bar
Forked – 18 April
This spoken word and drag act special is a celebration of all things spring: Easter eggs, blossom and wild flowers, lambs, chicks and brighter nights.
Stiltskin at Soapbox Children's Theatre
The Mermaid's Magical Purse – 6 and 9 April
The Mermaid has lost her magical purse on board the Pirate ship in this story which features mermaids, pirates and unicorns! Told using inventive sets, puppets and costumes, it's a perfect treat for families with children aged 2 to 8 years.
Devonport Playhouse
Chitty Chitty Bang Bang – 30 April to 4 May
Plymouth Theatre Company present this much-loved classic musical, featuring everyone's favourite songs including 'Truly Scumptious' and of course the title track 'Chitty Chitty Bang Bang'.
0 Comments