This weekend (14 and 15 September), Plymouth Seafood Festival returns to the Barbican and Sutton Harbour celebrating the incredible, fresh and sustainably caught fish and seafood on offer in Britain's Ocean City!
You can expect impressive chef demonstrations, delicious fish dishes, family activities and more – here are the top 10 things not to miss.
1. Get tips from the experts
Watch top regional chefs whipping up incredible dishes in the Cookery Theatre, or visit Dan the Fish Man's stall, where he'll be hosting popular interactive demonstrations. Plymouth Trawler Agents will also host demonstrations of the simple but skilful techniques needed to successfully fillet fish - and you'll be able to ask the experts any questions you have too.
2. Learn about life under the sea
Head to the National Marine Aquarium stand to learn about life under the ocean. Take a look at plankton under a microscope or put on a virtual reality headset for a dive under the waves. They'll also be hosting a squid dissection, so you can learn more about this fascinating sea creature!
3. Take part in crab-tastic activities
Learn how to pick and dress a crab at the Seafish marquee or in the Cookery Theatre at 3pm on Saturday and 11am Sunday, or head over to Rockfish for their annual Crab Festival – there's a tempting crab menu, fresh fish counter and live music all afternoon.
There's also a crabbing competition for kids at The Boathouse Café on Sunday from 2.30pm. Entry is £5 per person, which covers all the equipment needed for a successful catch, and there are some great prizes up for grabs!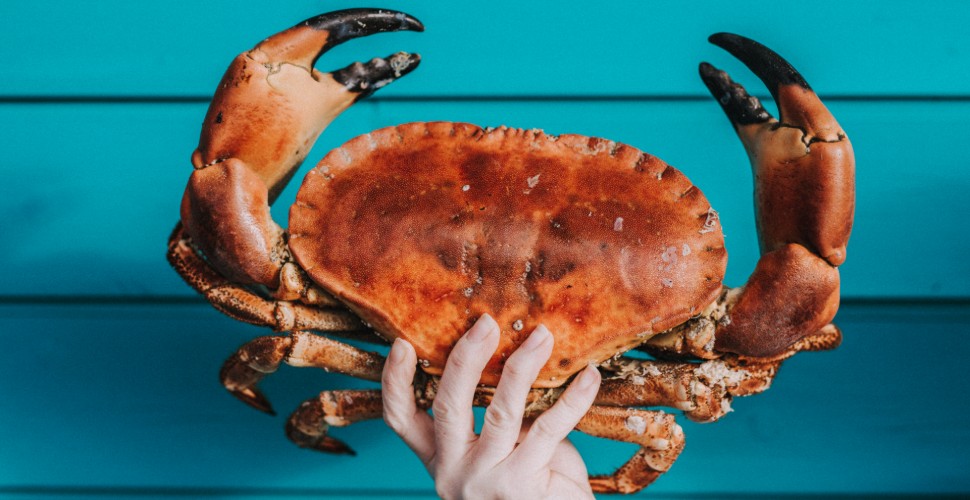 4. Get the kids involved
As well as the crabbing competition, children can get hands on in the Kids Kitchen run by CATERed. The free workshops, taking place from 10am to 3pm each day, include Smashing Smoothies, Fantastic Fish on a Stick and Fabulous Fish Cakes.
There's also free colouring sheets designed by festival artist Debby Mason, and a fish quiz and crafting with shells run by Seafish. The whole family can get competitive in the fisherman dress up competition with the National Marine Aquarium too!
5. Sink or swim with the Cardboard Boat Race
The Cardboard Boat Race will be back on Saturday! Put your skills to the test in this engineering challenge and build a boat out of nothing but a few bits of cardboard and some sticky tape - then sail it around a course in the harbour. Find out more here.
6. Take home some freshly caught fish
Don't miss the 'catch of the day' fish auction in the Cookery Theatre at 2.45pm on Sunday, where you can purchase some delicious fresh fish -. Plymouth Trawler Agents will be selling some of the 45 species they have displayed from 2.30pm on Sunday too. All proceeds from both sales will go to the Fishernen's Mission.
Dan the Fish Man will also be selling a great range of fantastic fresh fish and shellfish throughout the weekend.
7. Sample delicious mackerel
Stroll by the Interfish fishing vessels and then head to their marquee to try some samples of delicious fresh mackerel cooked in different ways. Mackerel is a healthy oily fish which is high in omega-3 fatty acids and a good source of vitamin D, so learn how you can incorporate more of it into your everyday diet.
8. Enjoy live music
This year – for the first time – there's lots of live music to enjoy at the festival! You can listen to indie-folk musician Chloe Carrubba, the atmospheric lyricism of Jamie Yost and alt-folk singer-songwriter Pilgrim's Dream.
Pirate-folk band JollyRoger and sea shanty band The Old Gaffers will also be performing around the Barbican on Saturday and Sunday respectively.
9. Shop 'til you drop
A brilliant range of traders will line the streets of Quay Square and The Parade selling plenty of tasty treats and stunning homewares. As well as fresh seafood, you can purchase everything from gin, liqueurs, cheese, chutney and fudge, to hand made kitchen ceramics and prints from artist Debby Mason.
10. Tuck into delicious dishes
As well as plenty of goods to take home, you'll find some brilliant street food traders so you can pick up something delicious for lunch – choose between seafood wraps, Thai dishes, paella and more! Plymouth's waterfront is also home to a great range of seafood restaurants – if you need inspiration, check out our top 10 list here.
Find out more on the Plymouth Seafood Festival event site.
---
In partnership with GWR, Destination Plymouth's lead travel partner
1 Comments