Shop4Plymouth's resident blogger Lucy Young @_Oceancityliving shares her experiences of getting out and about in Plymouth post-lockdown.
Emerging from lockdown life and months spent socially distancing indoors I was thrilled to find out that many things in Plymouth have flung open their doors to welcome back the public in time to enjoy the summer season. One of my favourite places in the city is Tinside Lido: its elegant Art Deco curves blend seamlessly into Plymouth Sound, offering fantastic panoramic views of the natural harbour and Smeaton's Tower, the city's iconic stripy lighthouse, as you swim.
We're so lucky in Plymouth to have one of the finest preserved examples of outdoor lidos in the country. Built in 1935 and renovated by the City Council in 2003, the magnificent open air pool was able to reopen on August 1st (followed by its Mount Wise cousin on Saturday 8th). With new COVID-19 safety measures in place, including pre-booking online for a two-hour slot and limiting the number of swimmers at each session, I was keen to take the plunge again and wash away the weeks of crummy quarantine.
Tinside combines two of my favourite things: Art Deco style and seawater swimming and my return to the Lido didn't disappoint. Glistening turquoise in the summer sun, its frothy fountain cascading over excited bathers, the water looked tantalisingly tempting. It's hard to believe that this glorious pool is just 10 minute's walk from the city centre. It really does offer a slice of the Great British seaside without the travel or the crowds. And after months of life being so limited, it was fabulous to hear shrieks of delight from children and adults alike. Good old fashioned fun can now be firmly back on the menu.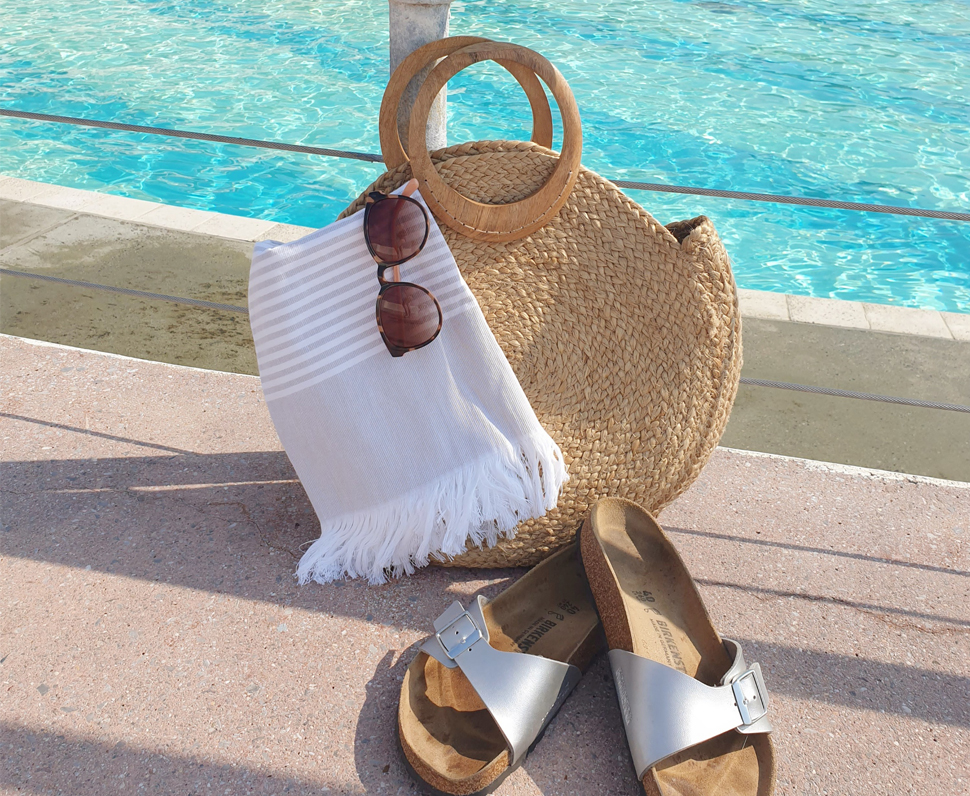 Fresh from my swim I was hungry for brunch, so I wandered further along the Promenade and down to the cobbled streets amid the cafe culture of the historic Barbican. This waterside quarter offers a wealth of dining options, many of which are currently taking part in the Government's 'Eat Out to Help Out' campaign. From Monday to Wednesday until 31st August participating venues are offering 50% off food and non-alcoholic drinks to tempt diners back out to enjoy (socially distant) socialising once more.
I for one was really looking forward to my first meal out since February. Much as I love cooking, months of meal planning and online grocery shopping had left me craving restaurant quality food and good table service (also minus the washing up).
The Barbican is always bustling with locals and tourists alike, so I recommend booking ahead if you have a particular place in mind, but I wasn't disappointed by my weekend brunch favourite, Boston Tea Party. A refreshing Mango Lassi and spicy Sweetcorn Hash certainly hit the spot after my morning's swim. The online table ordering from their mouth watering menu was efficient, fast and contactless and I was impressed with the speedy service and attentive staff.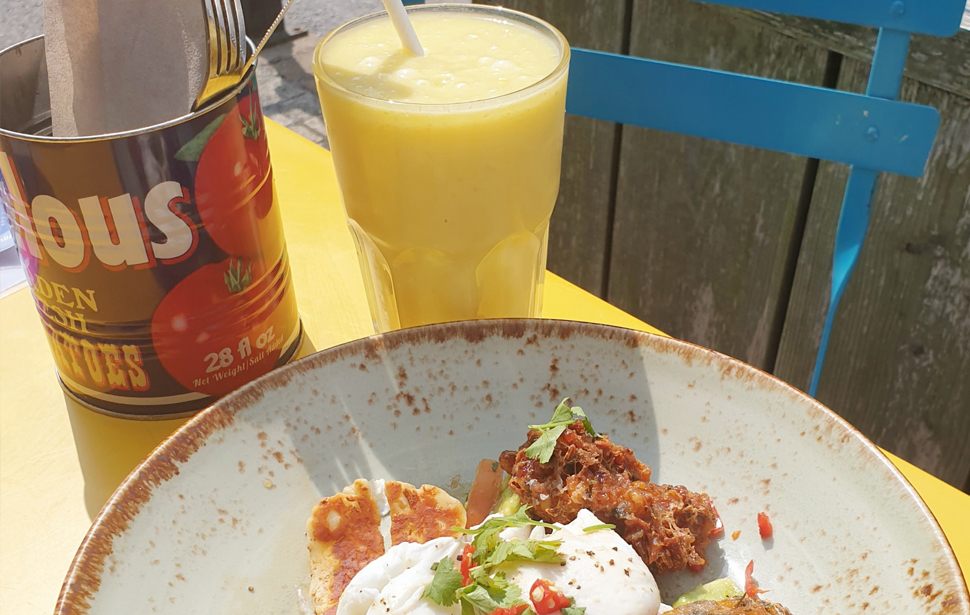 Refuelled, I strolled back along Southside Street browsing in the many galleries and shops stocked with locally made artwork and artisan gifts. Rowbury, Whistlefish and 45 Southside Street all have a fabulous collection of paintings, prints, ceramics, glass, jewellery and homeware. Every shop was well equipped with social distancing signage and hand sanitiser and it felt so good to be back browsing 'in real life' rather than looking remotely online.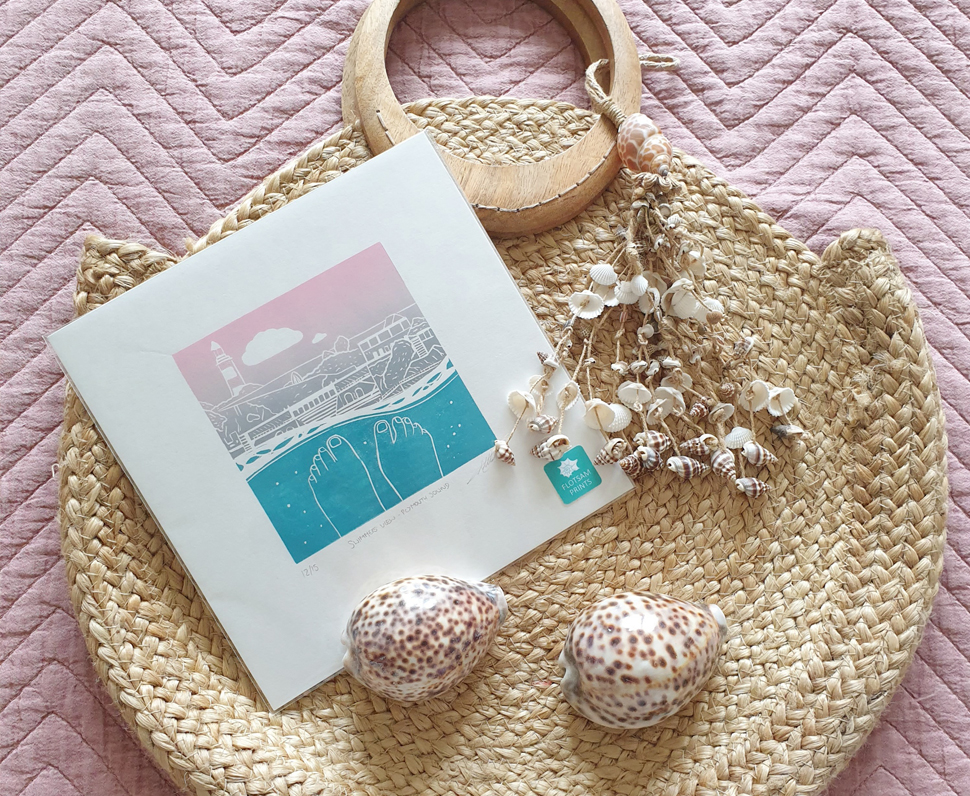 I've been after a little print of Plymouth to finish off a recently redecorated bedroom and found just the thing at Rockpool Trading. 'Swimmers View – Plymouth Sound', a limited edition linocut by local artist Megan Hall of Flotsam Prints, seemed an appropriate choice to remind me of my first heavenly dip back into the blue. Tempted?
Interested in more? Read the rest of the blogs on Shop4Plymouth.
---
Funded by the Reopening High Street Safely Fund, part funded by the European Regional Development Fund and HM Government
0 Comments