Shop4Plymouth blogger Lucy Young shares her top tips for throwing the perfect Platinum Jubilee party…
It's been a long time in the offing, but 2022 is the year that Queen Elizabeth II celebrates her platinum jubilee. With a whopping 70 years on the throne, she is the first British monarch in history to reign for as long, so no wonder we've been gifted an extra bank holiday next month.
And whether you're a royalist or not, I think that's definitely a reason to celebrate with potentially a four-day weekend to enjoy without having to take any annual leave. Thank you very much ma'am! After two years of being separated from friends and family, we're all more than ready for a right royal neighbourhood knees-up and to come together once again as a community.
Much like in the Diamond Jubilee year of 2012, which coincided with a summer of celebrations for the London Olympics, up to 10m Brits are planning to organise and attend street parties in Her Majesty's honour. More than 40 street parties have been planned in communities all across Plymouth and you can find out where on the Plymouth City Council website.
If you didn't request a road closure in time, then don't forget you can still host your own Platinum Jubilee celebration in your house, garden or driveway. So why not join in the momentous occasion and plan a party fit for a queen?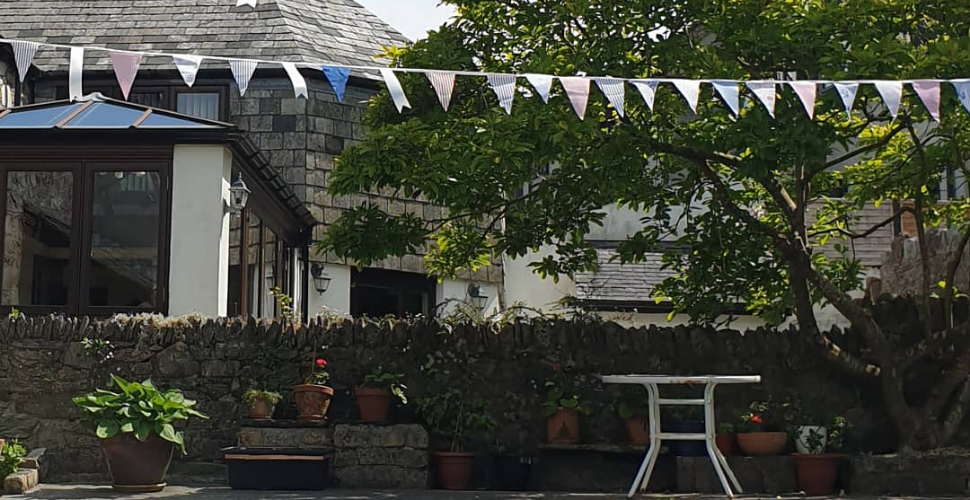 The official Big Jubilee Lunch date is Sunday 5 June. Starting in 2009, The Big Lunch aims to encourage communities to celebrate their connections and get to know each other better. So, the Jubilee is the perfect opportunity to host a traditional afternoon tea or big BBQ cook-out to bring together your neighbours, relatives and friends.
With just a couple of weeks to go, it's time to get planning, start making lists and get those invites out! Yes, we can all make a WhatsApp group, but if you want to make it formal (it is the Queen after all) then you could get some posh invitations to spread the word and stationers WH Smith on New George Street and Paperchase inside Drake Circus have a great selection. I always love a new notebook, so with a party to plan, why not treat yourself to a fresh one to start making lists of all the essentials you're going to need.
Whatever type of party you decide on, all those extra guests means you'll need extra seating. Or perhaps you just want to impress your neighbours with a new set of patio furniture? Either way, you needn't break the bank over some tables and chairs: Wilko in the Armada Centre and B&M on Cornwall Street have some great affordable sets plus parasols, patio heaters, fire pits and fairy lights for when the sun goes down or (fingers crossed) the weather is inclement.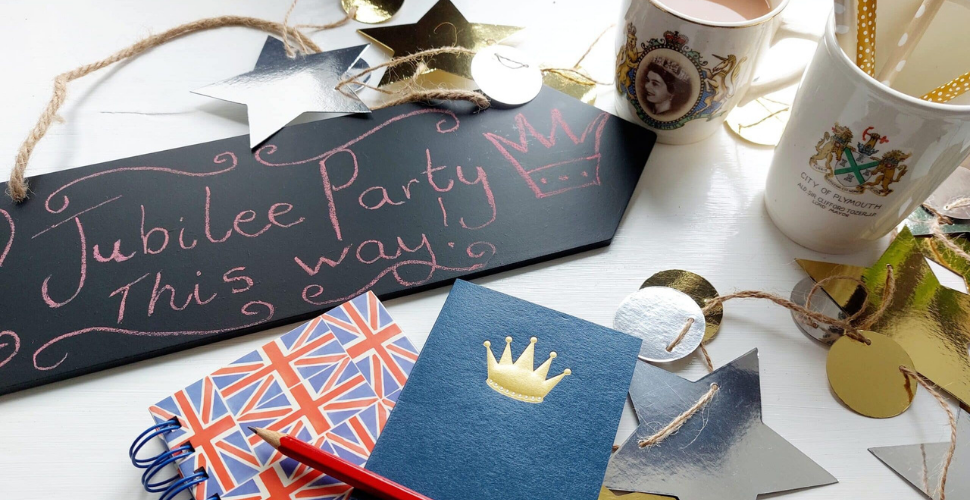 Obviously, we should all be doing our bit for the environment and thinking sustainably these days and whilst paper plates and plastic forks might save on the washing up, they're definitely a no-no for the planet. But there are plenty of pretty picnic sets on the high street at this time of year so why not invest in reusable plates, cups and cutlery that you can then use all summer long. I found some fab designs in Drake Circus shops Flying Tiger, Primark, Next and Marks and Spencer as well as really affordable sets in Poundland on New George Street and Royal Parade.
If you want your party tables to have a jubilee theme then there's plenty of royal regalia in TK Maxx you could decorate with, like cardboard cake stands, crown centre pieces and loads of commemorative tins and collectables which would make great accessories that could have a second use as storage once the party is over.
Whilst you're thinking about decorations, nothing says traditional party quite as much as a festive string of colourful bunting fluttering in the wind. It's relatively easy to make, so I headed to Plymouth's West End independent quarter to check out the fabric on offer inside Plymouth Market. Colleen's City Fabrics has a huge choice of materials in a myriad of colours and plenty of ginghams and stripes in red, white and blue if you want a patriotic palette. There are some other great stalls to buy fancy ribbons, flags and craft materials to make your own decorations, which could be the perfect half term activities to keep the kids entertained during the holidays.
And if you're opting for a quintessentially English afternoon tea to mark the occasion then you could trawl the charity shops for old coronation mugs, cut glass cake stands, tea plates and jelly bowls to compliment your theme. Or maybe even a trifle dish to attempt the recent competition-winning, lemon and amaretti Platinum Pudding?
Happy party planning peeps…next time I tackle the all-important final touches, food and drink.
For more Jubilee Party inspiration and Big Lunch ideas go to the official Jubilee website or check out Visit Plymouth's Jubilee page for all the details of what's going on in Britain's Ocean City.
1 Comments