'The King of Comedy' returns to Theatre Royal Plymouth with this year's spectacular panto, Cinderella
13th November 2019
Categories: Latest News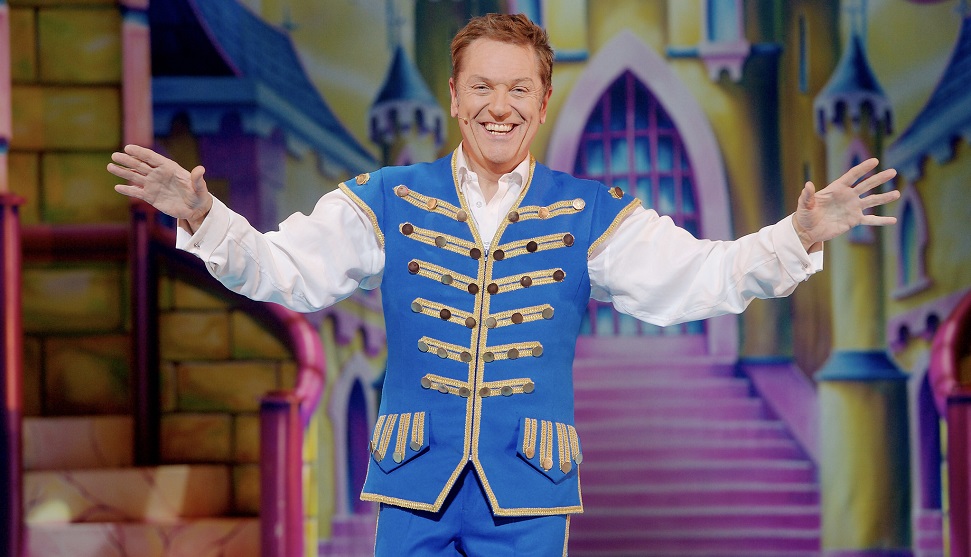 Brian Conley loves Plymouth. He's taken to the Theatre Royal Plymouth (TRP) stage numerous times over the years and he can't wait to step out in front of Plymouth's 'great' audiences once again as Buttons in this year's pantomime, Cinderella.
"They tell me that I have starred in more productions at Theatre Royal Plymouth than any other performer," said Brian who first played Buttons at TRP in 1999-2000.
"I've done loads of big shows in Plymouth: Barnum, Chitty Chitty Bang Bang, Hairspray, Oliver, Jolson - it's like a second home to me, and I love it.
"It's a great audience, and it's a beautiful theatre. You feel like you're really on top of the audience, so there's plenty of fun to be had. And fun is what pantomime is all about."
Jolson, especially, has good memories for Brian. Renowned for his comic genius, he once commented that playing the lead role in Jolson in the 1990s transformed his career, showing he could take on serious parts and nail them. "And that all started in Plymouth," he said.
"Everything was built and made in Plymouth, we rehearsed there, and we had the World Premiere there. Then we went on a short tour with that set and those costumes and we were in London for two years. So as a performer, you know you're surrounded by professionals in Plymouth, and no-one else has those sorts of facilities."
Brian has been appearing in the West End as Franklin Hart Jr in Dolly Parton's smash hit musical, 9 to 5, but is leaving that day job behind to take on the starring role in Cinderella from 20 December to 18 January: "I'm the only entertainer to have a 9 to 5 job," quips Brian.
Brian has made the role of cheeky little chappie Buttons very much his own, and he's clearly the driving force behind this production of Cinderella, writing the comedy routines and keeping the fast pace going, from curtain up, to curtain down: "I don't hang about, from the moment it starts, I'm out to drive it to the end," he said.
"Cinderella just completely epitomises pantomime, doesn't it? I genuinely am excited, more than I've been for a few years, because I have been doing 9 to 5 for so long - since last Christmas - so it will be just a breath of fresh air for me to step away from it and have some fun.
"The thing to remember is that a pantomime is a vehicle to hang as much comedy on as possible, it has to be comedy-driven. You can't have any long, drawn-out songs - and if there is singing, something funny has got to be happening at the same time. I think we only do one serious song in Cinderella and it's right up front.
"The other thing about panto is that a lot of it is visual - both in terms of the comedy and the set. It has to be spectacular, so that people are completely blown away. That's a common mistake some people make: as soon as you say 'panto', they imagine a church hall production that's been put together for eight quid! But panto is huge. We've got
the London Palladium set, we have the coach that flies out and does a 180-degree turn, and animatronic horses that everyone thinks are real.
"And wait until you see the Portaloo!"
The Portaloo scene in the forest is one of the new additions to this Qdos production of Cinderella, which was first used in Bristol last year. It is, says Brian, an example of how constantly developing new ideas is keeping pantomime fresh for audiences. And there's another reason why pantos are proving as popular as ever: "The secret is that from a three-year-old to a 90-year-old, everyone can all have a family experience," said Brian.
"Last year, there was a dad in the audience with his two little kids, and he was crying because he just thought 'what a wonderful moment that the kids will never forget'. That's what it's all about - when you've got to put your phone down and you can't take a photo, you can live in the moment and experience what is happening here and now. That's what we can bring, and that's what has kept pantomime so really there, because it's something that the whole family can sit and enjoy and have a good laugh.
"So, when people ask 'what makes a successful panto', that's the answer - you've got to make them laugh, and lots. And after all my years of doing this, I know what makes a whole family laugh - it's stupid, visual, dangerous Brian, doing stupid things.
"But the biggest thing for me is that it's a family event - those four little kids at the end that come up - that's one of the loveliest moments. I really do enjoy that."
So will there be some Plymouth jokes thrown in there? "Oh yeah, there'll be topical jokes in there and bits that relates to the city. And I'm looking forward to seeing the big statue outside the theatre, there'll be some references to that, that's for sure!"
Brian and his family have visited Plymouth so many times over the years that they know all the best places to take in a walk and see the views: "We enjoy the Hoe and the Barbican, but with two shows a day, I won't be getting much time off," said Brian. "In fact, one of the reasons I love doing pantomime is because over the Christmas period, I can eat as much as I want and not put on any weight because I'm doing two shows every day. I can eat the biggest Christmas dinner ever and all the desserts. So all in all, I'll be having a great time in Plymouth - and I can't wait."
Cinderella is at Theatre Royal Plymouth from 20 December to 18 January. Contact the box office on 01752 267222. www.theatreroyal.com/whats-on/cinderella/