Children's Activities & Entertainment
You are here: Pirates Weekend Plymouth > Children's Activities & Entertainment
The details below are from our 2019 event. These will be updated for our 2020 event at a later date.
Melody the Mermaid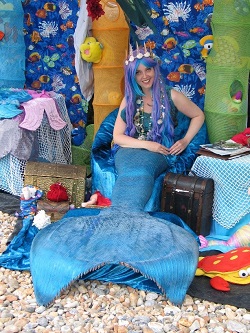 Melody the Mermaid will be meeting and greeting the land dwellers of The Barbican and hold her famous Mermaid school with a special arts and crafts workshop.
Saturday 11 May
10am - 12.30pm Meet and greet Melody the Mermaid on Southside Street
1.30pm - 4pm Mermaid school craft activity 'Wish in a Fish' at the Barbican Tourist Information Centre
Sunday 12 May
10am - 12.30pm Meet and greet Melody the Mermaid on Southside Street
1.30pm - 4pm Mermaid school songs and storytelling at the Barbican Tourist Information Centre
---
Puppertree Company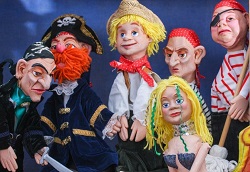 A team of two professional puppeteers with over thirty years of experience entertaining audiences with their 'Jack Tarr and the PiRat' and 'Yo Ho Ho' Pirate Puppet Shows! Original tales told with beautifully crafted glove puppets with plenty of fun for the audience to join in the pirate adventure.
Saturday 11 May - Jack Tarr and the PiRat
Sunday 12 May - Yo Ho Ho Show
10.30am, 12.30pm & 2.30pm Pirate Puppet Show on Quay Square
---
Soft Play - Giant Octopus!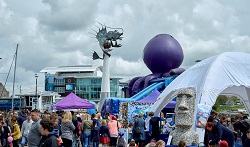 Back again this year on The Parade will be a Giant Octopus soft play activity centre over the both days.
Entry fee is £3 per child for 10 minutes.
---
Pike and Shot
Swashbuckling school 10am, 12pm, 1pm and 3pm - learn to fight with a pirate sword and board enemy ships! This consists of two instructors, with "child safe" weapons, teaching the techniques of sword fighting on board pirate ships. Several sessions throughout each day, lasting about 30 minutes per session.
Pirate coin making - turn your ill gotten silver into pieces of eight, with an interactive coin strike. This activity will run during the day, when the sword school is NOT operating, where customers can form their own pirate coins from an authentic 17th Century mint. Additional fees may apply.
---
National Marine Aquarium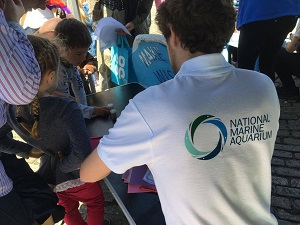 The National Marine Aquarium will be putting on a suite of activities for Pirate Weekend.
This goes along with their interactive stand where all aged Pirates are welcome to explore some of the wonders of our Ocean.
Join in with their exciting game of sinking ships, this STEM activity is a race to see who can get their pirate ship to sink the slowest and put off meeting the Kraken of the deep!
---
West Hoe Park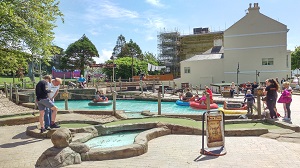 Treasure Island Fun Park will be open to go and explore and have bundles of fun from panning for gold to remote control boats.
The fab Plymouth Party Princesses and The Creation Station will be joining them for a fab weekend of fun, come on down to meet the characters, get involved with pirate crafts and entertainment.
There will also be a face painter available (small fee will apply).
---
Pirate Badges
Pick a picture, bring to the machine and let's make a badge together. They will have a pirate and mermaid designs plus a few general ones so quite a few to choose from so something for everyone. At 75p a badge or fridge magnet it is a fun activity to do and will give you a lovely keepsake for your Plymouth Pirates Weekend. Find them in the Quay Square opposite the Navy pub and near the Punch and Judy show.
---
On Course South West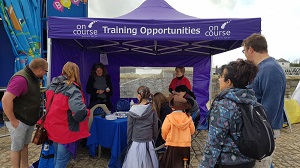 On Course South West will be back again at this year's Plymouth Pirate Weekend, helping to make learning both fun and rewarding.
Their experienced tutors will be available throughout the day to help support and encourage your creativity with a host of family learning activities.
All of their activities are free to the community and will host a range of ocean themed, fun and creative activities for the whole family.
Come along and try something new, enjoying yourself, and have fun whilst learning!
---
Pirate Ice Cream
The Cowlick Creamery have been enlisted by every swashbuckling pirate of the seven seas to make their own unique ice cream flavour.
The flavours are still under lock and key as they explore far flung places of the earth in search of inspirations for this year's event. These closely guarded secrets will remain a mystery until 12th May, when The Cowlick Crew will unveil the delicious flavours down on Quay Square.
Will you choose Blackbeard's delight? The Long John Silver or Captain Barbossa? Will you be swayed by Mary Read's creation or perhaps Jack Sparrow will steal your imagination.
---
Tourist Information Centre Activity
Make your own pirate treasure map. £2 per child, advance booking advisable.
10am to 11am and 11.30am 12.30pm.
---
Radio Plymouth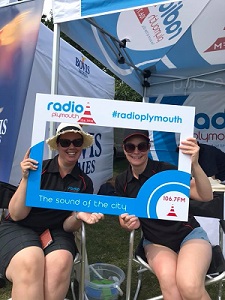 Join Radio Plymouth on Quay Square for some facepainting and giant games.