Street Entertainment
The details below are from our 2019 event. These will be updated for our 2020 event at a later date.
Society of King George the Third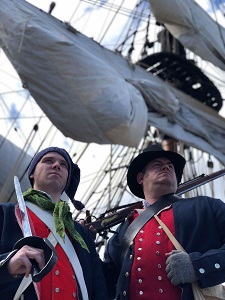 The Society of Kings George the Third is a living history society based in the Southwest which aims to bring to life something of the elegance and pageantry of the late 18th century.
Their naval landing party depicts a common naval landing party of the Royal Navy in the year 1793, with Officers, Ratings and artifacts for the public to interact with at their leisure.
They shall also be providing a series of uniformed displays, accompanied by the firing of flintlock muskets and a replica Swivel gun.
---
Tyburn Jig - Storytelling and Shanty singing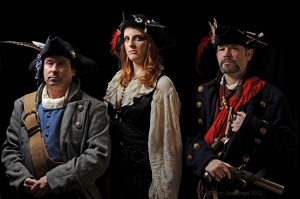 Tricorn Shonkey are an experienced crew of musicians and actors based in the South West. Impressively costumed, they weave a musical and storytelling tapestry of Pirates, smugglers, press-gangs, sea voyages, highwaymen and ne'er do wells!
Shanties, jigs and reels are also given the Shonkey treatment; bringing a whole broadside of fun to sailors and land-lubbers' ears alike! Come and hear a song and a tale!"!
---
Madame Galleon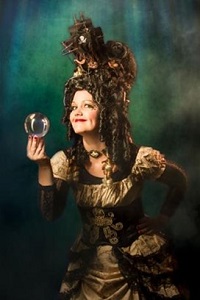 Madame Galleon was once the figurehead on one of the most infamous Pirate ships ever to sail the open seas.
After the ship was cursed by a furious Titan, Madame Galleon was brought to life and roles were reversed - the ship became her 'figurehead'.
She now roams the world with her nautical magic, manipulating orbs of water, or are they bubbles from crashing waves? She mesmerises with her magic whilst looking for treasures to steal in memory of her former crew.
---
Higher Beings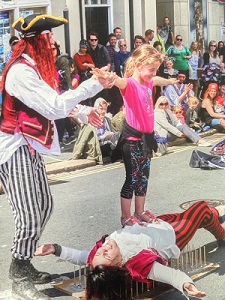 Two pirate stiltwalkers will engage with the public with their amazing juggling tricks.
The pirate show is a street entertainment type show, Staring Betty Blades and Pirate Pendogget. The basic plot of the show is aboard ship where there is no Wi-Fi or internet waves, so they like to practice some tricks to keep busy!
See them show off their dangerous knife juggling, bed of nails, blind folded unicycling and some other magic fun. They usually end the show with the Octopus Dance! or perhaps a game of "Whistle and Oar" depending on the audience size!
There will be a pirate statue at the entrance of Southside Street to greet visitors as they arrive and an opportunity selfie would be hard to resist.
---