Plymouth is a cute city on the coast of Devon, South of England. It is quite often called Britain's Ocean City which may give you some indication of what to expect.
The multiple beautiful harbours dotted along the coast are busy hubs for local yachting enthusiasts and fishermen bringing in their catch of the day. Around the main harbour is a number of high-quality restaurants, bars and cafes. High-flying chefs have been attracted to the area due to the quality of local fresh produce from farmland and the open Atlantic Sea. The backdrop of green hills with the prettiest lighthouse and quaint cobbled streets has definitely put Plymouth firmly in place as one of my favourite British destinations.
There are plenty of things to do on a family weekend in Plymouth and it seems there are many community events that take place. We were lucky enough to be there during the Flavour Fest. Many local farmers and other food producers came together in town in long rows under a marquee. A foodie's heaven from gourmet cheeses to fancy British pies, Thai food and an organic vegan stand.
It was quite a family orientated little festival with a children's area where Esmé had her fun painting ceramics. It's always worth checking out the Visit Plymouth website to see what is going on when you visit.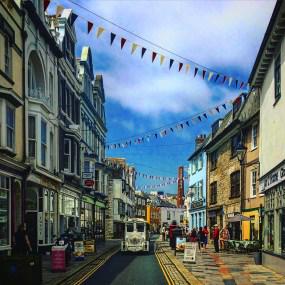 ---
Stay
We stayed in the Duke of Cornwall which is ideally situated half way between Sutton Harbour and Royal William Yard. If you like period buildings, this 150 year old hotel will be of interest to you with revolving doors, a grand staircase and an old school lift! Going up and down in it brought me back to my childhood. Do you remember those pull across metal gates operated by a porter in big shops? Well it was just like that. The family rooms are big and spacious and rates include breakfast to fill the belly before a day of exploring.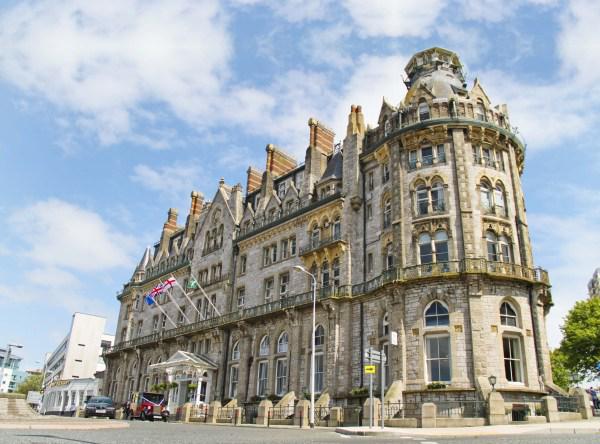 ---
Play
When we initially arrived we kicked off at Royal William Yard which is a couple of kilometres from the main harbour. A beautiful little place with quite upmarket establishments. We rented bikes from Rockets and Rascals. What is really handy is that they have a drop-off shop over on the other side of town. They provide all the gear from helmets to a child's seat.
The cycle along the coast is really pretty and a little steep (not too bad) so you get amazing views over the bay. Esmé loved it! Rocket and Rascal bike office also have a coffee shop so you can sit and chill after your cycle.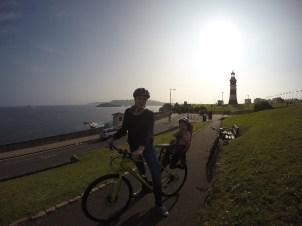 Visit the National Marine Aquarium
Esmé literally ran around the place doing laps with excitement. There are massive tanks with an array of species from beautiful coloured fish to sharks and mantras. There are also plenty of children's activities. The price is a lot more affordable and no queues in comparison to the London one! I noticed they offer a 'sleeping with the sharks' evening for older children (I wouldn't mind doing myself).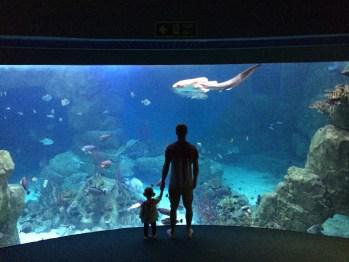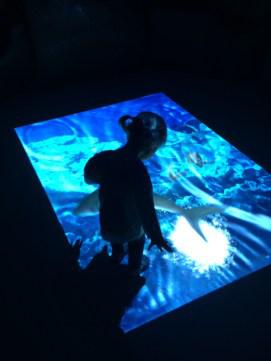 Take a boat trip with the Boathouse Cafe
I haven't been to many seafood restaurants that take you out on a boat tour in the harbour and let you catch your own lunch. When you return they do all the hard work whilst you sit back and chill. The big glass building looks out over the main harbour. The food was really fresh and tasted amazing!
There is lots of open space around the lighthouse with incredible views over the bay. Esmé spent ages just running around whilst we took lots of pictures. Don't miss the ice-cream hut at the foot of the stairs!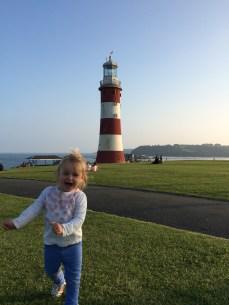 ---
Eat
The River Cottage Canteen based in the upmarket Royal William Yard was an absolutely perfect restaurant to take Esmé. We sat outside where a huge area is encased with 5 ft glass panels.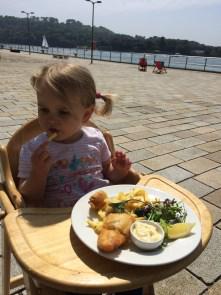 On the other side are lovely views across the sea. She ran around to her heart's content, every once in a while nipping back for some nibbles of her lunch. The actual building is pretty cool as it is an old mill and has some quirky rustic decor inside. The waiter provides a thorough explanation of the menu describing the produce and where they have been sourced. The menu changes regularly with the season as they only use locally sourced seasonal foods. The children's menu manages to incorporate healthy food and make it fun. A big dollop of humus served with apple pieces, fresh bread, carrots and cucumber. Literally wolfed down! Our food was equally amazing.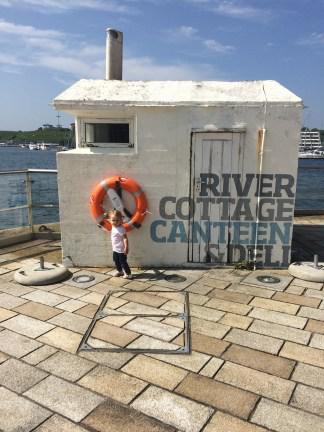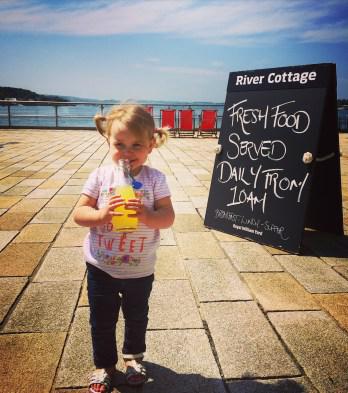 The Dock restaurant is a little hidden from the main part of town at King's Point Marina. When we turned up here I was feeling a little anxious about having Esmé with me as it is really nice inside. However it was quite the opposite – there were many children and it just combined the experience of being in a really nice restaurant with family without feeling uncomfortable.
Like many places in Plymouth, the views were beautiful. The Dock decor makes you feel like you are inside a boat with porthole windows, nautical colour themes and large glass opening out onto a balcony.The children's menu is perfect with multiple options. As for the adults, the cocktails were amazing! I was kind of wishing I had a babysitter. The menu has some lovely options.
Having been in Plymouth for a couple of day at this point, I was all fish and chipped out! The vegetable stir-fry was to die for!
Rockfish, situated right next to the aquarium, it is the perfect place to pop in for lunch afterwards. I love this restaurant's ethos on sustainable fishing. They only source fish from well controlled fisheries. The menu of fish will very much depend on availability so the waitress fills you in.
The food is great, incredibly fresh and the staff are lovely. Esmé was particularly impressed with their play pack they give little ones. It kept her entertained for a whole hour on the train home. For an older child, the pack is quite educational about local marine life.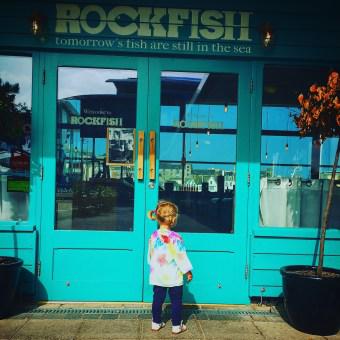 The Hidden Olive is tucked away around the corner from the Barbican on Pinnacle Quay is this contemporary cafe / restaurant. They offer a variety of small dishes, similar to tapas which we love as you can taste a little bit of everything. The very lovely owner that I chatted to is trying to make this establishment more child-friendly and is currently working on a children's menu.
---
Great Western Railway offer a good service from London Paddington to Plymouth every day and the journey only takes 3 hours. After several car spews of late, the train journey was refreshing and is also quite scenic.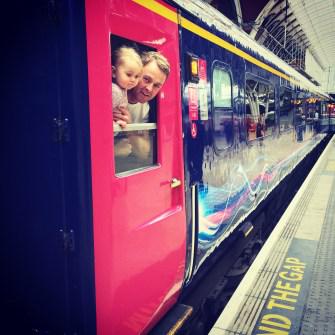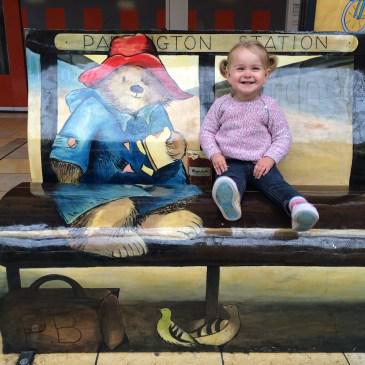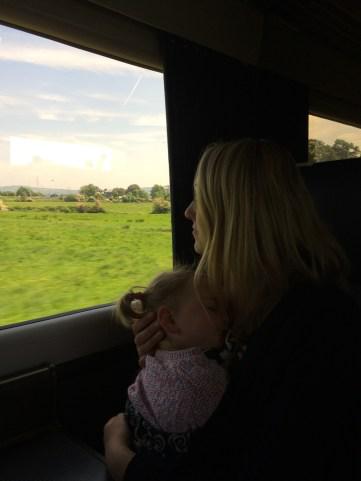 Thank you so much to everyone in Plymouth that had us as their guests. Because of you all, I can honestly recommend that all of my readers experience a family weekend in Plymouth.
---
0 Comments