Family blogger Rachel Bustin, who's based in Cornwall, took a day trip to the National Marine Aquarium - here's what she thought of her day out in Plymouth...
As my girls get older, I'm always on the lookout for different places to go to keep them occupied and of course learn at the same time. Especially if it's raining! One of the places I've always wanted to go was to the National Marine Aquarium (NMA) in Plymouth. It's about a 90 minute drive from us in Cornwall, so it would have to be worth our while with lots to do and see. I'll tell you now before I get onto what we thought, is that it's TOTALLY worth it!
What is the National Marine Aquarium?
Well the NMA is the UK's largest public aquarium built in 1998, welcoming 300,000 people a year including 30,000 students. It is a self funded charity that supports itself by offering consultancy work around the area of designing and installation of aquariums, and also they take booking for functions and events. Imagine having your wedding underneath the shark tank!
I love that their mission is to connect people with our oceans, with Plymouth being a port city and known for its maritime history it's a perfect place for the NMA.
Exploring the NMA
The NMA is divided into different zones. You follow the trail upwards around the building in a spiral, stopping off to visit each zone on your way.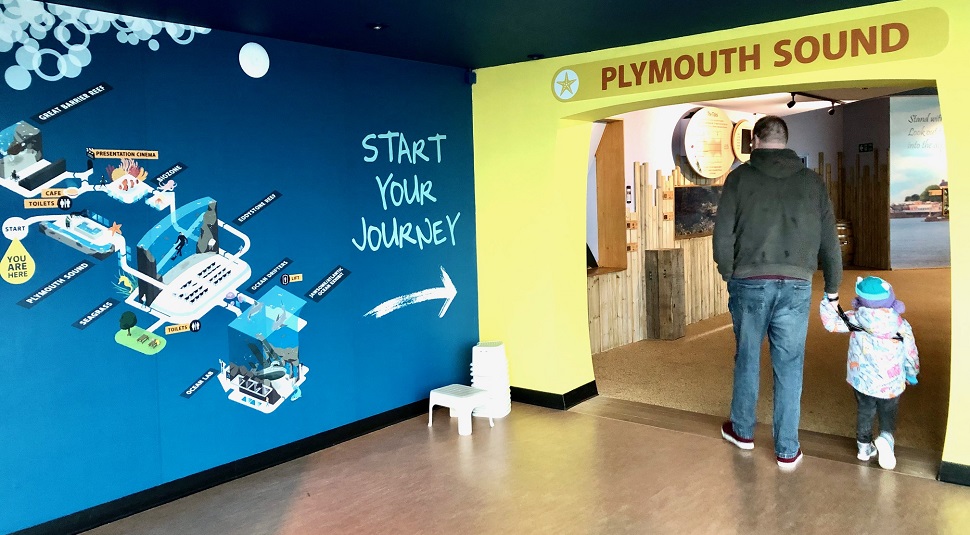 Your journey:
Plymouth Sound - Here you start your journey at the NMA. It's a fantastic start looking at what is around us. There are 17 tanks including a rock pool and a wave tank. We had a fantastic look around before it was time for the Rockpool feed. My daughter loved this, it was fascinating to watch.
Eddystone Reef - Next up came the Eddystone Reef. This is a replica of the real Eddystone Reef found off the shores south of Plymouth. In the tank are mackerel, bass and pollock, as well as bullhuss sharks and six smoothhound sharks. It's a great opportunity to learn about our local waters.
Ocean Drifters - I think jellyfish are beautiful to watch and are an important part of the ocean, this leads to the next exhibition in the NMA, Ocean Drifters. Deep in the Atlantic ocean you can find the moon jellyfish and the white spotted jellyfish, I could spend hours watching them.
Atlantic Ocean - Next up on your journey is the deepest tank in the UK. At 10.8m deep and containing over 2 million litres of water you will find the home of the sharks, sting rays, and the giant turtle. Of course there are many other animals present as well! If you look into the deep water you will spot a life size WII seaplane!
This zone was our favourite, and we spent the most time here. We happened to visit on a Friday so got the chance to see the feeding as well as the "Shark Show". My daughter got to colour in her shark hat with the lovely members of staff and got the chance to get right up close to the dome shaped tank and see the sharks floating over her head. It was a wonderful experience to see her enjoy this.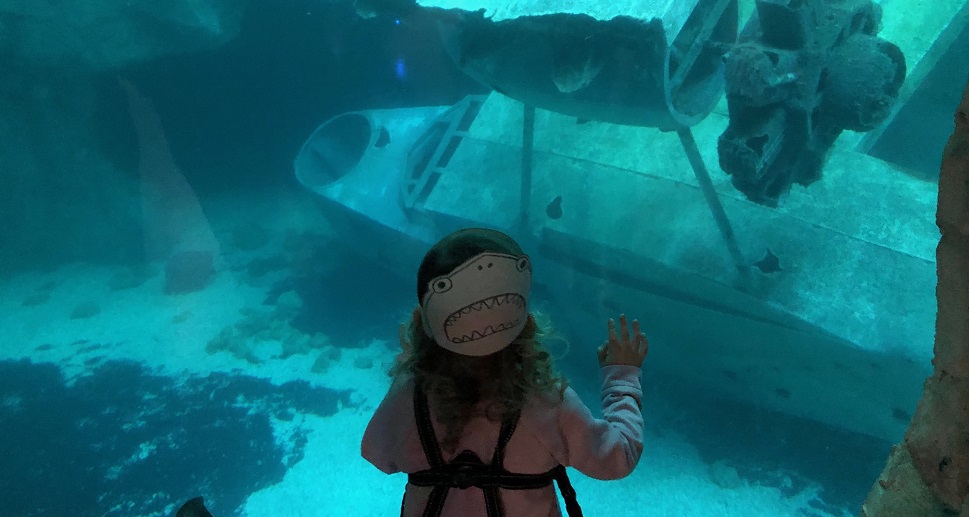 The Biozone - This zone I found to be a really calming and relaxing experience. There are many smaller tanks showcasing the diversity in our oceans. Here you will find colourful clownfish, seahorses, coral and more. The relationship between our oceans and man can be found here. Our actions do have consequences which you can see.
Great Barrier Reef - The last zone contains the second largest tank in the NMA. The Great Barrier Reef. It's the brightest most colourful tank with over 70 species of fish. We managed to spot the Zebra sharks hiding!
Other Facilities
We sat down for a spot of lunch in the Waves Cafe. It was rather busy so we were unable to sit overlooking the water and harbour, but we got a good table and highchair. With a 9 month old and a 3 year old, I was interested in what they had on the menu to cater for kids. I wasn't disappointed. You could order hot meals for kids like fish, pasta, chicken goujons or sausage to go with chips. Or you could opt for the children's cold lunch box and choose any 5 items from a large selection. We opted for the cold selection and had sandwiches, crisps, fruit, yogurt and a sweet treat. Us adults had scampi, chips and peas that was delicious and very reasonable. I did read that they love to use locally sourced produce for the cafe and you can tell.
There is a soft play area called Loola Land for toddlers and small children to burn off some energy at an additional cost, but we didn't pop into there on our visit.
At the end of our visit we popped into the gift shop. Which hosts a large selection of gifts and souvenirs. As it was our daughters 3rd birthday we couldn't go away without getting a couple of gifts for her to treasure!
Overall Thoughts
It was a really wet and windy day and when we arrived at the NMA we were glad to get inside. With it being in the week and term time there was no queues, but I can imagine during school holidays it gets rather busy! A member of staff gave us a quick chat of the layout and where the cafe was for refreshments.
All members of staff in the different zones were highly knowledgeable and always on hand to answer any questions.
The layout of the NMA is very user friendly as it basically is one big spiral. Easily accessible for pram and wheelchair users.
It was a wonderful experience for myself and my family. We learnt loads, the girls were entertained, we got to see real sharks, felt shark skin and for this time of year, most importantly kept dry! It's the perfect family day out in the South West, especially in Winter!!
You can read more of Rachel's reviews on her website. This day out was gifted by the National Marine Aquarium.
Photo credits: Rachel Bustin.
0 Comments