This weekend, Plymouth Seafood and Harbour Festival returns to the Barbican and Sutton Harbour for its ninth year.
Come on down to our historic harbourside to experience the very best of Britain's Ocean City at this brilliant free festival. Here's our top ten things to see and do during the weekend!
1. Improve your culinary skills
Some of the region's most talented chefs will be taking to the stage in the Cookery Theatre, whipping up impressive seafood dishes to help inspire and influence your home cooking. Make sure you listen in for top tips about how to get the most out of fish and seafood.
Chefs taking part include Jacques Marchal, Peter Gorton, Simon Lydiatt (head chef at Rockfish), Ben Mack (new head chef at The Box Kitchen & Bar) and many more.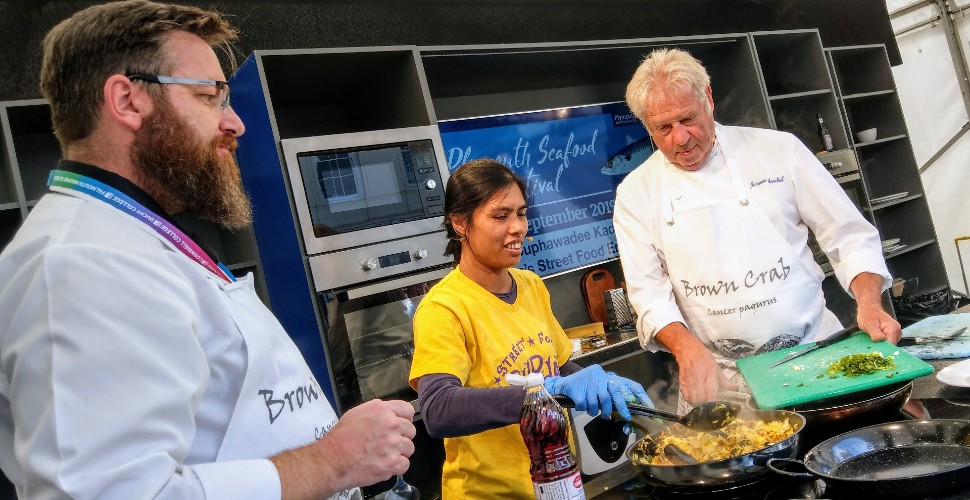 2. Discover local species
Pop into the demo marquee run by Seafish to see the fascinating display of different local fish species, all of which can be found in the waters surrounding Plymouth. Ask any questions you have and pick up some top tips about how to fillet fish.
All the fish on display will also be up for sale at 4pm each day via auction, which is held in the Cookery Theatre, so you can cook something new!
3. Treat yourself
Wander along the stalls on Quay Square and The Parade selling the South West's best produce. Seafood fans can purchase fresh fish and shellfish to take away and cook at home, but there's lots more to browse – including gins, liqueurs, fudge and flapjacks.
4. Learn about life under the sea
The Ocean Conservation Trust, the charity which runs the National Marine Aquarium, will be on hand with a team of their Ocean Discovery Rangers. Visit their stall on The Parade to learn all about life under the sea and find out how you can help protect our oceans from plastics. If you want to get hands on, they'll be running litter picks at 2pm each day to help clean up the waterfront – all equipment is provided, just meet at the Mayflower Steps.
Each day at 11.30am, they'll also perform a squid dissection on stage in the Cookery Theatre, where you can learn all about one of the ocean's most mysterious creatures!
5. Tuck into delicious dishes
Head to one of the street food stalls on The Parade for a tasty treat. You can choose from authentic Thai and Moroccan food, fresh seafood dishes or delicious paella, and finish off your lunch with a scoop of scrumptious locally made ice cream.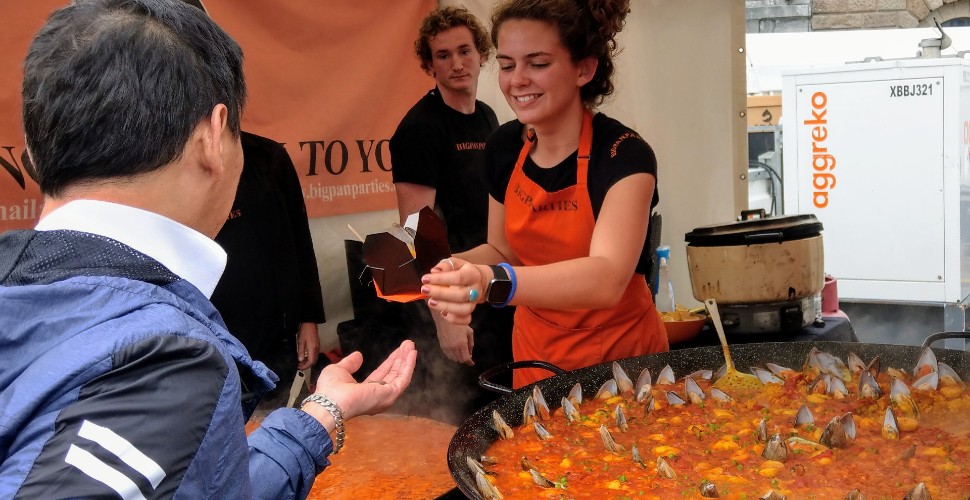 6. Singalong with shanty bands
Pick up a drink from the official festival bar, run by Ventons Devon Cyder, and enjoy the traditional sounds of local shanty bands. Freddie's Barnet and Baldrick's Plan will be performing throughout the weekend across the festival site.
7. Keep the kids occupied
There are loads of free activities for children to enjoy over the weekend, with fun for the whole family. Keep an eye out for the magician roaming the streets with his amazing tricks, get your face painted or – for anyone feeling adventurous – you can have a go on the free surf simulator at Commercial Wharf.
Pop inside the demo marquee for more family fun. Play 'Hook a Duck' with The Fishermen's Mission (here you can also pick up a bucket and crab line, for crabbing from 3pm to 4pm). The Barbican Theatre are also on hand with lots to keep you busy. Create your very own costume or puppet between 11am and 2pm then take part in the 'Puppet Parade' at 2pm – which includes a junk band and an incredible 7m tall giant fisherman puppet!
8. Follow the trail
Download the free Plymouth Trails App and follow a walking trail around the Barbican. There are 20 different fish posters to find, all depicting local species and beautifully illustrated by the festival's resident artist Debby Mason. Along the way, you'll learn fascinating facts about fish!
Don't miss Debby's stall at the festival, where she will be selling her beautiful sea-themed prints and homewares.
9. Dive into heritage
Watch demonstrations of traditional craftsmanship, as local 'withy' pot maker David French creates lobster pots out of willow. This incredibly skilled craft dates back over 400 years and is now in danger of dying out, as very few crafters are able to make them! Each pot takes nearly five hours to make, and David will be creating them during the festival so you can learn more about the impressive skill.
The beautiful Lynher Barge will be moored in Sutton Harbour during the festival, sharing stories of the Tamar sailing barges' fascinating history.
On Saturday 18 September, head back to the big screen between 9pm and 10pm and step back in time, with a special screening of the virtual Mayflower and Sutton Harbour story. This is a unique experience, showing what Plymouth's harbour was like at the time when the Pilgrims sailed from Plymouth in 1620. There's even virtual headsets to immerse you in this historic world!
10. Explore amazing waterfront businesses
While you're visiting the festival, show your support for the independent shops and eateries along the Barbican and Sutton Harbour. Take a stroll along Southside Street and pop into the art galleries and gift shops, or stop in one of the many brilliant cafes for a bite to eat.
Local businesses are also getting into the swing of the festival mood, with extra special activities taking place:
Enjoy a fresh seafood BBQ at The Boathouse on Commercial Wharf both days from 12pm
Get in the festival spirit at the Rockfish's own Seafood Festival, just across the Sutton Harbour footbridge, on Sunday 19 September from 12pm to 6pm. They'll have live bands, a seafood BBQ and fishmongers selling fresh produce.
---
Find out more about Plymouth Seafood and Harbour Festival.
0 Comments