Avast ye! Have you heard? Plymouth Pirates Weekend is back so get your Jolly Rogers, eye patches and treasure maps at the ready to enjoy a rip-roaring weekend of fun celebrating life on the high seas.
Don't forget – fancy dress is encouraged, so it's you're chance to push the boat out!
When and where is it?
Plymouth Pirates Weekend takes place on Saturday 7 and Sunday 8 May between 10am and 4pm.
Head to the Barbican and Sutton Harbour to enjoy all the action – there's activity taking place along Southside Street, Quay Square, West Pier, The Parade and Commercial Wharf.
What to see and do
There's plenty of fun to be had throughout the weekend, with bucket loads of entertainment and activities to enjoy. Here's some of the highlights…
Two tall ships, the three-masted Grayhound and the topsail schooner Johanna Lucretia, will be docked at Quay Square, and you can hop aboard and explore them for free. You'll also be able to see the amazing Atyla Tall Ship out on the horizon in Plymouth Sound - it's a two-masted wooden schooner that goes on international adventure sailing trips.
Follow the Pirate Treasure Trail around the Barbican find all the treasure to collect your reward! Trail maps are just £2.50 and will be on sale at the Tourist Information Centre.
Watch a pirate puppet show, or enjoy sensational storytelling by talented musicians and actors as they weave magical tales of pirates and mermaids.
Create your very own keepsake to take home you with you thanks to hands-on arts and crafts activities. You could print your very own colourful Jolly Roger flag, or make a badge or fridge magnet.
Listen to sea shanties performed by ten talented local shanty bands, who will be performing a mix of traditional shanties, folk tunes and original songs from various points across the waterfront. (Plus, some of them will be performing at nearby pubs between 4pm and 6pm on Saturday 7 May, if you want to listen some more).
On Sunday 8 May, watch an amazing acrobatic pirate performance by Cornish-based company Boom Circus. The 45 minute performance is brimming with energy and features amazing acrobatics and stunts. Catch the show at 12pm and 3pm on Commercial Wharf.
Keep an eye out for Captain Jack Sparrow who will be roaming the streets and looking for trouble! You might also meet Melody the Mermaid, who will be telling her magical stories, and Madam Galleon, a ship figurehead brought to life who will show off her mesmerising magic skills.
You could even get the adrenaline pumping with a thrilling 30 minute powerboat experience around Plymouth Sound (£35 for four people) with the pirates from Mount Batten. You'll need to book in advance for this experience – just remember that the minimum age is eight years old, and all under-16s must be accompanied.
And that's not all – expect to see stilt walkers, canon and musket firing, Morris dancing, face painting, stalls, workshops and much, much more!
For timings and details, check out the programmes for entertainment and family activities.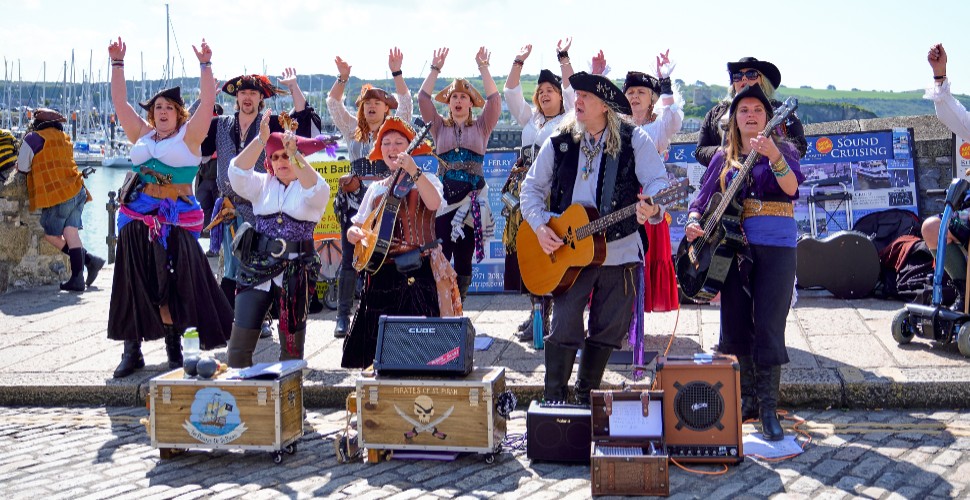 Food and drink
There are loads of brilliant places to stop for food and drink around the Barbican and Sutton Harbour – you'll be spoilt for choice.
It's the perfect place to enjoy traditional seaside treats so tuck into tasty fish and chips, grab an ice cream or indulge in a traditional afternoon tea. If you need inspiration, check out the Shop4Plymouth website or head to our Food and Drink page.
How to get there
If you're travelling by car, there's a number of car parks in the vicinity including Elphinstone car park, Lambhay Hill, Queen Anne's Battery and the Harbour Car Park at Lockyers Quay, but remember these are likely to be very busy. The car park at Drake Circus The Barcode is also less than a ten minute walk from all the action.
If you're travelling from further afield then GWR are the event's Official Travel Partner, so check their website for train times and tickets.
If you're travelling within Plymouth and plan to arrive by bus, you can plan your route with Citybus.
Road closures
Basket Ope and the Parade area, Southside Street and The Barbican will be closed to traffic and parking between 9.30am to 4.30pm on both the Saturday and Sunday of Pirates Weekend.
Accessibility information
Pirates Weekend is a very popular event so it can get very busy. If you prefer to visit when there are fewer people around then we'd recommend aiming to be there for the first hour of the day, between 10am and 11am, when it's quieter.
There's also a new chill out zone in the garden area at the entrance to Basket Ope, if you need to retreat to a calmer space at any point during the weekend. There's also a quieter picnic area at Queen Anne's Battery, across the Sutton Harbour footbridge and around 250m away from the heart of the Barbican.
There are public toilets, including disabled toilets and baby change facilities, on the Barbican (PL1 2LR) and at Elphinstone (PL1 2NX).
If you find yourself needing any help on the day, pop into the Tourist Information Centre or look out for the stewards wearing yellow high-viz jackets as they'll be happy to help.
For more information and to see exact timings, head to the Plymouth Pirates Weekend event page.
---
Plymouth Pirates Weekend is run by Plymouth Waterfront Partnership.
1 Comments