Sea Monsters - A Prehistoric Adventure - Dome Experience
Market Hall
Duke St
Devonport
Plymouth
Devon
PL1 4PS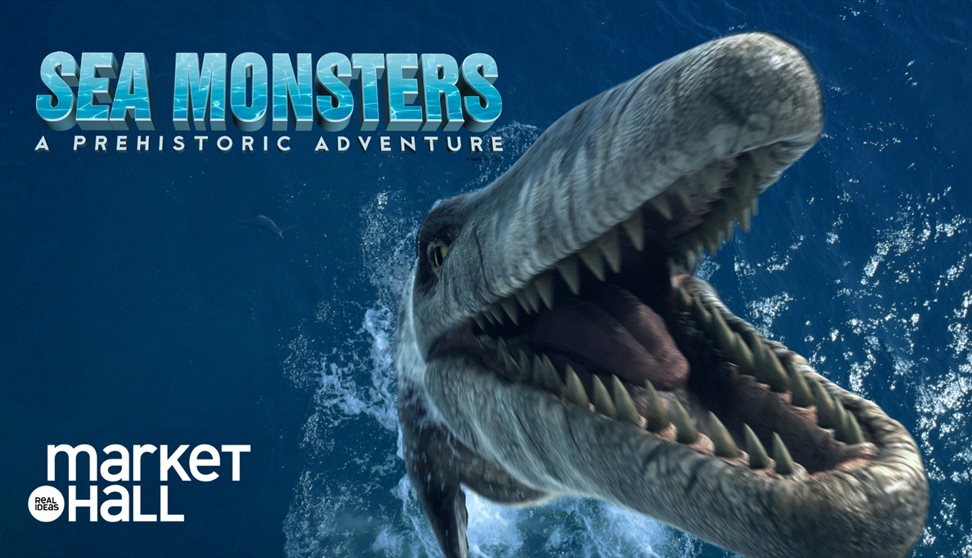 About us
Travel back in time to when dinosaurs roamed the seas and meet Dolly – a curious and adventurous dolichorhynchops – as she travels through the most dangerous oceans in history. Along the way, she encounters long-necked plesiosaurs, giant turtles, enormous fish, fierce sharks, and the most dangerous sea monsters of all, the mosasaur.

This computer generated animation (CGA) adventure will take you to paleontological digs around the globe, introduce you to the scientists working as detectives to uncover the secrets of this ancient and mysterious ocean world, and under the surface to meet an incredible cast of characters. National Geographic's trademark authenticity combines with innovative imagery, powerful storytelling, and the Market Hall's immersive dome to create a truly unforgettable experience for all the family. Suitable for all ages – Children under 16 must be accompanied by a responsible adult.

Running time: 40 minutes

Produced by Lisa Truitt and Jini Durr. Narration - Tony Award-winner Liev Schreiber. Score - Richard Evans, David Rhodes and Peter Gabriel

The making of Sea Monsters: A Prehistoric Adventure was part funded through a grant from the National Science Foundation.
---
Opening Times:
8 April from 15.30pm
10 April from 1pm
11 April from 4pm
13 April from 4pm
15 April from 4pm
18 April from 4pm
20 April from 4pm
22 April from 4pm
23 April from 4pm
---
Ticket fees are Pay What You Decide
You will be presented with suggested prices but the decision of what you'll pay will be entirely your choice.

Arrival and Admission
Please make sure you have your ticket to hand, ready for check-in. We cannot guarantee entry into events for late arrivals. Your ticket gives you entry to the experience named on your ticket only.

COVID-19
All of our events and experiences have been created at reduced capacity for COVID safety.

We are asking everyone to wear masks whilst in our spaces, including during dome shows, and to take lateral flow tests ahead of their visit. Please do not visit our spaces if you are displaying symptoms of COVID-19 or if you have a positive lateral flow or PCR test.

Should you need to change or amend your tickets to a Real Ideas event due to contracting COVID or needing to self-isolate please email tickets@realideas.org where one of our team will be able to assist you. For more information please read our COVID-19 guidance.


Travel Information
At Market Hall, we are working on a dedicated place for parking, but for now, it's limited.

We are an environmentally conscious organisation and encourage our visitors to prioritise green travel. Please consider getting the bus, cycling or walking to visit us. We have plenty of space for bikes to be parked securely on-site and one electric car charging point. More information on bus routes and car parks nearby can be found here - https://realideas.org/our-spaces/market-hall/

We value the relationship we have with our neighbours so if you need to drive to Market Hall, please avoid parking on the pavements around the building or in front of people's drives. Please make use of the car parks we have identified in the area that are all within walking distance.

When you arrive, please use the main entrance via the steps (Duke Street) or ramp (via Wall Street).

When leaving the building at night please be respectful and consider the people living in the residential area.

There are a couple of disabled parking spaces on site – please advise us of any additional needs so we can make your visit enjoyable and comfortable.