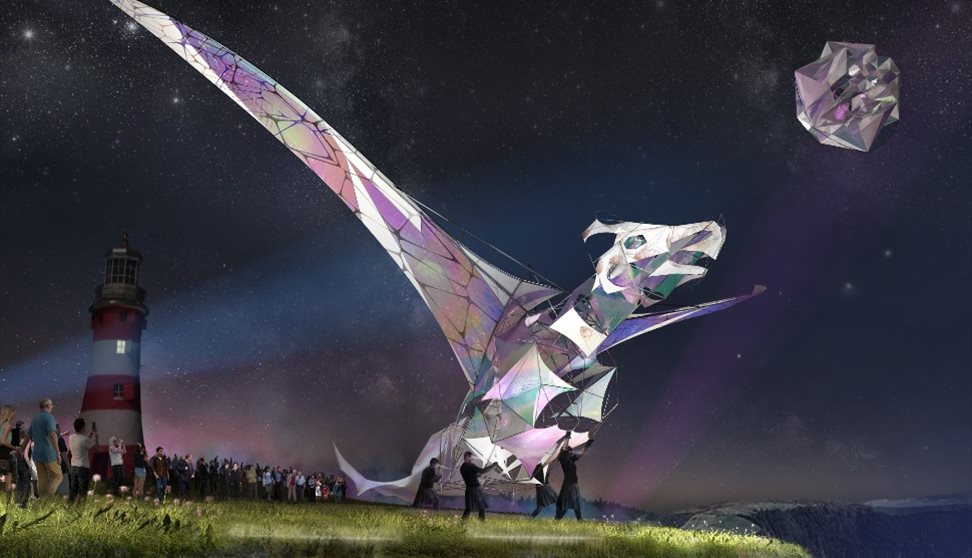 About us
On 28 and 29 August, theatre-makers Trigger will stage The Hatchling, an extraordinary outdoor performance bringing a worldwide myth to life. A giant puppet in the form of a dragon will appear in Plymouth and roam through the city, exploring its new surroundings and interacting with the public.
It's going to be a truly unmissable spectacle as the world premiere of this ground-breaking outdoor theatrical performance takes place right here in Britain's Ocean City.
Where and when can I see her?
The Hatchling performance takes place throughout the weekend, so as long as you visit during the times outlined below, there's something to see! The incredible puppet will be roaming the streets and at certain points will be joined by community groups from Plymouth for special moments.
We're encouraging everyone to dip in and out throughout the weekend – come along at a time that suits you to see some of the performance, then enjoy everything that Plymouth has to offer, whether that's a spot of shopping, a bite to eat or a visit to one of our great attractions.
On Saturday 28 August, she will hatch in Plymouth city centre and explore the streets between midday and 7.30pm, when she falls asleep again (top tip: we've heard she's a light sleeper, and will need lulling back to sleep with a gentle lullaby from around 9.30pm). Look out for her on Armada Way (between Place de Brest and Royal Parade), Cornwall Street and New George Street – she'll be hard to miss!
On Sunday 29 August, The Hatchling will wake from her slumber at about midday after a lovely lie-in, and spend the day moving from the city centre to Plymouth Hoe, where she'll remain from early evening. Look out for her on Armada Way, Royal Parade and the Hoe Promenade.
The weekend culminates in her spectacular sunset flight over Plymouth Sound, as she undertakes a miraculous metamorphosis into a kite, unfolding her wings spanning over 20m. This will be best viewed from the Hoe on the Sunday evening and if you'd like to watch we'd advise you plan to be there between 7.30pm and 9.30pm. There will be food and drink stalls on the Hoe to enjoy while you're there, as well as extra toilets.
If on either day you can't find The Hatchling, or you're looking for more details, head to the information point on the Piazza.
About The Hatchling
The Hatchling, which stands at over 6.5m tall, is the largest ever puppet to be solely human-operated. It is constructed from super lightweight carbon fibre weighing less than a piece of hand luggage, allowing it to be operated by a team of 36 puppeteers working in rotation in groups of 15. The dragon was designed by a palaeontologist and is based on the pterosaur, a prehistoric reptile that was one of the largest flying animals ever to have lived.
The Hatchling was conceived by Angie Bual, Artistic Director of Trigger, who was inspired by the idea of the dragon as a universal and unifying symbol.
Find out everything you need to know about The Hatchling in our handy blog post.