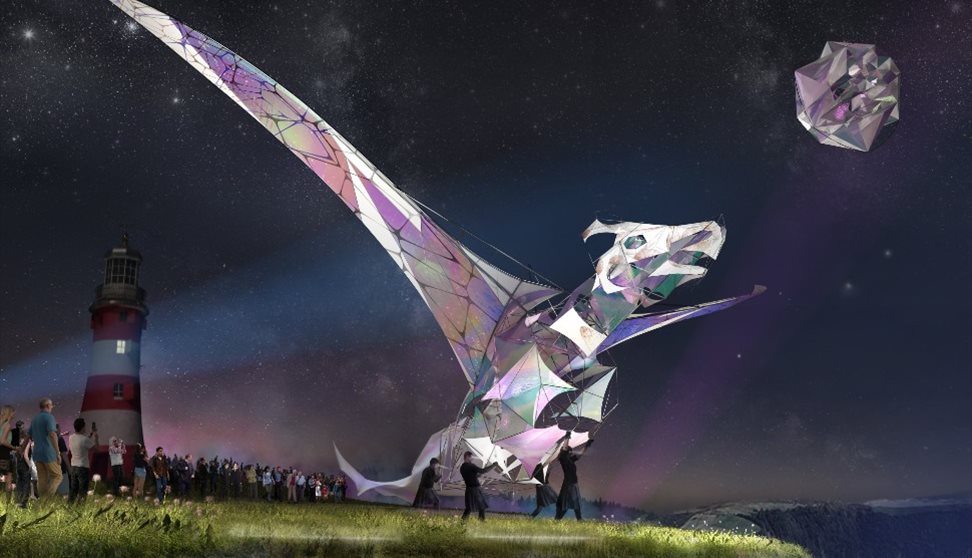 About us
This August, theatre-makers Trigger will stage The Hatchling, an extraordinary outdoor performance bringing a worldwide myth to life. A giant puppet in the form of a dragon will appear in Plymouth and roam through the city, exploring its new surroundings and interacting with the public.
The Hatchling, which stands at over 6.5m tall, is the largest ever puppet to be solely human-operated. It is constructed from super lightweight carbon fibre weighing less than a piece of hand luggage, allowing it to be operated by a team of 36 puppeteers working in rotation in groups of 15. Upon hatching the dragon will explore her environment, stopping traffic as her curiosity takes her through the city and she meets members of the public.
The dragon was designed by a palaeontologist and is based on the pterosaur, a prehistoric reptile that was one of the largest flying animals ever to have lived. At sunset on Sunday 15 August, she will undertake a miraculous metamorphosis into a kite, unfolding her wings spanning over 20m. Flying from a clifftop, she will soar into the sky and across the sea in a once-in-a-lifetime spectacle for a live audience.
The Hatchling was conceived by Angie Bual, Artistic Director of Trigger, who was inspired by the idea of the dragon as a universal and unifying symbol.
Book Tickets
TripAdvisor