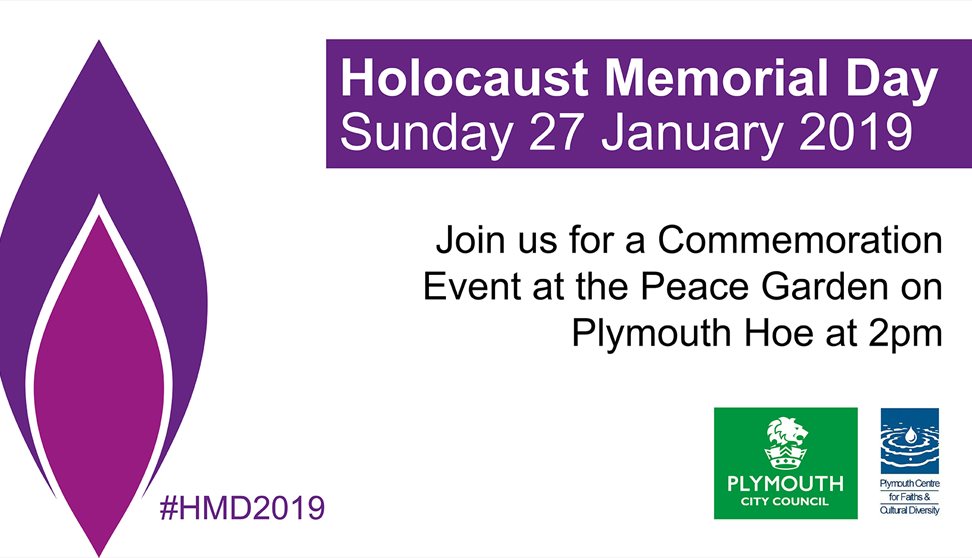 About us
Residents in Plymouth are invited to participate in this year's Holocaust Memorial Day commemorations with a public memorial event that is open to all.
Holocaust Memorial Day marks the anniversary of when in 1945 the notorious death camp at Auschwitz-Birkenau was finally liberated and the true scale of what became known as the Holocaust, was recognised.
Led by the Holocaust Memorial Trust, Holocaust Memorial Day remembers the six million Jewish men, women and children who died in ghettos, mass-shootings, and concentration camps before any survivors were liberated by allied troops in 1945. Gypsies and Travellers, gay men, lesbians, black people, disabled people, political opponents and other minority groups were also persecuted by the Nazis.
The national theme of this year's Holocaust Memorial Day is 'Torn From Home' and this year also marks the 25th anniversary of the genocide in Rwanda in 1994 when around one million people were murdered, so among the speakers at the event will be the Rwandan born Rev. Osee Ntavuka.
In Plymouth, Holocaust Memorial Day is recognised and organised on behalf of Plymouth City Council by the Plymouth Centre for Faiths and Cultural Diversity, supported by Transforming Plymouth Together and the Plymouth Council of Faiths.
Plymouth has the oldest Ashkenazi synagogue in the English-speaking world, and the recently listed Jewish cemetery (one of the oldest in the UK) means the Jewish community has deep roots here. That's why Plymouth City Council has committed to make Holocaust Memorial Day a major Civic Event.
Speakers at the event will include Leader of Plymouth City Council, Councillor Tudor Evans OBE, Anna Kelly from Plymouth Jewish Community, Lord Mayor Councillor Sam Davey, Plymouth Young City Laureate Olivia Templeton, and two students from Heles School will speak about the Lessons from Auschwitz project. Candles will also be lit to be placed around the memorial plaque.
More information
You can find out more about Holocaust Memorial Day at www.hmd.org.uk
Plymouth Synagogue: http://www.plymouthsynagogue.com/
Plymouth Centre for Faiths and Cultural Diversity: http://www.pcfcd.co.uk/
Transforming Plymouth Together: https://transformingplymouthtogether.org.uk/
Solly Irving: https://bit.ly/2F3oUf4
TripAdvisor