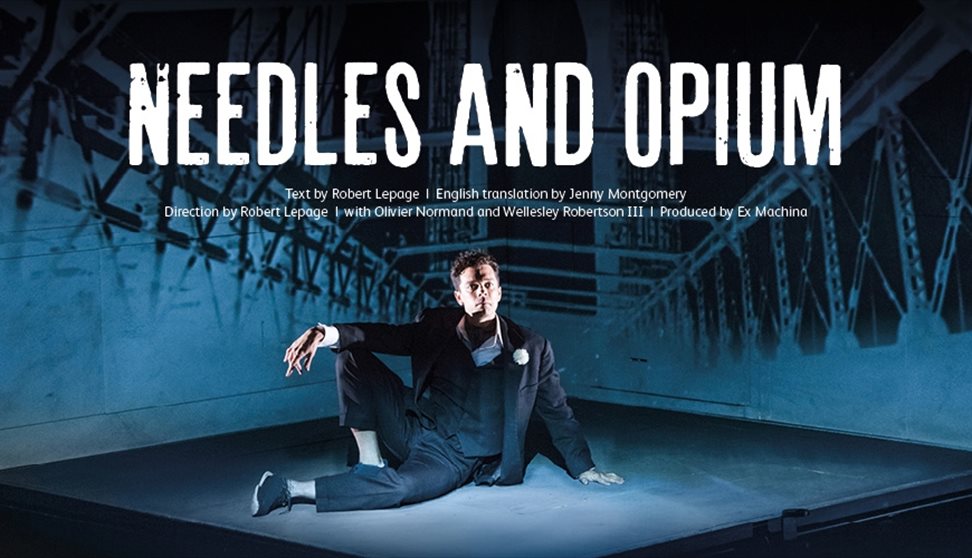 Prices
Tickets from £12.50
About us
Through highly visual staging, which is as much magic as it is theatre, Robert Lepage revisits, Needles and Opium, 20 years after its first production. A new scenography, original images, and an acrobat onstage compliments Cocteau's words. The result is a production with mesmerizing effects, a journey into the night that puts us under a spell and leads us into the light.
Run time: Approx 1h 35mins with no interval
Co-production: Théâtre du Trident, Québec, Canadian Stage, Toronto, Théâtre du Nouveau Monde, Montréal, Adelaide Festival, New Zealand Festival, Le Grand T, théâtre de Loire-Atlantique, Les Quinconces-L'espal, scène conventionnée, théâtres du Mans, Célestins, Théâtre de Lyon, Le Volcan, Scène nationale du Havre, Festival de Otoño a Primavera, Madrid, ArtsEmerson: The World On Stage, Boston, NAC English Theatre with le Théâtre français du CNA and the Magnetic North Theatre Festival, Setagaya Public Theatre, Tokyo, LG Arts Center, Seoul, the Barbican, London, La Comète – Scène nationale de Châlons-en-Champagne, La Comédie de Clermont-Ferrand scène nationale, Les Salins, scène nationale de Martigues,John F. Kennedy for Performing Arts American Conservatory Theatre "Marin Sorescu" National Theatre and Shakespeare Foundation, Craiova, Theatre Royal Plymouth.
TripAdvisor